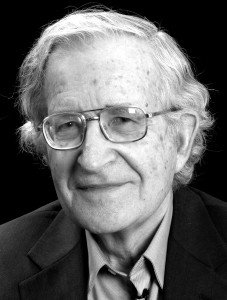 NOAM CHOMSKY WORLD RIGHTS
Roam Agency represents world rights for Noam Chomsky. For inquiries about any translation, audio, video, reprint, or other rights for Noam Chomsky, please contact Roam Agency. For interview requests, speaking invitations, or other inquiries, please visit: https://chomsky.info/about/.
Noam Chomsky is Institute Professor (emeritus) in the Department of Linguistics and Philosophy at the Massachusetts Institute of Technology and Laureate Professor of Linguistics and Agnese Nelms Haury Chair in the Program in Environment and Social Justice at the University of Arizona. His work is widely credited with having revolutionized the field of modern linguistics. Chomsky is the author of numerous best-selling political works, which have been translated into scores of languages worldwide. Recent books include Internationalism or Extinction, Consequences of Capitalism, and The Precipice.
Titles
A New Generation Draws the Line: Humanitarian Intervention and the "Responsibility to Protect" Today (Expanded Edition)
Fateful Triangle: The United States, Israel, and the Palestinians
Making the Future: Occupations, Interventions, Empire and Resistance
Masters of Mankind: Essays and Lectures, 1969 – 2013
Occupy: Reflections on Class War, Rebellion, and Solidarity (Second Edition)
On Power and Ideology: The Managua Lectures
Power and Terror: Conflict, Hegemony, and the Rule of Force
Powers and Prospects: Reflections on Nature and the Social Order
Rethinking Camelot: JFK, the Vietnam War, and U.S. Political Culture
Rogue States: The Rule of Force in World Affairs
Turning the Tide: U.S. Intervention in Central America and the Struggle for Peace
What Kind of Creatures Are We?
Year 501: The Conquest Continues
Yugoslavia: Peace, War, and Dissolution
With Michael Albert
Taming the Rascal Multitude: Essays, Interviews, and Lectures 1997–2014
With David Barsamian

Chronicles of Dissent: Interviews with David Barsamian, 1984–1996
Class Warfare: Interviews with David Barsamian
Propaganda and the Public Mind
With Charles Derber, Suren Moodliar, and Paul Shannon
Internationalism or Extinction
With Edward S. Herman
After the Cataclysm: The Political Economy of Human Rights, Volume II
The Washington Connection and Third World Fascism: The Political Economy of Human Rights, Volume I
With James Kelman
Ideas in Empathy: Making Sense, Moving On
With Ilan Pappé
Gaza in Crisis: Reflections on the US-Israeli War Against the Palestinians (Second Edition)
With C. J. Polychroniou
Illegitimate Authority: Facing the Challenges of Our Time
Optimism Over Despair: Noam Chomsky on Capitalism, Empire, and Social Change
The Precipice: Neoliberalism, the Pandemic, and the Urgent Need for Radical Change
With Marvin Waterstone
Consequences of Capitalism: Manufacturing Discontent and Resistance
Photo Copyright Don J. Usner.  To reprint, send an email to:
dusner[at]newmexico.com