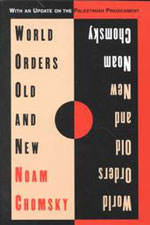 WORLD ORDERS OLD AND NEW
Second Edition
By Noam Chomsky
Columbia University Press (1997, world English rights, except Europe, United Kingdom, and Middle East)
Paper • ISBN-13: 9780231101578 • US $20 • 9 in x 6 in • 311 pgs.
ABOUT THE BOOK:
In this widely acclaimed study of global politics, Chomsky offers a devastating critique of conventional definitions of the "new world order." It is, he argues, nothing more than an ingenious piece of "historical engineering," whereby the pretexts for the Cold War — nuclear threat, Eastern Bloc menace — have been deftly replaced by a new set of convenient justifications for a Western agenda that remains largely unchanged. Includes an updated and extensive epilogue on the Middle East, World Orders Old And New is as relevant now as when it was first published.
PRAISE:
"The most we can hope for I suppose is that every reporter might one day carry World Orders, Old and New around in his back pocket."
Robert Fisk
"Chomsky's work is neither theoretical, nor ideological: it is passionate and righteous. It has some of the qualities of Revelations, the Old Testament prophets and Blake."
Times Literary Supplement
"For those who pursue justice and have an interest in the future of the planet World Orders, Old and New is compulsory reading."
Catholic Herald
"For nearly thirty years now, Noam Chomsky has parsed the main proposition of American power — what they do is aggression, what we do upholds freedom — with encyclopedic attention to detail and an unflagging sense of outrage. World Orders Old and New may be his best book; it's certainly his most concise and far-ranging."
Utne Reader
"With his customary mastery of the historical record and his command of enormous amounts of source material, Chomsky here debunks the notion that the 'new world order' of Bush and Clinton is different in any essentials from the old world order. . . . Impressive."
The Progressive
"To Chomsky, the Cold War was just a passing phase in the West's 500-year global domination of poorer nations, providing the U.S. with easy formulas to justify criminal interventionist actions abroad and entrenchment of privilege and state power at home. Marshaling meticulous scholarship, this leading critic of American foreign policy cogently argues that Washington's support-open and covert-for repressive regimes in Colombia, Guatemala, Indonesia, Angola and elsewhere has undermined attempts to create meaningful democracy, thus exacerbating poverty and misery. Chomsky, a Massachusetts Institute of Technology linguistics professor, describes NAFTA as a protectionist pact, mislabeled 'free trade', which is likely to drive millions of Mexicans out of work while enriching U.S. agribusiness. He sets the Israeli-Arab conflict in the broad context of America's postwar domination of the Middle East along lines established by British imperialism, with family dictatorships taking orders from Washington and protected by 'regional enforcers', preferably non-Arab (Turkey, Israel, Iran under the Shah, Pakistan). His devastating critique of the 'new world order' foresees a growing abyss between rich and poor-both internationally and at home."
Publishers Weekly
ABOUT THE AUTHOR:
Noam Chomsky is Institute Professor (Emeritus) in the Department of Linguistics and Philosophy at MIT. His work is widely credited with having revolutionized the field of modern linguistics. He is the author of numerous best-selling political works, which have been translated into scores of languages worldwide. His latest books include the New York Times bestsellers Hegemony or Survival, Failed States, and Who Rules the World? Other recent books include What Kind of Creatures Are We?, as well as Power Systems, Occupy, Hopes and Prospects, and Masters of Mankind. Haymarket Books recently reissued twelve of his classic books with new introductions by the author.
OTHER TITLES BY THIS AUTHOR:
A New Generation Draws the Line: Humanitarian Intervention and the "Responsibility to Protect" Today (Expanded Edition)
After the Cataclysm: The Political Economy of Human Rights, Volume II (with Edward S. Herman)
Class Warfare: Interviews with David Barsamian
Gaza in Crisis: Reflections on the US-Israeli War Against the Palestinians (Second Edition) (with Ilan Pappé)
Fateful Triangle: The United States, Israel, and the Palestinians
Making the Future: Occupations, Interventions, Empire and Resistance
Masters of Mankind: Essays and Lectures, 1969 – 2013
Occupy: Reflections on Class War, Rebellion, and Solidarity (Second Edition)
On Palestine (with Ilan Pappé)
On Power and Ideology: The Managua Lectures
Optimism Over Despair: Noam Chomsky on Capitalism, Empire, and Social Change (with C. J. Polychroniou)
Power and Terror: Conflict, Hegemony, and the Rule of Force
Powers and Prospects: Reflections on Nature and the Social Order
Propaganda and the Public Mind (With David Barsamian)
Rethinking Camelot: JFK, the Vietnam War, and U.S. Political Culture
Rogue States: The Rule of Force in World Affairs
The Washington Connection and Third World Fascism: The Political Economy of Human Rights, Volume I (with Edward S. Herman)
Turning the Tide: U.S. Intervention in Central America and the Struggle for Peace
What Kind of Creatures Are We?
Year 501: The Conquest Continues
RIGHTS INFORMATION:
Languages & Territories Where Rights Have Been Sold:
Please contact subagents for the following languages and territories:
For all other languages/territories, please contact Roam Agency.