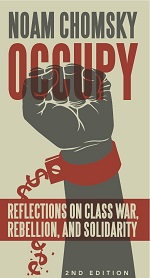 OCCUPY
Reflections on Class War, Rebellion, and Solidarity (Second Edition)
Noam Chomsky
Zuccotti Park Press / Occupied Media Pamphlet Series (October 2013, north American English rights)
Paper • ISBN-13: 9781884519253 • US $9.95 • 128 pgs.
ABOUT THE BOOK:
From its sudden appearance in September 2011, the Occupy movement spread to thousands of towns and cities across the world. Through relentless organizing and ongoing civil disobedience, the movement occupied the global conscience as its influence spread from street assemblies and protests to op-ed pages and the corridors of power. From the movement's onset, Noam Chomsky was there, offering his voice, his support, and his detailed analysis of what's been going down and what might be done.
In Occupy, Chomsky presents his thinking on the core issues, questions, and demands that are driving ordinary people to protest. How did we get to this point? How do the wealthiest 1% influence society? How can we separate money from politics? What would a genuine democracy look like? How can we create new institutions to increase freedom and equality for all?
Following the old course, says Chomsky, isn't going to work. If we continue to follow the model of growth set for us by the 1%, we'll be "like lemmings walking off a cliff." The only alternative is to get involved and fight for a better future. If not now, when? If not us, who?
Occupy also features graphics by R. Black, photography by Alex Fradkin and Stanley Rogouski, and a "What To Do If You Get Arrested" guide for protestors written by The National Lawyers Guild.
PRAISE:
"Having spent so much time thinking about and engaging with social movements, Chomsky is both optimistic about the energy of Occupy and realistic about the challenges it faces. He appreciates the 'just do it' ethos and embraces its radical approach to participatory democracy. … What makes Chomsky's perspective so interesting, aside from the wealth of his political experience, is the range of his interests. He draws from examples around the world to demonstrate his points. … It's a big agenda that Occupy has identified, nothing less than a complete renewal of US society and the US role in the world. Chomsky sees not only the radical agenda but also the radical practice of the Occupiers. 'Part of what functioning, free communities like the Occupy communities can be working for and spreading to others is just a different way of living, which is not based on maximizing consumer goods, but on maximizing values that are important for life,' he concludes in this valuable set of remarks and interviews."
John Feffer, Foreign Policy in Focus, Pick Review
"For decades, Chomsky has been marginalized for his insightful, levelheaded, and accurate observations about how our society functions. In Occupy, Chomsky… sets the record straight. And he's got an answer for everything. 'It's necessary,' Chomsky warns, 'to get out into the country and get people to understand what this is about, and what they can do about it, and what the consequences are of not doing anything about it.' Occupy begins with a powerful editor's note from Greg Ruggiero, who comments on 'the heartlessness and inhumanity of the system,' where 'people's stolen homes are sold off to the highest bidder.' And if it isn't obvious to those who are still asking what the demands of Occupy Wall Street are, Ruggiero puts it plainly: 'Occupy embodies a vision of democracy that is fundamentally antagonistic to the management of society as a corporate-controlled space that funds a political system to serve the wealthy, ignore the poor.' One can only cringe at the thought of what will happen if we continue to ignore the wisdom of Noam Chomsky. He gives a clue in Occupy…"
The Coffin Factory, The Magazine for People who Love Books
"Chomsky has long been one of the keenest observers of the American, and global, political economy. In Occupy he turns his formidable knowledge of the history of social movements to the uprising that began in Zuccotti Park last year. He illuminates how we got here – through the long predations of the 1% – and where the movement might head in order to bring about real change from below. … Occupy is another vital contribution from Chomsky to the literature of defiance and protest, and a red-hot rallying call to forge a better, more egalitarian future."
AlterNet
"Occupy is at once a vivid portrait of the now-global movement and a practical guide to intelligent activism, infused with Chomsky's signature meditations on everything from how the wealthiest 1% came to steer society to what a healthy democracy would look like to how we can separate money from politics. Alongside Chomsky's words are some of the most moving and provocative photographs from the Occupy movement. … [One of] 10 essential books on protest."
Maria Popova, Brain Pickings
OTHER TITLES BY THIS AUTHOR:
A New Generation Draws the Line: Humanitarian Intervention and the "Responsibility to Protect" Today (Expanded Edition)
After the Cataclysm: The Political Economy of Human Rights, Volume II (with Edward S. Herman)
Class Warfare: Interviews with David Barsamian
Gaza in Crisis: Reflections on the US-Israeli War Against the Palestinians (Second Edition) (with Ilan Pappé)
Fateful Triangle: The United States, Israel, and the Palestinians
Making the Future: Occupations, Interventions, Empire and Resistance
Masters of Mankind: Essays and Lectures, 1969 – 2013
On Palestine (with Ilan Pappé)
On Power and Ideology: The Managua Lectures
Optimism Over Despair: Noam Chomsky on Capitalism, Empire, and Social Change (with C. J. Polychroniou)
Power and Terror: Conflict, Hegemony, and the Rule of Force
Powers and Prospects: Reflections on Nature and the Social Order
Propaganda and the Public Mind (With David Barsamian)
Rethinking Camelot: JFK, the Vietnam War, and U.S. Political Culture
Rogue States: The Rule of Force in World Affairs
The Washington Connection and Third World Fascism: The Political Economy of Human Rights, Volume I (with Edward S. Herman)
Turning the Tide: U.S. Intervention in Central America and the Struggle for Peace
What Kind of Creatures Are We?
Year 501: The Conquest Continues
ABOUT THE AUTHOR:
Noam Chomsky is Institute Professor (Emeritus) in the Department of Linguistics and Philosophy at MIT. His work is widely credited with having revolutionized the field of modern linguistics. He is the author of numerous best-selling political works, which have been translated into scores of languages worldwide. His latest books include the New York Times bestsellers Hegemony or Survival, Failed States, and Who Rules the World? Other recent books include What Kind of Creatures Are We?, as well as Power Systems, Occupy, Hopes and Prospects, and Masters of Mankind. Haymarket Books recently reissued twelve of his classic books with new introductions by the author.
RIGHTS INFORMATION:
Languages & Territories Where Rights Have Been Sold:
Please contact subagents for the following languages and territories:
For all other languages/territories, please contact Roam Agency.