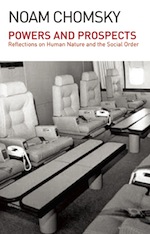 POWERS AND PROSPECTS
Reflections on Nature and the Social Order
Noam Chomsky
Haymarket Books (2015, world English rights)
Trade Paper • ISBN-13: 9781608464241 • US $18 • 5 1/8 in x 8 1/8 in • 244 pgs.
ABOUT THE BOOK:
In this intellectual tour de force, Noam Chomsky brings together his thinking on topics ranging from language and human nature, to the Middle East settlement, and the place of East Timor in the New World Order. Powers and Prospects is a collection of some of Chomsky's most important essays on questions of linguistics, philosophy, ethics, and international affairs. Supported by a wealth of disturbing details and facts, Chomsky provides a scathing critique of government policy and media complicity, while offering an inspirational view of the potential for true democracy worldwide.
PRAISE:
'Powers and Prospects – Reflections on Human Nature and the Social Order adds another controversial volume to Chomsky's already tottering pile on language and politics…This political chapters, by contrast, boil with barely restrained moral outrage and passion…A powerful section covers the British and Us role is organizing and supporting Suharto's murderous military coup of 1965, which resulted in the slaughter of some 600 000 people…Chomsky presents here a timely review of the western-backed massacres in East Timor…Chomsky, as ever, remains one of the few people willing to put the true value of all three in their proper perspective'
The Ecologist
ABOUT THE AUTHOR:
Noam Chomsky is Institute Professor (Emeritus) in the Department of Linguistics and Philosophy at MIT. His work is widely credited with having revolutionized the field of modern linguistics. He is the author of numerous best-selling political works, which have been translated into scores of languages worldwide. His latest books include the New York Times bestsellers Hegemony or Survival, Failed States, and Who Rules the World? Other recent books include What Kind of Creatures Are We?, as well as Power Systems, Occupy, Hopes and Prospects, and Masters of Mankind. Haymarket Books recently reissued twelve of his classic books with new introductions by the author.
OTHER TITLES BY THIS AUTHOR:
A New Generation Draws the Line: Humanitarian Intervention and the "Responsibility to Protect" Today (Expanded Edition)
After the Cataclysm: The Political Economy of Human Rights, Volume II (with Edward S. Herman)
Class Warfare: Interviews with David Barsamian
Gaza in Crisis: Reflections on the US-Israeli War Against the Palestinians (Second Edition) (with Ilan Pappé)
Fateful Triangle: The United States, Israel, and the Palestinians
Making the Future: Occupations, Interventions, Empire and Resistance
Masters of Mankind: Essays and Lectures, 1969 – 2013
Occupy: Reflections on Class War, Rebellion, and Solidarity (Second Edition)
On Palestine (with Ilan Pappé)
On Power and Ideology: The Managua Lectures
Optimism Over Despair: Noam Chomsky on Capitalism, Empire, and Social Change (with C. J. Polychroniou)
Power and Terror: Conflict, Hegemony, and the Rule of Force
Propaganda and the Public Mind (With David Barsamian)
Rethinking Camelot: JFK, the Vietnam War, and U.S. Political Culture
Rogue States: The Rule of Force in World Affairs
The Washington Connection and Third World Fascism: The Political Economy of Human Rights, Volume I (with Edward S. Herman)
Turning the Tide: U.S. Intervention in Central America and the Struggle for Peace
What Kind of Creatures Are We?
Year 501: The Conquest Continues
RIGHTS INFORMATION:
Audio book:
Languages & Territories Where Rights Have Been Sold:
Please contact subagents for the following languages and territories:
For all other languages/territories, please contact Roam Agency.