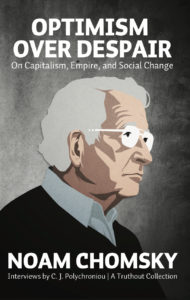 OPTIMISM OVER DESPAIR
On Capitalism, Empire, and Social Change
Noam Chomsky
Interviews by C. J. Polychroniou
Haymarket Books (August 2017, world English rights)
Trade Paper • ISBN-13: 9781608467990 • US $16.95 • 5 1/8 in x 8 3/8 in • 210 pgs
READ: Trump in the White House: An Interview With Noam Chomsky
ABOUT THE BOOK:
This volume offers readers a concise and accessible introduction to the ideas of Noam Chomsky, described by the New York Times as "arguably the most important intellectual alive."
In these recent, wide-ranging interviews, conducted for Truthout by C.J. Polychroniou, Chomsky discusses his views on the "war on terror" and the rise of neoliberalism, the refugee crisis and cracks in the European Union, prospects for a just peace in Israel/Palestine, the rise of Black Lives Matter, the dysfunctional US electoral system, the grave danger posed to humanity by the climate crisis, and the prospects and challenges of building a movement for radical change.
PRAISE:
"This fascinating series of interviews convincingly covers an astonishing range of fundamental and urgent issues of societal concern, demonstrating anew that Noam Chomsky is the world's most humane, philosophically sophisticated, and knowledgeable public intellectual. I cannot imagine a better primer for anyone seeking a better, safer, fairer future."
Richard Falk, Professor of International Law Emeritus, Princeton University
"In this brilliant series of recent and wide-ranging interviews, Noam Chomsky combines an astounding breadth of knowledge, great depth of insight, clarity in explaining his ideas, and a relentless commitment to social and economic justice. The full package is simply exhilarating, especially in our current dismal era of Donald Trump. Optimism over Despair is a book to devour."
Robert Pollin, Distinguished Professor of Economics and Co-Director, Political Economy Research Institute, University of Massachusetts-Amherst
"…Chomsky argues that the choice between optimism and despair is really no choice at all. I have a great admiration for Chomsky's combination of consistent critical moral perspective and sharp eye for the details of world politics…"
Heikki Patomäki, professor of world politics at the University of Helsinki, and a civic and political activist
"In this series of highly informative conversations deftly organized by C. J. Polychroniou, Noam Chomsky teaches us—yet again—so much on a huge range of issues: from economic globalization through international politics to the linguistic foundations of humanity. If you haven't read Chomsky before, this book will make you realize that you still have more eyes to be opened. This book is a beacon—or rather a GPS—in this turbulent and darkening world."
Ha-Joon Chang, University of Cambridge, author of Bad Samaritans, 23 Things They Don't Tell You About Capitalism, and Economics: The User's Guide
"For all those of us who have always dreamed of spending a day with Noam Chomsky and getting his answers to all our questions and concerns about the [sorry] state of the world, here's the next best thing: a collection of interviews with our greatest living intellectual on capitalism, empire, and social change, fielded by C. J. Polychroniou of Truthout. Especially valuable in helping us navigate the dreadful challenges of the Trumpian era."
Michael Klare, professor of peace and world security studies, Hampshire College, and defense correspondent, the Nation
"This book of interviews with Noam Chomsky is a must read in these troubling times. Divided into three parts, it begins with Chomsky's razor sharp analysis of neoliberalism, imperialism, the EU, the role of religion in politics, and class polarization. In the second, it focuses on the Trump presidency and lays out the long history of US foreign policy, as well as other topics such as health care, global warming and education policy. Finally, it looks at various alternatives—anarchism, communism and socialism. This is an excellent collection of interviews that highlights Chomsky's encyclopedic knowledge of the key issues of our day and his unwavering criticism of the regime of the global 1%."
Deepa Kumar, author, Islamophobia and the Politics of Empire
"The elder statesman of a resurgent left offers clear-eyed assessments of the US, past and present, and its role in the world. From meditations on human nature to strategic advice for the Trump era, Chomsky remains the thinker who shaped a generation, a beacon of hope in the darkest of times."
Sarah Jaffe, author, Necessary Trouble: Americans in Revolt
ABOUT THE AUTHORS:
Noam Chomsky is Institute Professor (Emeritus) in the Department of Linguistics and Philosophy at MIT. His work is widely credited with having revolutionized the field of modern linguistics. He is the author of numerous best-selling political works, which have been translated into scores of languages worldwide. His latest books include the New York Times bestsellers Hegemony or Survival, Failed States, and Who Rules the World? Other recent books include What Kind of Creatures Are We?, as well as Power Systems, Occupy, Hopes and Prospects, and Masters of Mankind. Haymarket Books recently reissued twelve of his classic books with new introductions by the author.
Editor C. J. Polychroniou is an political economist/political scientist who has taught and worked in universities and research centers in Europe and the United States. His main research interests are in European economic integration, globalization, the political economy of the United States and the deconstruction of neoliberalism's politico-economic project. He is a regular contributor to Truthout as well as a member of Truthout's Public Intellectual Project. He has published several books and his articles have appeared in a variety of journals, magazines, newspapers and popular news websites. Many of his publications have been translated into several foreign languages, including Croatian, French, Greek, Italian, Portuguese, Spanish and Turkish.
OTHER TITLES BY THIS AUTHOR:
A New Generation Draws the Line: Humanitarian Intervention and the "Responsibility to Protect" Today (Expanded Edition)
After the Cataclysm: The Political Economy of Human Rights, Volume II (with Edward S. Herman)
Class Warfare: Interviews with David Barsamian
Gaza in Crisis: Reflections on the US-Israeli War Against the Palestinians (Second Edition) (with Ilan Pappé)
Fateful Triangle: The United States, Israel, and the Palestinians
Making the Future: Occupations, Interventions, Empire and Resistance
Masters of Mankind: Essays and Lectures, 1969 – 2013
Occupy: Reflections on Class War, Rebellion, and Solidarity (Second Edition)
On Palestine (with Ilan Pappé)
On Power and Ideology: The Managua Lectures
Power and Terror: Conflict, Hegemony, and the Rule of Force
Powers and Prospects: Reflections on Nature and the Social Order
Propaganda and the Public Mind (With David Barsamian)
Rethinking Camelot: JFK, the Vietnam War, and U.S. Political Culture
Rogue States: The Rule of Force in World Affairs
The Washington Connection and Third World Fascism: The Political Economy of Human Rights, Volume I (with Edward S. Herman)
Turning the Tide: U.S. Intervention in Central America and the Struggle for Peace
What Kind of Creatures Are We?
Year 501: The Conquest Continues
RIGHTS INFORMATION:
Audio book:
Languages & Territories Where Rights Have Been Sold:
Please contact subagents for the following languages and territories:
For all other languages/territories, please contact Roam Agency.