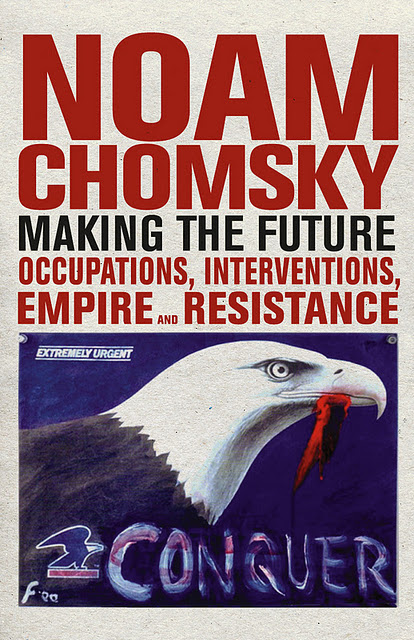 MAKING THE FUTURE
Occupations, Interventions, Empire and Resistance
By Noam Chomsky
City Lights (February 2012, North American English rights)
Paper • ISBN-13: 9780872865372 • US $15.95 • 200 pgs.
ABOUT THE BOOK:
Making the Future presents more than thirty concise and persuasively argued commentaries on US politics and policies, written between 2007 and 2010. Noam Chomsky takes on a wide range of hot-button issues including the ongoing financial crisis, Obama's presidency, the limits of the two-party system, nuclear Iran, Afghanistan, Israel-Palestine, Iraq, North Korea, Mexico, corporate power, and the future of American politics. Laced throughout his critiques are expressions of commitment to democracy and the power of popular struggles. "Progressive legislation and social welfare," writes Chomsky, "have been won by popular struggles, not gifts from above. Those struggles follow a cycle of success and setback. They must be waged every day, not just once every four years, always with the goal of creating a genuinely responsive democratic society, from the voting booth to the workplace."
Making the Future is a follow-up to Interventions, published by City Lights in 2007 and banned from Guantánamo Bay by US military censors. Both books are drawn from articles Chomsky wrote regularly for the New York Times Syndicate, but which go largely ignored by newspapers in the United States. Making the Future offers fierce, accessible, timely, gloves-off political writing by one of America's foremost intellectual and political dissidents.
ABOUT THE AUTHOR:
Noam Chomsky is Institute Professor (Emeritus) in the Department of Linguistics and Philosophy at MIT. His work is widely credited with having revolutionized the field of modern linguistics. He is the author of numerous best-selling political works, which have been translated into scores of languages worldwide. His latest books include the New York Times bestsellers Hegemony or Survival, Failed States, and Who Rules the World? Other recent books include What Kind of Creatures Are We?, as well as Power Systems, Occupy, Hopes and Prospects, and Masters of Mankind. Haymarket Books recently reissued twelve of his classic books with new introductions by the author.
OTHER TITLES BY THIS AUTHOR:
A New Generation Draws the Line: Humanitarian Intervention and the "Responsibility to Protect" Today (Expanded Edition)
After the Cataclysm: The Political Economy of Human Rights, Volume II (with Edward S. Herman)
Class Warfare: Interviews with David Barsamian
Gaza in Crisis: Reflections on the US-Israeli War Against the Palestinians (Second Edition) (with Ilan Pappé)
Fateful Triangle: The United States, Israel, and the Palestinians
Masters of Mankind: Essays and Lectures, 1969 – 2013
Occupy: Reflections on Class War, Rebellion, and Solidarity (Second Edition)
On Palestine (with Ilan Pappé)
On Power and Ideology: The Managua Lectures
Optimism Over Despair: Noam Chomsky on Capitalism, Empire, and Social Change (with C. J. Polychroniou)
Power and Terror: Conflict, Hegemony, and the Rule of Force
Powers and Prospects: Reflections on Nature and the Social Order
Propaganda and the Public Mind (With David Barsamian)
Rethinking Camelot: JFK, the Vietnam War, and U.S. Political Culture
Rogue States: The Rule of Force in World Affairs
The Washington Connection and Third World Fascism: The Political Economy of Human Rights, Volume I (with Edward S. Herman)
Turning the Tide: U.S. Intervention in Central America and the Struggle for Peace
What Kind of Creatures Are We?
Year 501: The Conquest Continues
RIGHTS INFORMATION:
Audio book:
Languages & Territories Where Rights Have Been Sold:
| Language/Territory | Publisher |
| --- | --- |
| English outside North America | Hamish Hamilton |
| Korean/worldwide | Window of Times |
| Romanian/worldwide | Corint Serv |
| Russian/worldwide | OOO Alpina |
| Spanish/worldwide | Siglo XXI Editores |
| Turkish/worldwide | Inkilap |
Please contact subagents for the following languages and territories:
For all other languages/territories, please contact Roam Agency.