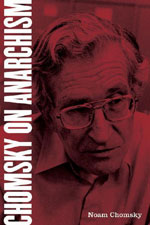 CHOMSKY ON ANARCHISM
By Noam Chomsky
AK Press (2005, world English rights)
Paper • ISBN-13: 9781904859208 • US $16.95 • 6.1 in x 9.0 in • 256 pgs.
ABOUT THE BOOK:
We all know what Noam Chomsky is against. His scathing analysis of everything that's wrong with our society reaches more and more people every day. His brilliant critiques of-among other things-capitalism, imperialism, domestic repression and government propaganda have become mini-publishing industries unto themselves. But, in this flood of publishing and republishing, very little ever gets said about what exactly Chomsky stands for, his own personal politics, his vision of the future. Not, that is, until Chomsky on Anarchism, a groundbreaking new book that shows a different side of this best-selling author: the anarchist principles that have guided him since he was a teenager.
This collection of Chomsky's essays and interviews includes numerous pieces that have never been published before, as well as rare material that first saw the light of day in hard-to-find pamphlets and anarchist periodicals. Taken together, they paint a fresh picture of Chomsky, showing his lifelong involvement with the anarchist community, his constant commitment to nonhierarchical models of political organization and his hopes for a future world without rulers. For anyone who's been touched by Chomsky's trenchant analysis of our current situation, as well as anyone looking for an intelligent and coherent discussion of anarchism itself, Chomsky on Anarchism will be one of this season's most exciting and surprising reads.
ABOUT THE AUTHOR:
Noam Chomsky is Institute Professor (Emeritus) in the Department of Linguistics and Philosophy at MIT. His work is widely credited with having revolutionized the field of modern linguistics. He is the author of numerous best-selling political works, which have been translated into scores of languages worldwide. His latest books include the New York Times bestsellers Hegemony or Survival, Failed States, and Who Rules the World? Other recent books include What Kind of Creatures Are We?, as well as Power Systems, Occupy, Hopes and Prospects, and Masters of Mankind. Haymarket Books recently reissued twelve of his classic books with new introductions by the author.
OTHER TITLES BY THIS AUTHOR:
A New Generation Draws the Line: Humanitarian Intervention and the "Responsibility to Protect" Today (Expanded Edition)
After the Cataclysm: The Political Economy of Human Rights, Volume II (with Edward S. Herman)
Class Warfare: Interviews with David Barsamian
Gaza in Crisis: Reflections on the US-Israeli War Against the Palestinians (Second Edition) (with Ilan Pappé)
Fateful Triangle: The United States, Israel, and the Palestinians
Making the Future: Occupations, Interventions, Empire and Resistance
Masters of Mankind: Essays and Lectures, 1969 – 2013
Occupy: Reflections on Class War, Rebellion, and Solidarity (Second Edition)
On Palestine (with Ilan Pappé)
On Power and Ideology: The Managua Lectures
Optimism Over Despair: Noam Chomsky on Capitalism, Empire, and Social Change (with C. J. Polychroniou)
Power and Terror: Conflict, Hegemony, and the Rule of Force
Powers and Prospects: Reflections on Nature and the Social Order
Propaganda and the Public Mind (With David Barsamian)
Rethinking Camelot: JFK, the Vietnam War, and U.S. Political Culture
Rogue States: The Rule of Force in World Affairs
The Washington Connection and Third World Fascism: The Political Economy of Human Rights, Volume I (with Edward S. Herman)
Turning the Tide: U.S. Intervention in Central America and the Struggle for Peace
What Kind of Creatures Are We?
Year 501: The Conquest Continues
RIGHTS INFORMATION:
Languages & Territories Where Rights Have Been Sold:
Please contact subagents for the following languages and territories:
For all other languages/territories, please contact Roam Agency.