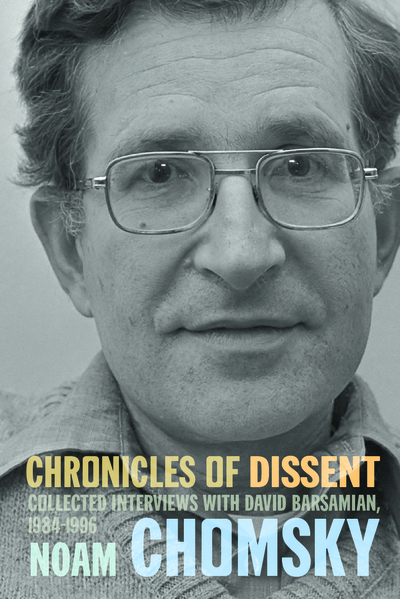 CHRONICLES OF DISSENT
Interviews with David Barsamian, 1984–1996
Noam Chomsky and David Barsamian
Haymarket Books (February 8, 2022)
Trade paper • ISBN-13: 9781642595741 • US $22.95 • 6 in x 9 in • 400 pgs.
ABOUT THE BOOK:
Conducted from 1984 to 1996, these interviews first appeared in the books Class Warfare, Chronicles of Dissent, and Keeping the Rabble in Line, all published by the independent publisher Common Courage Press in Monroe, Maine.

This omnibus collection includes a new introduction by David Barsamian, looking back on conversations and engagement with Chomsky's ideas that now spans decades, as well as a classic essay by Alexander Cockburn on Chomsky that served as the introduction to one of the original volumes.
ABOUT THE AUTHORS:
Noam Chomsky is Institute Professor (emeritus) at the Massachusetts Institute of Technology and Laureate Professor of Linguistics at the University of Arizona. He is the author of numerous bestselling political works, which have been trans-lated into scores of languages worldwide. Among his most recent books are Who Rules the World? and What Kind of Creatures Are We?

David Barsamian has altered the independent media landscape, both with his weekly radio program, Alternative Radio—now in its thirty-fifth year—and his books with Noam Chomsky, Howard Zinn, Arundhati Roy, and Edward Said.
RIGHTS INFORMATION:
Languages & Territories Where Rights Have Been Sold:
Please contact subagents for the following languages and territories:
For all other languages/territories, please contact Roam Agency.