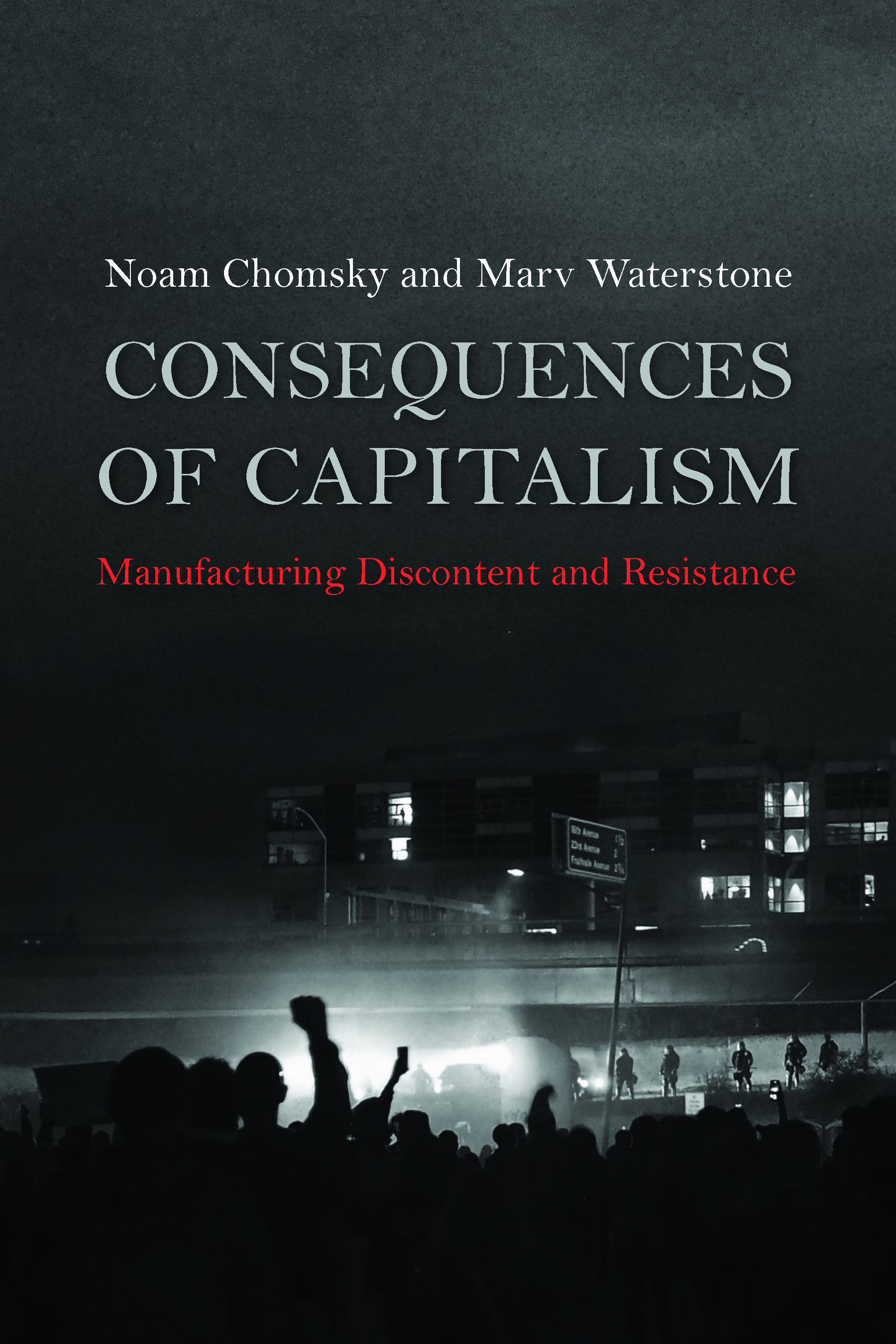 CONSEQUENCES OF CAPITALISM
Manufacturing Discontent and Resistance
Noam Chomsky and Marv Waterstone
Haymarket Books (January 5, 2021)
Trade paper • ISBN-13: 9781642592634 • US $19.95 • 6 in x 9 in • 400 pgs.
ABOUT THE BOOK:
Is our "common sense" understanding of the world a reflection of the ruling class's demands of the larger society? If we are to challenge the capitalist structures that now threaten all life on the planet, Chomsky and Waterstone forcefully argue that we must look closely at the everyday tools we use to interpret the world.
Consequences of Capitalism makes the deep, often unseen connections between common sense and power. In making these linkages we see how the current hegemony keep social justice movements divided and marginalized. More importantly, we see how we overcome these divisions.
PRAISE:
"At a moment of converging crises and political upheaval, Consequences of Capitalism provides essential support for activists and intellectuals as they try to envision a freer and fairer world."
Los Angeles Review of Books
ABOUT THE AUTHORS:
Noam Chomsky is Institute Professor (emeritus) in the Department of Linguistics and Philosophy at the Massachusetts Institute of Technology and Laureate Professor of Linguistics and Agnese Nelms Haury Chair in the Program in Environment and Social Justice at the University of Arizona. His work is widely credited with having revolutionized the field of modern linguistics.Chomsky is the author of numerous best-selling political works, which have been translated into scores of countries worldwide. Recent books include What Kind of Creatures Are We?, as well as Optimism and Despair, and Internationalism of Extinction.
Marv Waterstone is Professor Emeritus in the School of Geography and Development at the University of Arizona, where he has been a faculty member for over 30 years. He is also the former director of the University of Arizona Graduate Interdisciplinary Program in Comparative Cultural and Literary Studies. His research and teaching focus on the Gramscian notions of hegemony and common sense, and their connections to social justice and progressive social change. His most recent books are Wageless Life: A Manifesto for a Future beyond Capitalism (University of Minnesota Press; co-authored with Ian Shaw) and Geographic Thought: A Praxis Perspective (Routledge; co-edited with George Henderson)
RIGHTS INFORMATION:
Languages & Territories Where Rights Have Been Sold:
Audio book:


Please contact subagents for the following languages and territories:
For all other languages/territories, please contact Roam Agency.