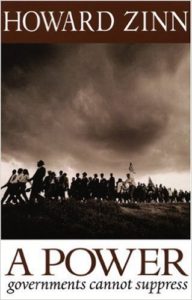 A POWER GOVERNMENTS CANNOT SUPPRESS
Howard Zinn
City Lights Books (2006)
Paper • ISBN-13: 9780872864757 • US $16.95 • 308 pgs.
ABOUT THE BOOK:
A Power Governments Cannot Suppress is a major collection of essays on American history, race, class, justice, and ordinary people who stand up to power. Zinn approaches the telling of U.S. history from an active, engaged point of view, drawing upon untold histories to comment on the most controversial issues facing us today: government dishonesty, terrorism, the wars on Iraq and Afghanistan, the loss of our liberties, immigration, and the responsibility of the citizen to confront power for the common good. A Power Governments Cannot Suppress is an invaluable post-9/11 era addition to the themes that run through Howard Zinn's bestselling classic, A People's History of the United States.
PRAISE:
"Find here the voice of the well-educated and honorable and capable and humane United States of America, which might have existed if only absolute power had not corrupted its third-rate leaders so absolutely."
Kurt Vonnegut
"I love Howard Zinn. This collection of essays is a great book for anybody who wants to be better informed about history, regardless of their political point of view. I think Zinn is one of the most responsible, lively, and brave commentators on U.S. history now living. He's constantly sounding the wake-up call, and we owe it to ourselves and our children to listen."
Viggo Mortensen
"Thank you, Howard Zinn. Thank you for telling us what none of our leaders are willing to: The truth. And you tell it with such brilliance, such humanity. It is a personal honor to be able to say I am a better citizen because of you."
Michael Moore
"This strong, incisive book by Howard Zinn provides us with a penetrating critique of current U.S. policies and embraces the sweep of history…A Power Governments Cannot Suppress leaves us with the faith that citizens have what it takes to confront power and to reverse the dangerous and unjust acts of our government."
Jonathan Kozol, author of The Shame of the Nation: The Restoration of Apartheid Schooling in America
"Howard Zinn is a unique voice of sanity, clarity, and wisdom who reads history not only to understand the present but to shape the future…A Power Governments Cannot Suppress should be read by every American, over and over again."
Rabbi Michael Lerner, editor of Tikkun Magazine
"Zinn writes with an enthusiasm rarely encountered in the leaden prose of academic history…"
New York Times Book Review
"Zinn collects here almost three dozen brief, passionate essays that follow in the tradition of his landmark work, A People's History of the United States…Readers seeking to break out of their ideological comfort zones will find much to ponder here."
Publishers Weekly
"This brilliant new book—like Howard Zinn's presence, and his whole life, is the best possible antidote to political despair. Read it, and rejoin the struggle for a human world and a foreign policy that's good for children."
Daniel Ellsberg
"Zinn's work exemplifies an approach to history that is radical, regardless of its subject or geographical location. He tells us the untold story, the story of the world's poor, the world's workers, the world's homeless, the world's oppressed, the people who don't really qualify as real people in official histories. Howard Zinn painstakingly unearths the details that the powerful seek to airbrush away. He brings official secrets and forgotten histories into the light and, in doing so, changes the official narrative that the powerful have constructed for us."
Arundhati Roy
ABOUT THE AUTHOR:
Howard Zinn (1922–2010) was a historian, playwright, and activist. He wrote the classic A People's History of the United States, "a brilliant and moving history of the American people from the point of view of those … whose plight has been largely omitted from most histories" (Library Journal). The book, which has sold more than 2.6 million copies and been translated into 23 foreign editions, has become a cultural touchstone, encouraging interest in "people's histories" in universities and activist meetings alike. In 2009, History aired The People Speak, an acclaimed documentary co-directed by Zinn, based on A People's History and a companion volume, Voices of a People's History of the United States. As Noam Chomsky wrote, "Howard Zinn's work literally changed the conscience of a generation."
Zinn grew up in a working-class, immigrant household in Brooklyn. At eighteen, he became a shipyard worker and flew bomber missions over Europe during World War II, experiences which helped to shape his opposition to war and his interest in the lives of working people. After attending college under the GI Bill and earning a Ph.D. in history from Columbia University, he taught at Spelman College, a historically black women's college, where he became active in the civil rights movement. After being fired by Spelman for his support for student protesters, Zinn became a professor of Political Science at Boston University, where he taught until his retirement in 1988. He wrote more than forty books.
OTHER TITLES BY THIS AUTHOR:
A People's History of the United States: 1492–Present
A People's History of the United States: Abridged Teaching Edition (with Kathy Emery and Ellen Reeves)
A People's History of the United States: The Wall Charts (with George Kirschner)
Disobedience and Democracy: Nine Fallacies of Law and Order
Failure to Quit: Reflections of an Optimistic Historian
Howard Zinn On Democratic Education (with Donaldo Macedo)
Howard Zinn Speaks: Collected Speeches, 1963–2009 (ed. Anthony Arnove)
Indispensable Zinn: The Essential Writings of the "People's Historian"  (ed. Timothy Patrick McCarthy)
Justice in Everyday Life: The Way It Really Works
Marx in Soho: A Play on History
Original Zinn: Conversations on History and Politics (with David Barsamian)
Passionate Declarations: Essays on War and Justice
The Historic Unfulfilled Promise
The People Speak: American Voices, Some Famous, Some Little Known
The Twentieth Century: A People's History
Three Plays – The Political Theater of Howard Zinn: Emma / Marx in Soho / The Daughter of Venus
Three Strikes: Miners, Musicians, Salesgirls, and the Fighting Spirit of Labor's Last Century (with Dana Frank and Robin D. G. Kelley)
Uncommon Sense: From the writings of Howard Zinn (eds. Dean Birkenkamp and Wanda Rhudy)
Vietnam: The Logic of Withdrawal
You Can't Be Neutral on a Moving Train: A Personal History of Our Times
RIGHTS INFORMATION:
For all languages and territories, please contact Taryn Fagerness at Taryn Fagerness Agency.
See here for a list of Taryn Fagerness's foreign subagents.