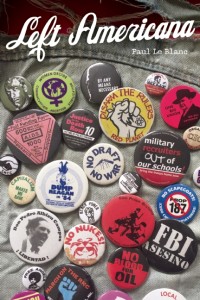 LEFT AMERICANA
By Paul Le Blanc
Haymarket Books (Spring 2017)
Paper • ISBN-13: 9781608466825 • $22.00 • 304 pgs.
ABOUT THE BOOK:
Animated by the conviction that the Left is "as American as apple pie," this rich collection of essays highlights radical traditions that helped to shape US history in the direction of genuine "liberty and justice for all."
These essays—touching on the Marxist-tinged anarchism of the Haymarket martyrs to the predecessors and heirs of the Occupy Wall Street movement—give a vibrant sense of the central role of the Left in social movements and struggles of the past and present that generated remarkable transformations. Left Americana considers both the limitations and successes for activists from the Socialist and Communist parties, Christian Socialists, Maoists, Trotskyists, and the "New Left" activists of the 1960s and '70s in creating profound social and political change.
PRAISE:
"In Left Americana, a distinguished scholar-activist offers a fascinating field trip through territory too often treated as a factional battlefield or neglected and forgotten."
Paul Buhle, retired lecturer, Brown University, and author of Marxism in the United States
"The future of the radical past is in good hands with Paul Le Blanc. His new collection of writings is a marvelous stroll through the landscape of the Left, a feat of historical reconstruction around an ambitious spectrum of themes."
Alan Wald, author of American Night: The Literary Left in the Era of the Cold War
"Left Americana offers an open-minded overview of select experiences and thinkers in the context of "what is to be done" in America. Le Blanc does not seek or offer a formula; he simply asks that leftists think anew about what kind of revolutionary organization can overcome the global triumph of capitalism. How can an organization be thoroughly democratic yet disciplined enough to be successful without just replicating the authoritarian society it wishes to replace? What specific national factors must American radicals take into account? The only given in Le Blanc's view is that a viable American left must exemplify the values and governance of the new society it advocates."
International Socialist Review
ABOUT THE AUTHOR:
Paul Le Blanc, Professor of History at La Roche College, is author of A Short History of the U.S. Working Class; Work and Struggle: Voices of U.S. Labor Radicalism; and Choice Award winner A Freedom Budget for All Americans.
OTHER TITLES BY THIS AUTHOR:
A Short History of the U.S. Working Class: From Colonial Times to the Twenty-First Century
Black Liberation and the American Dream: The Struggle for Racial and Economic Justice
From Marx to Gramsci: A Reader in Revolutionary Marxist Politics
Lenin and the Revolutionary Party
Leon Trotsky and the Organizational Principles of the Revolutionary Party
Revolutionary Studies: Theory, History, People
Trotskyism in the United States: Historical Essays and Reconsiderations
Unfinished Leninism: The Rise and Return of Revolutionary Doctrine
RIGHTS INFORMATION:
Please contact subagents for the following languages and territories:
For all other languages/territories, please contact Roam Agency.