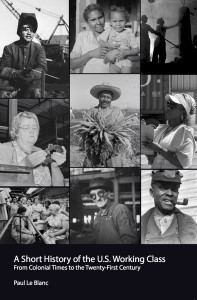 A SHORT HISTORY OF THE U.S. WORKING CLASS
From Colonial Times to the Twenty-First Century
By Paul Le Blanc
Illustrations by Mike Alewitz
Haymarket Books (March 2016)
Paper • ISBN-13: 9781608466252 • US $17 • 205 pages
ABOUT THE BOOK:
Noting that standard accounts of US history often pay little attention to the working class, labor historian Paul Le Blanc presents a colorful, fact-filled history that concentrates on the struggles and achievements of that often-neglected laboring majority. Employing a blend of economic, social, and political history, Le Blanc shows how important labor issues have been and continue to be in the forging of our nation's history. Within a broad analytical framework he highlights issues of class, gender, race, and ethnicity, and includes the views of key figures of US labor, including Cesar Chavez, Eugene V. Debs, Elizabeth Gurley Flynn, Samuel Gompers, Woody Guthrie, "Big Bill" Haywood, Langston Hughes, Mary "Mother" Jones, Martin Luther King Jr., George Meany, A. Philip Randolph, and Carl Sandburg.
In addition to the main narrative, a bibliographical essay directs readers to classic works and cutting-edge scholarship in the field of US labor history as well as to relevant fiction, poetry, and films for further exploration or study. The book's substantial glossary offers clear definitions and thought-provoking mini-essays for almost two hundred terms, from the most basic to the most complex and technical.
PRAISE:
"[An] exceptional book…not just for scholars or even for students, but for the working class. Such books are rare."
Labor Notes
"Le Blanc displays a radical optimism throughout his book. . . . Paul Le Blanc's book is a good teacher; it is our duty to see to it that the right students read it."
Monthly Review
"Although most books that consider the 'working class' are usually devoted to studying or portraying the poor, Le Blanc's book takes a much broader view. For Le Blanc, working class and labor are synonymous. His aim is to make the history of labor in the U.S. more accessible to students and the general reader. He succeeds by outlining major events in the history of the US, then showing the role of labor in shaping them or describing their impact on labor. Le Blanc's primer not only informs but should also prove to be a helpful resource."
Booklist
ABOUT THE AUTHOR:
Paul Le Blanc is author of a number of widely-read studies, including Lenin and the Revolutionary Party, and Marx, Lenin and the Revolutionary Experience. With Michael Yates he has written the widely-acclaimed A Freedom Budget for All Americans. He co-edited a selection of Leon Trotsky's Writings in Exile.
OTHER TITLES BY THIS AUTHOR:
Black Liberation and the American Dream: The Struggle for Racial and Economic Justice
From Marx to Gramsci: A Reader in Revolutionary Marxist Politics
Lenin and the Revolutionary Party
Leon Trotsky and the Organizational Principles of the Revolutionary Party
Revolutionary Studies: Theory, History, People
Trotskyism in the United States: Historical Essays and Reconsiderations
Unfinished Leninism: The Rise and Return of Revolutionary Doctrine
RIGHTS INFORMATION:
Please contact subagents for the following languages and territories:
For all other languages/territories, please contact Roam Agency.