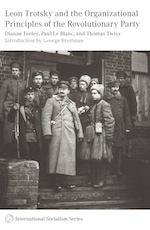 LEON TROTSKY AND THE ORGANIZATIONAL PRINCIPLES OF THE REVOLUTIONARY PARTY
Edited by Dianne Feeley, Paul Le Blanc, and Thomas Twiss
Haymarket Books (September 2014, world English rights)
Trade Paper • ISBN-13: 9781608463961 • US $12 • 5 1/4 in x 7 1/2 in • 120 pgs.
ABOUT THE BOOK:
This is the first comprehensive examination of Leon Trotsky's view on revolutionary organizational principles and norms from 1917 to 1940. Mostly in his own words, it is grounded in Trotsky's experience in Russia's revolutionary movement, and as a leader of the International Left Opposition and Fourth International, examining the specifics and dynamic interplay of democratic initiative and principled centralism.
ABOUT THE EDITORS:
Dianne Feeley is a socialist feminist and an editor of Against the Current. A retired autoworker from the parts industry, Feeley is a member of United Auto Workers, Local 22, and active in Detroit Eviction Defense.
Paul Le Blanc is author of a number of widely-read studies, including Lenin and the Revolutionary Party, and Marx, Lenin and the Revolutionary Experience. With Michael Yates he has written the widely-acclaimed A Freedom Budget for All Americans. He has co-edited a selection of Leon Trotsky's Writings in Exile.
Thomas Twiss is a Liaison Librarian at the University of Pittsburgh and is the author of Trotsky and the Problem of Soviet Bureaucracy (Historical Materialism Book Series).
RIGHTS INFORMATION:
Please contact subagents for the following languages and territories:
| Language/Territory | Subagent |
| --- | --- |
| China, Taiwan, Indonesia, Malaysia, and Vietnam | Big Apple Agency |
| English outside North America | David Grossman Literary Agency |
| German | Paul & Peter Fritz AG Literatur Agentur |
| Greek | Read n' Right Agency |
| Hebrew | The Deborah Harris Agency |
| Italian | The Nabu International Literary Agency |
| Japanese | The English Agency (Japan) Ltd |
| Korean | BC Agency, or Korea Copyright Center |
| Portuguese | RIFF Agency |
| Russia/Baltics/Eastern Europe | Prava I Prevodi |
| Scandinavia: Sweden, Norway, Finland, Denmark, Iceland | Brandt New Agency |
| Spanish in Latin America | International Editors' Co., S.A. |
| Spanish in Spain | International Editors' Co., S.A. |
| Turkish | Anatolialit Agency |
For all other languages/territories, please contact Roam Agency.