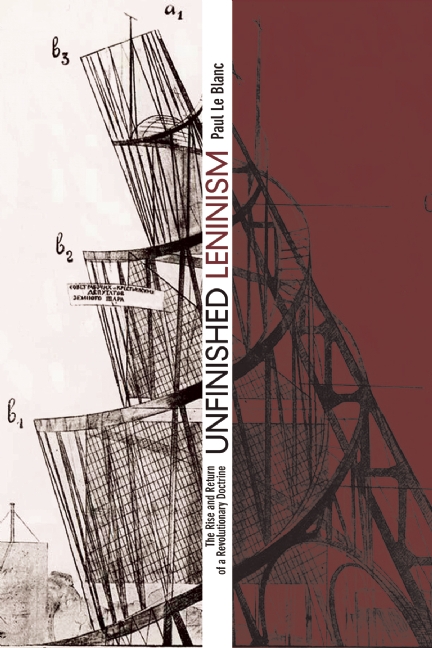 UNFINISHED LENINISM
The Rise and Return of Revolutionary Doctrine
Paul Le Blanc
Haymarket Books (March 2014, world English rights)
Paperback • ISBN-13: 9781608463664 • $18 • 237 pgs.
ABOUT THE BOOK:
Lenin was perhaps the greatest revolutionary of the twentieth century, leader of the Russian Revolution of 1917, and the central founder of modern Communism. These clearly written essays offer a succinct account of his life and times and a stimulating engagement with his ideas.
PRAISE:
"For more than a century Lenin has been a constant source of inspiration for workers and revolutionaries striving to shape democratic and equitable societies throughout the world. Unfinished Leninism is a powerful and stimulating guide to Lenin's political thought and abiding legacy that is essential reading for students and activists who are striving to realize an ethical and revolutionary democratic society today."
Immanuel Ness, Ours to Master and To Own and Encyclopedia of Revolution and Protest.
"Illuminating much misunderstood aspects of Lenin's legacy with flair and originality, Paul Le Blanc breathes new vigor into a century-old approach to social transformation. A major addition to our understanding of twenty-first century socialism."
John Riddell, editor, Toward the United Front
"One doesn't have to be a Leninist to read and appreciate Paul Le Blanc's brilliant essays. This is indeed an outstanding study of Lenin's ideas, his relation to Leon Trotsky and Rosa Luxemburg, as well as his unfinished democratic revolutionary legacy."
Michael Löwy, Centre National de la Recherche Scientifique, Paris.
"Paul Le Blanc likes to "spin his remarks around quotations", and luckily he is a great quoter. He finds eloquent comments from a century's worth of activists and historians, and engages with them passionately. He lets us have our own voice (I say "us" because I am honored to be among those quoted) and yet weaves all the quotations into a searchingly individual view of what it means to be a leftist and a self-proclaimed Leninist in the twenty-first century. And indeed, his conception of the way forward for the left centers on listening, and then on presenting one's own view forthrightly — on conducting an adult conversation about life-and-death issues. To read his book is to join in his questing interrogation of past, present, and future."
Lars Lih, author Lenin Rediscovered
"Unfinished Leninism is a stimulating book on the life and ideas of Lenin but also on the history and future of the doctrine connected with his name."
Ron Blom, De Socialist
ABOUT THE AUTHOR:
Paul Le Blanc is a professor of History at La Roche College, and has written widely on radical movements.
OTHER TITLES BY THIS AUTHOR:
A Short History of the U.S. Working Class: From Colonial Times to the Twenty-First Century
Black Liberation and the American Dream: The Struggle for Racial and Economic Justice
From Marx to Gramsci: A Reader in Revolutionary Marxist Politics
Lenin and the Revolutionary Party
Leon Trotsky and the Organizational Principles of the Revolutionary Party
Revolutionary Studies: Theory, History, People
Trotskyism in the United States: Historical Essays and Reconsiderations
RIGHTS INFORMATION:
Languages & Territories Where Rights Have Been Sold:
| Language/Territory | Publisher |
| --- | --- |
| English in India, Nepal, Bangladesh, and Sri Lanka | Aakar Books |
Please contact subagents for the following languages and territories:
For all other languages/territories, please contact Roam Agency.