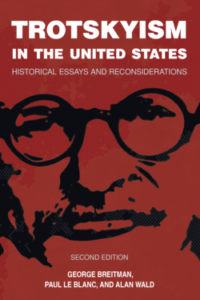 TROTSKYISM IN THE UNITED STATES
Historical Essays and Reconsiderations
By George Breitman, Paul Le Blanc, and Alan Wald
Haymarket Books (Fall 2016)
Paper • ISBN-13: 9781608466856 • US $22• 352 pages
ABOUT THE BOOK:
In the new edition of this definitive work on the history of the revolutionary socialist current in the United States that came to be identified as "American Trotskyism," Paul Le Blanc offers fresh reflections on this history for scholars and activists in the twenty-first century. Includes a preface written especially for the new edition of this distinctive work.
PRAISE FOR THE AUTHORS:
Praise for Marx, Lenin and the Revolutionary Experience (Paul LeBlanc): 
"Looking back at the tumultuous events associated with revolutionary Marxism in the past century, Paul Le Blanc offers us an insightful, sympathetic, and even-handed assessment of the sources of its dynamism as well as the causes of its decline."
Walden Bello
Praise for Exiles from a Future Time (Alan Wald):
"A solid contribution to American studies, this will be welcomed by literary scholars, historians, and political scientists for its thorough research and wide ranging scholarship."

Library Journal
ABOUT THE AUTHORS:
Alan M. Wald is the H. Chandler Davis Collegiate Professor of English Literature and American Culture at the University of Michigan and is the recipient of the Mary C. Turpie Prize of the American Studies Association. Among Alan Wald's widely acclaimed writings is The New York Intellectuals (1987).
Paul Le Blanc is a professor of History at La Roche College, has written on and participated in the U.S. labor, radical and civil rights movements, and is author of such books as Marx, Lenin and the Revolutionary Experience, and Lenin and the Revolutionary Party.
George Breitman (1916-86) was an American communist political activist and newspaper editor. He is best remembered as a founding member of the Socialist Workers Party and as a long-time editor of that organization's weekly paper, The Militant. He also edited internationally influential volumes of works by Malcolm X and Leon Trotsky.
RIGHTS INFORMATION:
Please contact subagents for the following languages and territories:
For all other languages/territories, please contact Roam Agency.