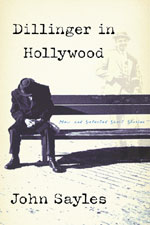 DILLINGER IN HOLLYWOOD
New and Selected Short Stories
By John Sayles
Nation Books (2004, world English rights)
Paper • ISBN-13: 9781560256328 • US $13.95 • 9.0 in x 6.0 in • 252 pgs.
ABOUT THE BOOK:
Before John Sayles was an Oscar-nominated screenwriter and celebrated independent filmmaker, he was a National Book Award-nominated writer of fiction. Now John Sayles has written his first short story collection in twenty-five years.
The keynote story—"Dillinger in Hollywood"—is populated by leftovers from the Golden Age of Hollywood who live in a nursing home catering for "below-the-line" talent—dancers, stunt doubles, horse wranglers, stand-ins, studio drivers—who now wait for death and dementia, playing cards, breaking hips, busting ribs, and telling tall tales of days gone by. During one hot summer, Casey, a long-term resident, confesses that he "used to be John Dillinger. In the flesh."
The supposed John Dillinger, a legendary outlaw who had been popped at the Biograph Theater, was simply a "stand-in." Sayles's stories, like his movies, are panoramic in scope, weaving together disparateelements, where the past has a powerful claim on the present, where the characters are down on their luck, struggling to make ends meet.
Ultimately, John Dillinger in Hollywood showcases Sayles's uncanny ear for language, his skill at crafting character, humor and atmosphere, and shows why he is the winner of the John Steinbeck Award, the O. Henry Award, and others.
PRAISE:
"Sayles has a winning way with the short story."
New York Times
"In this engaging collection, his first in 25 years, he reminds us of his skill in shorter forms. … Humor leavens the social conscience in many of these tales, and Sayles's exceptional dialogue is reason enough to appreciate this collection. "
Publishers Weekly
"Filmmaker Sayles … is also a highly imaginative short story writer with a sure ear for dialogue, a keen eye for group dynamics, a flair for quickly establishing intriguing mise-en-scènes, and the ability to animate a great spectrum of flinty characters … Sayles expresses his compassion and concern for those who struggle with poverty and prejudice, seeking both to provoke and entertain."
Booklist
ABOUT THE AUTHOR:
John Sayles works as a fiction writer, screenwriter, actor and feature film director. His novel Union Dues (1978) was nominated for the National Book Award and the National Critics' Circle Award. He has written over a hundred screenplays and was twice nominated for the Academy Award for Best Original Screenplay. He has directed 18 feature films, with another, I Passed This Way, currently in progress. His films Matewan and Lone Star, as well as his previous novel A Moment in the Sun, are often used for instruction in History and American Studies courses.
OTHER TITLES BY THIS AUTHOR:
Silver City and Other Screenplays
The Anarchists' Convention and Other Stories
RIGHTS INFORMATION:
Languages & Territories Where Rights Have Been Sold:
| Language/Territory | Publisher |
| --- | --- |
| Italian/worldwide | Ellen Multimedia |
Please contact subagents for the following languages and territories:
For all other languages/territories, please contact Roam Agency.