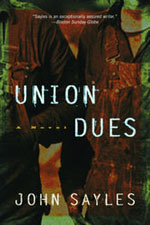 UNION DUES
By John Sayles
Nation Books (2005, world English rights)
Paper • ISBN-13: 9781560257301 • 8 in x 5.6 in • $15.95 •385 pgs.
ABOUT THE BOOK:
The setting is Boston, Fall 1969. Radical groups plot revolution, runaway kids prowl the streets, cops are at their wits end, and work is hard to get, even for hookers. Hobie McNutt, a seventeen year old runaway from West Virginia drifts into a commune of young revolutionaries. It's a warm, dry place, and the girls are very available. But Hobie becomes involved in an increasingly vicious struggle for power in the group, and in the mounting violence of their political actions.
His father Hunter, who has been involved in a brave and dangerous campaign to unseat a corrupt union president in the coal miners union, leaves West Virginia to hunt for his runaway son. To make ends meet, he takes day-labor jobs in order to survive while searching for him.
Living parallel lives, their destinies ultimately movingly collide in this sprawling classic of radicalism across the generations, in the vein of Pete Hamill, Jimmy Breslin, and Richard Price.
Union Dues was nominated for a National Book Award as well as the National Book Critics Circle Award.
ABOUT THE AUTHOR:
John Sayles works as a fiction writer, screenwriter, actor and feature film director. His novel Union Dues (1978) was nominated for the National Book Award and the National Critics' Circle Award. He has written over a hundred screenplays and was twice nominated for the Academy Award for Best Original Screenplay. He has directed 18 feature films, with another, I Passed This Way, currently in progress. His films Matewan and Lone Star, as well as his previous novel A Moment in the Sun, are often used for instruction in History and American Studies courses.
OTHER TITLES BY THIS AUTHOR:
Dillinger in Hollywood: New and Selected Short Stories
Silver City and Other Screenplays
The Anarchists' Convention and Other Stories
RIGHTS INFORMATION:
Please contact subagents for the following languages and territories:
For all other languages/territories, please contact Roam Agency.