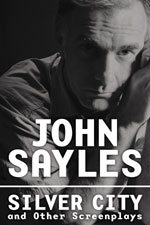 SILVER CITY AND OTHER SCREENPLAYS
By John Sayles
Nation Books (2004, world English rights)
Paper • ISBN-13: 9781560256311 • US $16.95 • 9.0 in x 6.3 in • 481 pgs.
ABOUT THE BOOK:
Legendary filmmaker John Sayles has been called the "conscience of the independent film world" in the United States, and the "screenwriter's screenwriter." Silver City and Other Screenplays is a collection of his greatest work, including Sunshine State, the Oscar-nominated Passion Fish and his film written for the U.S. election year in 2004, Silver City.
Set in Colorado, the core of America's "New West," during the state's gubernatorial race, Silver City is a spirited lampoon and a timely, toxic warning about the present state of American democracy. The grammatically challenged, born-again candidate for governor is the scion of a formidable right-wing political dynasty. He is fumbling his way toward elected office when an unexplained corpse emerges to threaten his campaign, the family empire and the special interest groups who pull his strings.
ABOUT THE AUTHOR:
John Sayles works as a fiction writer, screenwriter, actor and feature film director. His novel Union Dues (1978) was nominated for the National Book Award and the National Critics' Circle Award. He has written over a hundred screenplays and was twice nominated for the Academy Award for Best Original Screenplay. He has directed 18 feature films, with another, I Passed This Way, currently in progress. His films Matewan and Lone Star, as well as his previous novel A Moment in the Sun, are often used for instruction in History and American Studies courses.
OTHER TITLES BY THIS AUTHOR:
Dillinger in Hollywood: New and Selected Short Stories
The Anarchists' Convention and Other Stories
RIGHTS INFORMATION:
Please contact subagents for the following languages and territories:
For all other languages/territories, please contact Roam Agency.