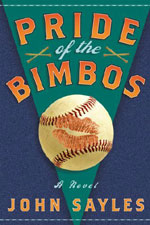 PRIDE OF THE BIMBOS
By John Sayles
Nation Books (2005, world English rights)
Paper • ISBN: 1550255560 • US $15.95 • 8.5 in x 6.5 in • 258 pgs.
ABOUT THE BOOK:
Pride of the Bimbos, with its outrageous plot and cast of outlandish characters, is both funny and profound. It is about a man who refuses to admit he's a freak: Pogo Burns, midget and former private eye. Pogo plays for the Brooklyn Bimbos, a cross-dressing circus sideshow softball team, and is pursued by an evil superpimp named Dred, whom he once shot in order to rescue the woman he loved.
The tale of Pogo's rise, fall and eventual immortality is narrated with wit and depth. This remarkable book marked the start of legendary filmmaker John Sayles's career as a novelist.
ABOUT THE AUTHOR:
John Sayles works as a fiction writer, screenwriter, actor and feature film director. His novel Union Dues (1978) was nominated for the National Book Award and the National Critics' Circle Award. He has written over a hundred screenplays and was twice nominated for the Academy Award for Best Original Screenplay. He has directed 18 feature films, with another, I Passed This Way, currently in progress. His films Matewan and Lone Star, as well as his previous novel A Moment in the Sun, are often used for instruction in History and American Studies courses.
OTHER TITLES BY THIS AUTHOR:
Dillinger in Hollywood: New and Selected Short Stories
Silver City and Other Screenplays
The Anarchists' Convention and Other Stories
RIGHTS INFORMATION:
Please contact subagents for the following languages and territories:
For all other languages/territories, please contact Roam Agency.