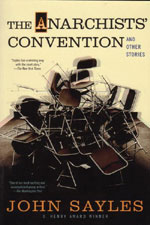 THE ANARCHISTS' CONVENTION AND OTHER STORIES
By John Sayles
Nation Books (2005, world English rights)
Paper • ISBN-13: 9781560256915 • US $15.95 • 8.3 in x 5.5 in • 313 pgs.
ABOUT THE BOOK:
Before John Sayles was an Oscar-nominated screenwriter, he was a National Book Award-nominated writer of fiction. The Anarchists' Convention is Sayles's first, celebrated short story collection, and includes the widely anthologized, O. Henry award-winning "I-80 Nebraska." Infused with humor and compassion, diverse in scene and character, each narrative captures the idioms and matter-of-fact strength of the homeless, restless, and eternally hopeful.
These American originals range from a kid on the road headed westward; a lonely woman temping in Boston; anthropologists in the field; bums on the beach; and speed-addled truckers gabbing over the CB radio — and of course the anarchists of the title, ancient septuagenarian political die-hards who find strength for a noble last stand.
PRAISE:
"Many writers can render credible characters in a credible world, but only a few can do so with a warmth and a humor that is as wise as it is true."
Chicago Sun-Times
"[Sayles's] ancestry is more like the reportorial vigor Jack London on one side and a little of the sweet impressionism of Stephen Crane on the other."
The New York Times
ABOUT THE AUTHOR:
John Sayles works as a fiction writer, screenwriter, actor and feature film director.  His novel Union Dues (1978) was nominated for the National Book Award and the National Critics' Circle Award.  He has written over a hundred screenplays and was twice nominated for the Academy Award for Best Original Screenplay.  He has directed 18 feature films, with another, I Passed This Way, currently in progress.  His films Matewan and Lone Star, as well as his previous novel A Moment in the Sun, are often used for instruction in History and American Studies courses.
OTHER TITLES BY THIS AUTHOR:
Dillinger in Hollywood: New and Selected Short Stories
Silver City and Other Screenplays
RIGHTS INFORMATION:
Please contact subagents for the following languages and territories:
| Language/Territory | Subagent |
| --- | --- |
| China, Taiwan, Indonesia, Malaysia, and Vietnam | Big Apple Agency |
| English outside North America | David Grossman Literary Agency |
| German | Paul & Peter Fritz AG Literatur Agentur |
| Greek | Read n' Right Agency |
| Hebrew | The Deborah Harris Agency |
| Italian | The Nabu International Literary Agency |
| Japanese | The English Agency (Japan) Ltd |
| Korean | BC Agency, or Korea Copyright Center |
| Portuguese | RIFF Agency |
| Russia/Baltics/Eastern Europe | Prava I Prevodi |
| Scandinavia: Sweden, Norway, Finland, Denmark, Iceland | Brandt New Agency |
| Spanish in Latin America | International Editors' Co., S.A. |
| Spanish in Spain | International Editors' Co., S.A. |
| Turkish | Anatolialit Agency |
For all other languages/territories, please contact Roam Agency.