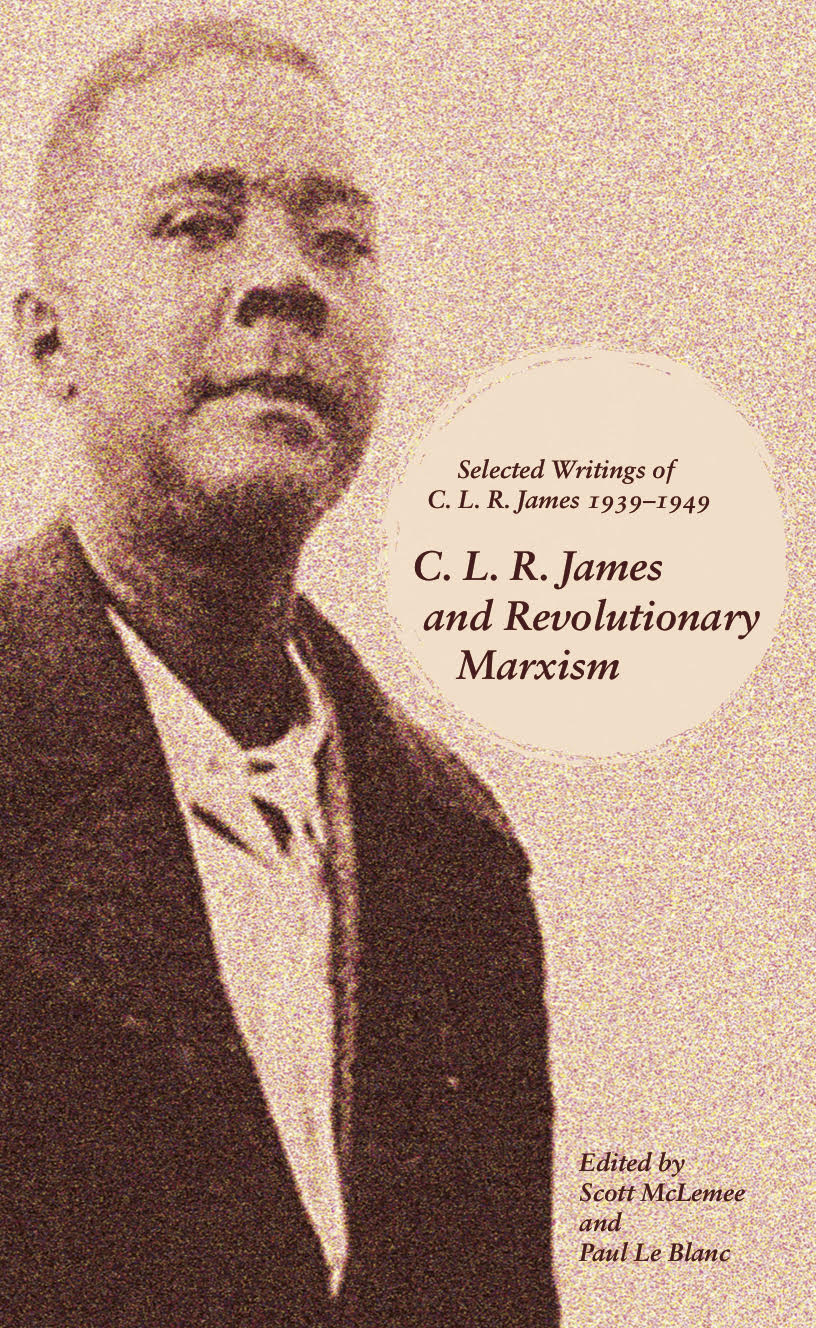 C.L.R. JAMES AND REVOLUTIONARY MARXISM
Selected Writings of C.L.R. James, 1939–1949
Edited by Scott McLemee and Paul Le Blanc
Haymarket Books (Fall 2017)
Paper • ISBN-13: 9781608468645 • US $19.95 • 270 pages
ABOUT THE BOOK:
C.L.R. James was one of the most influential Marxists of his generation. His important contributions ranged from the subjects of Black liberation, to contemporary philosophy, and even touched on the anti-colonial potential of cricket. In this collection of hard-to-find articles and essays, his towering intellect and engaging style touches on a diverse array of topics.
OTHER BOOKS BY THESE AUTHORS:
Titles by Paul Le Blanc:
A Short History of the U.S. Working Class: From Colonial Times to the Twenty-First Century
Black Liberation and the American Dream: The Struggle for Racial and Economic Justice
From Marx to Gramsci: A Reader in Revolutionary Marxist Politics
Lenin and the Revolutionary Party
Revolutionary Studies: Theory, History, People
Unfinished Leninism: The Rise and Return of Revolutionary Doctrine
ABOUT THE AUTHORS:
Scott McLemee is the editor of C.L.R. James and "the Negro Question". He writes the weekly column "Intellectual Affairs" for Inside Higher Ed and serves on the editorial board of New Politics.
Paul Le Blanc is a professor of History at La Roche College, has written on and participated in the U.S. labor, radical and civil rights movements, and is author of such books as Marx, Lenin and the Revolutionary Experience, and Lenin and the Revolutionary Party.
RIGHTS INFORMATION:
Please contact subagents for the following languages and territories:
| Language/Territory | Subagent |
| --- | --- |
| China, Taiwan, Indonesia, Malaysia, and Vietnam | Big Apple Agency |
| English outside North America | David Grossman Literary Agency |
| German | Paul & Peter Fritz AG Literatur Agentur |
| Greek | Read n' Right Agency |
| Hebrew | The Deborah Harris Agency |
| Italian | The Nabu International Literary Agency |
| Japanese | The English Agency (Japan) Ltd |
| Korean | BC Agency, or Korea Copyright Center |
| Portuguese | RIFF Agency |
| Russia/Baltics/Eastern Europe | Prava I Prevodi |
| Scandinavia: Sweden, Norway, Finland, Denmark, Iceland | Brandt New Agency |
| Spanish in Latin America | International Editors' Co., S.A. |
| Spanish in Spain | International Editors' Co., S.A. |
| Turkish | Anatolialit Agency |
For all other languages/territories, please contact Roam Agency.