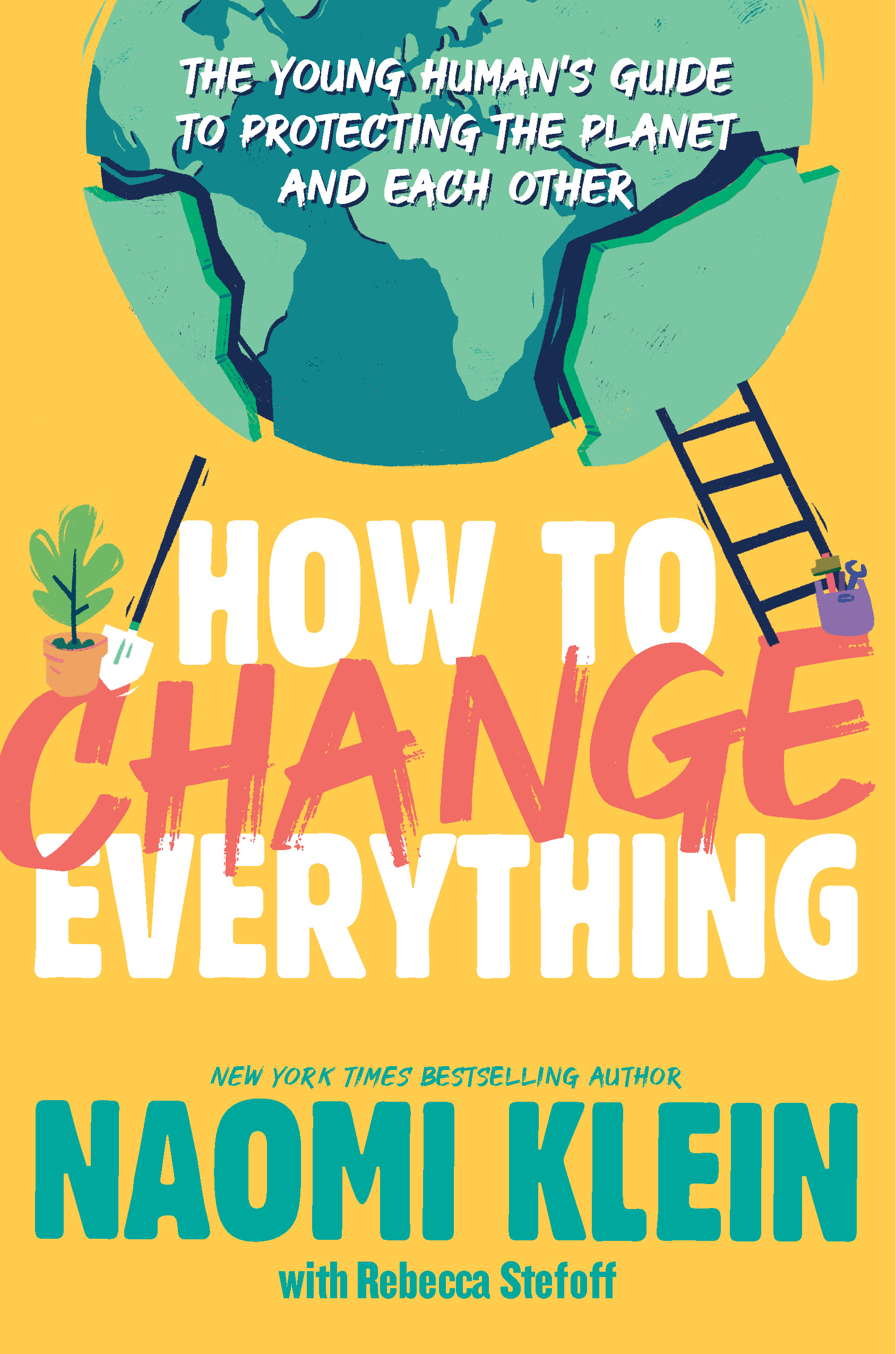 HOW TO CHANGE EVERYTHING
A Young Human's Guide to Protecting the Planet and Each Other
Naomi Klein, with Rebecca Stefoff
Simon & Schuster (February 23, 2021)
Hardcover • ISBN: 97815344745295 • 256 pgs • US $17.00 • B&W photographs, illustrations throughout.
ABOUT THE BOOK:
An empowering, engaging young readers guide to understanding and battling climate change from the expert and bestselling author of This Changes Everything and On Fire, Naomi Klein.
Warmer temperatures. Fires in the Amazon. Superstorms. These are just some of the effects of climate change that we are already experiencing.
The good news is that we can all do something about it. A movement is already underway to combat not only the environmental effects of climate change but also to fight for climate justice and make a fair and livable future possible for everyone. And young people are not just part of that movement, they are leading the way. They are showing us that this moment of danger is also a moment of great opportunity—an opportunity to change everything.
Full of empowering stories of young leaders all over the world, this information-packed book from award-winning journalist and one of the foremost voices for climate justice, Naomi Klein, offers young readers a comprehensive look at the state of the climate today and how we got here, while also providing the tools they need to join this fight to protect and reshape the planet they will inherit.
PRAISE:
"Based on her work as an eco-activist How to Change Everything: The Young Human's Guide to Protecting the Planet and Each Other by Naomi Klein with Rebecca Stefoff is an excellent introduction to the climate crisis but also "a call to arms to young people to get involved. Klein and Stefoff do an excellent job not only providing the historical background of the climate movement and the science behind it but also introducing a host of young people who have been active in the fight for climate justice."
The Globe and Mail
"Klein's journalistic credentials and Stefoff's vast experience writing nonfiction for young readers merge to create an engaging account of how and why we find ourselves confronted with these urgent issues as well as how and why we might find our way out—if we work quickly. With its wide focus and pull-no-punches real talk, this book stands out among climate change books for its uniquely inclusive perspective that will inspire conviction, passion, and action. If you can get only one climate change book for youth, let it be this one."

Kirkus Reviews – starred review, December 2020
"[Klein's] well-presented ideas are engaging and comprehensible. She reminds readers there is no Planet B…. A necessary purchase to educate teens on the seriousness of climate change and the imperative to enact change now."
School Library Journal, February 2021
"Every young person deserves the chance to read this book."
the Toronto Star
OTHER TITLES BY THESE AUTHORS:
By Naomi Klein
No Is Not Enough: Resisting Trump's Shock Politics and Winning the World We Need
On Fire: The (Burning) Case for a Green New Deal
The Battle For Paradise: Puerto Rico Takes on the Disaster Capitalists
By Rebecca Stefoff
A Young People's History of the United States (with Howard Zinn)
Before Columbus: The Americas of 1491 (with Charles Mann)
On the Origin of Species: Young Readers Edition (with Charles Darwin)
ABOUT THE AUTHORS:
Naomi Klein is an award-winning journalist, columnist, and author of the New York Times and international bestsellers The Shock Doctrine, No Logo, This Changes Everything, No Is Not Enough, and On Fire. A Senior Correspondent for The Intercept, reporter for Rolling Stone, and contributor for both The Nation and The Guardian, Klein is a member of faculty at the University of British Columbia's Department of Geography and the inaugural Faculty of Arts Chair in Climate Justice at the Centre for Climate Justice. She is co-founder of the climate justice organization The Leap. Her books have been translated into more than thirty languages.
Rebecca Stefoff has devoted her career to writing nonfiction books for young readers and is the author of over 200 books. She has also adapted a number of landmark works in history and science, including Charles C. Mann's 1491 and Howard Zinn's A Young People's History of the United States.
RIGHTS INFORMATION:
Languages & Territories Where Rights Have Been Sold:


Please contact subagents for the following languages and territories:
For all other languages/territories, please contact Roam Agency.