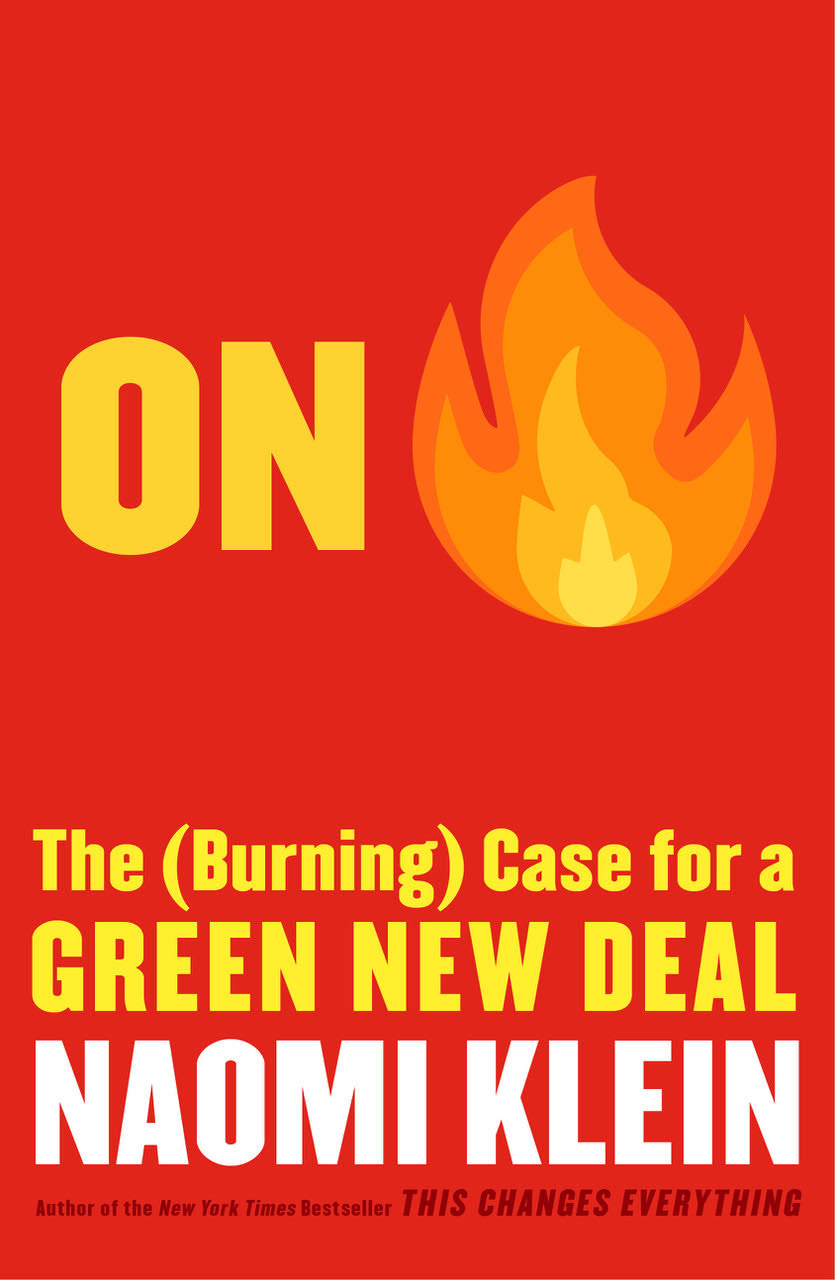 ON FIRE
The (Burning) Case for a Green New Deal
Naomi Klein
Simon & Schuster (September 17, 2019)
Trade Paper • ISBN-13: 9781982129910 •
ABOUT THE BOOK:
#1 International and New York Times bestselling author Naomi Klein, author of The Shock Doctrine and This Changes Everything, makes the case for a Green New Deal—explaining how bold climate action can be a blueprint for a  just and thriving society.
For more than twenty years, Naomi Klein has been the foremost chronicler of the economic war waged on both people and planet—and an unapologetic champion of a sweeping environmental agenda with justice at its center. In lucid, elegant dispatches from the frontlines of contemporary natural disaster, she pens surging, indispensable essays for a wide public: prescient advisories and dire warnings of what future awaits us if we refuse to act, as well as hopeful glimpses of a far better future. On Fire: The (Burning) Case for a Green New Deal gathers for the first time more than a decade of her impassioned writing, and pairs it with new material on the staggeringly high stakes of our immediate political and economic choices.
These long-form essays show Klein at her most prophetic and philosophical, investigating the climate crisis not only as a profound political challenge but as a spiritual and imaginative one, as well. Delving into topics ranging from the clash between ecological time and our culture of "perpetual now," to the soaring history of humans changing and evolving rapidly in the face of grave threats, to rising white supremacy and fortressed borders as a form of "climate barbarism," this is a rousing call to action for a planet on the brink.
With reports spanning from the ghostly Great Barrier Reef, to the annual smoke-choked skies of the Pacific Northwest, to post-hurricane Puerto Rico, to a Vatican attempting an unprecedented "ecological conversion," Klein makes the case that we will rise to the existential challenge of climate change only if we are willing to transform the systems that produced this crisis.
An expansive, far-ranging exploration that sees the battle for a greener world as indistinguishable from the fight for our lives, On Fire captures the burning urgency of the climate crisis, as well as the fiery energy of a rising political movement demanding a catalytic Green New Deal.
PRAISE:
Praise for No Is Not Enough
"This year's most immediately useful political book."
Publishers Weekly, "Best Books of 2017"
"In No Is Not Enough, Naomi Klein anatomizes the roots of Trump in the already dystopian world of corporate-ruled America and predicts the ]'end run around democracy". A clear and readable guide to action, if it is action you are contemplating."
Paul Mason, The Guardian
"The desire to radically challenge capitalism is widespread and growing. Klein's new book is an important contribution to that project."
Jacobin
"An ordinary person's guide to hope. Read this book."
Arundhati Roy
"A genuine page-turner—highly engaging and provocative."
Michelle Alexander, author, The New Jim Crow
"Naomi Klein is one of the few revolutionary public intellectuals of great integrity and vision."
Cornel West
"Essential and gripping . . . this is the book to read."
Bill McKibben, author, Oil and Honey: The Education of an Unlikely Activist
"Incites us brilliantly to stiffen our lip, to overcome . . . and to interweave our No with a programmatic Yes."
Yanis Varoufakis, former Finance Minister of Greece
"Urgent, timely, and necessary"
Noam Chomsky
OTHER TITLES BY THIS AUTHOR:
No Is Not Enough: Resisting Trump's Shock Politics and Winning the World We Need
The Battle For Paradise: Puerto Rico Takes on the Disaster Capitalists
ABOUT THE AUTHOR:
Naomi Klein is an award-winning journalist, columnist, and author of the New York Times and international bestsellers The Shock Doctrine, No Logo, This Changes Everything, and No Is Not Enough. A Senior Correspondent for The Intercept, reporter for Rolling Stone, and contributor for both The Nation and The Guardian, Klein is the inaugural Gloria Steinem Endowed Chair in Media, Culture, and Feminist Studies at Rutgers University. She is co-founder of the climate justice organization The Leap.
RIGHTS INFORMATION:
Languages & Territories Where Rights Have Been Sold:
Please contact subagents for the following languages and territories:
| Language/Territory | Subagent |
| --- | --- |
| China, Taiwan, Indonesia, Malaysia, and Vietnam | Big Apple Agency |
| English outside North America | David Grossman Literary Agency |
| German | Paul & Peter Fritz AG Literatur Agentur |
| Greek | Read n' Right Agency |
| Hebrew | The Deborah Harris Agency |
| Italian | The Nabu International Literary Agency |
| Japanese | The English Agency (Japan) Ltd |
| Korean | BC Agency, or Korea Copyright Center |
| Portuguese | RIFF Agency |
| Russia/Baltics/Eastern Europe | Prava I Prevodi |
| Scandinavia: Sweden, Norway, Finland, Denmark, Iceland | Brandt New Agency |
| Spanish in Latin America | International Editors' Co., S.A. |
| Spanish in Spain | International Editors' Co., S.A. |
| Turkish | Anatolialit Agency |
For all other languages/territories, please contact Roam Agency.