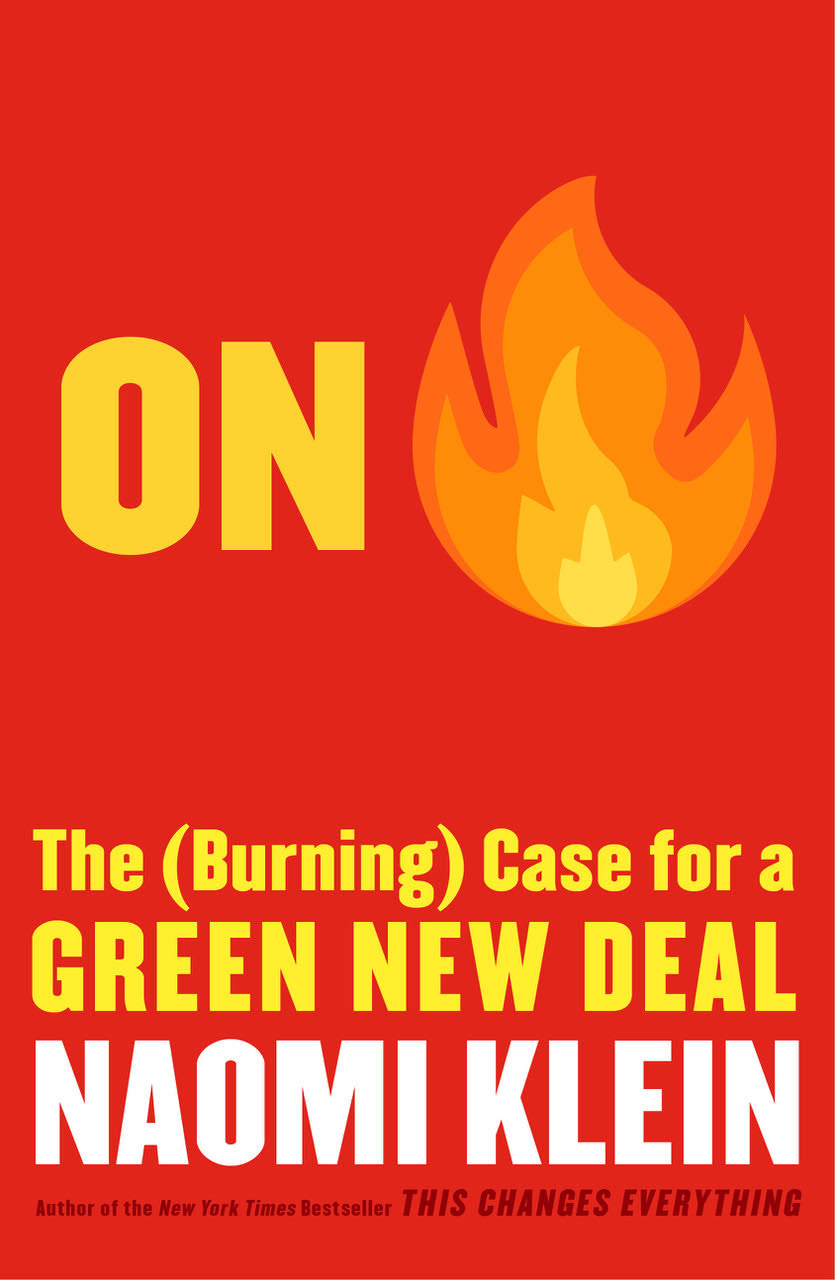 ON FIRE
The (Burning) Case for a Green New Deal
Naomi Klein
Simon & Schuster (September 17, 2019)
Trade Paper • ISBN-13: 9781982129910 •
ABOUT THE BOOK:
#1 International and New York Times bestselling author Naomi Klein, author of The Shock Doctrine and This Changes Everything, makes the case for a Green New Deal—explaining how bold climate action can be a blueprint for a  just and thriving society.
Our house is on fire. The climate crisis has moved from a future threat to a burning emergency. So why are we failing to act as if our house is on fire? And what would it take to actually put the fire out?
For more than a decade, acclaimed journalist and ground-breaking thinker Naomi Klein has been making the case for what is now called the Green New Deal – a vision for transforming our economies to battle climate breakdown and rampant inequality at the same time. In our era of rising seas and rising hate, she argues that only this kind of bold, roots-up action has a chance of rousing us to fight for our lives while there is still time.
These long-form essays, based on her extensive research and reporting, show Klein at her most prophetic and philosophical, investigating the climate crisis not only as a profound political challenge but as a spiritual and imaginative one as well. Delving into the clash between ecological time and our culture of "perpetual now"; the soaring history of rapid human change in the face of grave threats; rising white supremacy and fortressed borders as a form of "climate barbarism" and more, this is a rousing call to transformation – and a dire warning about what awaits if we fail to act.
With dispatches from the ghostly Great Barrier Reef to the smoke-choked skies of the Pacific Northwest, to post-hurricane Puerto Rico, to a Vatican waking up to the case for radical change, Klein paints a vivid picture of both social and ecological breakdown – as well as the people and movements rising to turn humanity's greatest disaster into our greatest opportunity.
On Fire: The (Burning) Case for a Green New Deal shows why Naomi Klein was described by the New Yorker as "the most influential figure on the American left" and why leading environmentalist Bill McKibben calls her "the intellectual godmother of the Green New Deal – which just happens to be the most important idea in the world right now."
PRAISE:
"Naomi Klein's work has always moved and guided me. She is the great chronicler of our age of climate emergency, an inspirer of generations."
Greta Thunberg
"Naomi Klein is a precious gift: every time I read her words, my heart leaps from sadness and anger to action. She takes us deep, down to the roots of what is wrong — and then up, up to a height from which we can see what must be done. Everything we love is at stake now: these writings are our best and brightest hope."
Emma Thompson
OTHER TITLES BY THIS AUTHOR:
No Is Not Enough: Resisting Trump's Shock Politics and Winning the World We Need
The Battle For Paradise: Puerto Rico Takes on the Disaster Capitalists
ABOUT THE AUTHOR:
Naomi Klein is an award-winning journalist, columnist, and author of the New York Times and international bestsellers The Shock Doctrine, No Logo, This Changes Everything, and No Is Not Enough. A Senior Correspondent for The Intercept, reporter for Rolling Stone, and contributor for both The Nation and The Guardian, Klein is the inaugural Gloria Steinem Endowed Chair in Media, Culture, and Feminist Studies at Rutgers University. She is co-founder of the climate justice organization The Leap.
RIGHTS INFORMATION:
Languages & Territories Where Rights Have Been Sold:
Please contact subagents for the following languages and territories:
| Language/Territory | Subagent |
| --- | --- |
| China, Taiwan, Indonesia, Malaysia, and Vietnam | Big Apple Agency |
| English outside North America | David Grossman Literary Agency |
| German | Paul & Peter Fritz AG Literatur Agentur |
| Greek | Read n' Right Agency |
| Hebrew | The Deborah Harris Agency |
| Italian | The Nabu International Literary Agency |
| Japanese | The English Agency (Japan) Ltd |
| Korean | BC Agency, or Korea Copyright Center |
| Portuguese | RIFF Agency |
| Russia/Baltics/Eastern Europe | Prava I Prevodi |
| Scandinavia: Sweden, Norway, Finland, Denmark, Iceland | Brandt New Agency |
| Spanish in Latin America | International Editors' Co., S.A. |
| Spanish in Spain | International Editors' Co., S.A. |
| Turkish | Anatolialit Agency |
For all other languages/territories, please contact Roam Agency.