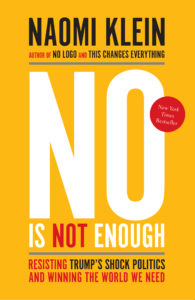 NO IS NOT ENOUGH:
Resisting Trump's Shock Politics and Winning the World We Need
Naomi Klein
Haymarket Books (June, 2017)
Trade Paper • ISBN-13: 9781608468904 • US$16.95 • 270 pgs.
#NoIsNotEnough // www.noisnotenough.org/
New York Times bestseller, and longlist nominee in the 2017 National Book Awards for nonfiction.
ABOUT THE BOOK:
"This is one attempt to uncover how we got to this surreal political moment. It is also an attempt to predict how, under cover of shocks and crises, it could get a lot worse. And it's a plan for how, if we keep our heads, we might just be able to ip the script and arrive at a radically better future." 
– Naomi Klein, from the introduction
Donald Trump's takeover of the White House is a dangerous escalation in a world of cascading crises. His reckless agenda—including a corporate coup in government, aggressive scapegoating and warmongering, and sweeping aside climate science to set off a fossil fuel frenzy—will generate waves of disasters and shocks to the economy, national security, and the environment.
Acclaimed journalist, activist, and bestselling author Naomi Klein has spent two decades studying political shocks, climate change, and "brand bullies." From this unique perspective, she argues that Trump is not an aberration but a logical extension of the worst, most dangerous trends of the past half-century—the very conditions that have unleashed a rising tide of white nationalism the world over. It is not enough, she tells us, to merely resist, to say "no." Our historical moment demands more: a credible and inspiring "yes," a roadmap to reclaiming the populist ground from those who would divide us—one that sets a bold course for winning the fair and caring world we want and need.
This timely, urgent book from one of our most influential thinkers offers a bracing positive shock of its own, helping us understand just how we got here, and how we can, collectively, come together and heal.
PRAISE:
"This year's most immediately useful political book."
Publishers Weekly, "Best Books of 2017"
"In No Is Not Enough, Naomi Klein anatomizes the roots of Trump in the already dystopian world of corporate-ruled America and predicts the ]'end run around democracy". A clear and readable guide to action, if it is action you are contemplating."
Paul Mason, The Guardian
"The desire to radically challenge capitalism is widespread and growing. Klein's new book is an important contribution to that project."
Jacobin
"An ordinary person's guide to hope. Read this book."
Arundhati Roy
"A genuine page-turner—highly engaging and provocative."
Michelle Alexander, author, The New Jim Crow
"Naomi Klein is one of the few revolutionary public intellectuals of great integrity and vision."
Cornel West
"Essential and gripping . . . this is the book to read."
Bill McKibben, author, Oil and Honey: The Education of an Unlikely Activist
"Incites us brilliantly to stiffen our lip, to overcome . . . and to interweave our No with a programmatic Yes."
Yanis Varoufakis, former Finance Minister of Greece
"Urgent, timely, and necessary"
Noam Chomsky
"Who better than Naomi to make sense of this madness, and help us find a way out? This book is a top-of-the-stack summer must-read."
Michael Stipe
"An urgent intervention . . . a critical contribution to the developing opposition to Trump and the economic disorder that produced him."
Keeanga-Yamahtta Taylor, author, From #BlackLivesMatter to Black Liberation
"A compelling book we all need to read and act on . . . an essential handbook for all people, especially young people."
Danny Glover
"[A] brilliant and layered analysis applied with lightning precision, and a compelling vision of the Yes to come."
Eve Ensler
"Naomi Klein constructs a common story that allows us to withstand the effects of being shocked. We can act upon that, with intelligence and happiness, to recover our world and the use of adjectives."
Gael García Bernal
"Ceaselessly illuminating, daring, and indispensable. As accessible as it is brilliant . . . essential."
Owen Jones, author, The Establishment: And How They Get Away with It  
"Klein is an essential voice for our time. No is Not Enough is her reaction to the Trump presidency and her cry to oppose it. Drawing on her own personal experiences, Klein encourages resistance, not just refusal. An intense, probing analysis that asks how we got here, and now what?"
Rough Trade, Books of the Year
OTHER TITLES BY THIS AUTHOR:
How to Change Everything: A Handbook for Young Climate and Justice Warriors  (with Rebecca Stefoff)
On Fire: The (Burning) Case for a Green New Deal
The Battle For Paradise: Puerto Rico Takes on the Disaster Capitalists
ABOUT THE AUTHOR:
Naomi Klein is an award-winning journalist, columnist, and author of the New York Times and international bestsellers The Shock Doctrine, No Logo, This Changes Everything, No Is Not Enough, and On Fire. A Senior Correspondent for The Intercept, reporter for Rolling Stone, and contributor for both The Nation and The Guardian, Klein is a member of faculty at the University of British Columbia's Department of Geography and the inaugural Faculty of Arts Chair in Climate Justice at the Centre for Climate Justice. She is co-founder of the climate justice organization The Leap. Her books have been translated into more than thirty languages. Her most recent book, with Rebecca Stefoff, is How to Change Everything: A Young Human's Guide to Protecting the Planet and Each Other.
RIGHTS INFORMATION:
Audio book:
Languages & Territories Where Rights Have Been Sold:
Please contact subagents for the following languages and territories:
For all other languages/territories, please contact Roam Agency.