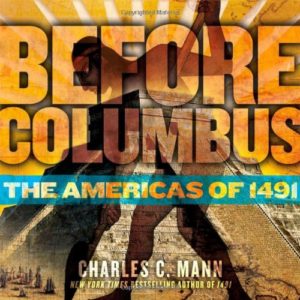 BEFORE COLUMBUS
The Americas of 1491
Charles C. Mann
Adapted from the book by Rebecca Stefoff
ALA Best Books for Young Adults
Americas Award Commended Title
Bank Street Best Books of the Year
CBC/NCSS Notable Social Studies Trade Book
ILA Teachers' Choices
NYPL 100 Titles for Reading and Sharing
Parents' Choice Award
School Library Journal Best Books of the Year
Spur Award Finalist (Western Writers of America)
Atheneum Books for Young Readers (2009)
Hardcover • ISBN 9781416949008 • US $24.99 • 128 pgs.
ABOUT THE BOOK:
A companion book for young readers (grades 3–7) based on 1491: New Revelations of the Americas Before Columbus, the groundbreaking bestseller by Charles C. Mann.
PRAISE:
"In this beautifully illustrated and concise adaptation of 1491, Mann paints a superb picture of pre-Columbian America. In the process, he overturns the misconceived image of Natives as simple, widely scattered savages with minimal impact on their surroundings. Well-chosen, vividly colored graphics and photographs of mummies, pyramids, artifacts, and landscapes as well as the author's skillful storytelling will command the attention of even the most reluctant readers. Eye-catching sidebars and oversize chapter headings seem to pop from the pages. Mann constructs the narrative around three crucial questions that continue to confound historians today: Was the New World really new? Why were the Europeans successful? What ecological impact did Natives have on their surroundings? From the pre-Columbian genetic engineering of maize to the existence of pyramids older than the Egyptian variety, Mann's lucid answers to these questions represent current scholarly opinion and point the way toward future exploration and discovery. Students and teachers will benefit greatly from this engaging exploration of America's most overlooked and misunderstood historical periods."
Starred review, School Library Journal
OTHER BOOKS BY CHARLES C. MANN:
1491: New Revelations of the Americas Before Columbus
1493: Uncovering the New World Columbus Created
Aspirin Wars: Money, Medicine, and 100 Years of Rampant Competition (with Mark Plummer)
At Large: The Strange Case of the World's Biggest Internet Invasion (with David H. Freedman)
The Second Creation: Makers of the Revolution in Twentieth-Century Physics (with Robert P. Crease)
The Wizard and the Prophet Two Remarkable Scientists and Their Dueling Visions to Shape Tomorrow's World
ABOUT THE AUTHORS: 
Charles C. Mann, a correspondent for The Atlantic, Science, and Wired, has written for Fortune, The New York Times, Smithsonian, Technology Review, Vanity Fair, and The Washington Post, as well as for the TV network HBO and the series Law & Order. A three-time National Magazine Award finalist, he is the recipient of writing awards from the American Bar Association, the American Institute of Physics, the Alfred P. Sloan Foundation, and the Lannan Foundation. His 1491 won the National Academies Communication Award for the best book of the year. 
Rebecca Stefoff has devoted her career to writing nonfiction books for young readers. She has adapted a number of landmark works in history and science. Visit her website here: http://rebeccastefoff.com/
RIGHTS INFORMATION:
For all languages and territories, please contact Taryn Fagerness at Taryn Fagerness Agency.
See here for a list of Taryn Fagerness's foreign subagents.