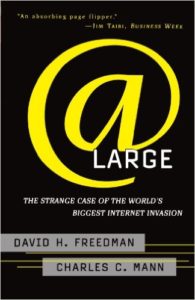 AT LARGE
The Strange Case of the World's Biggest Internet Invasion
David H. Freedman and Charles C. Mann
Touchstone/Simon & Schuster (June 1998)
Paper • ISBN-13: 9780684835587 • US $21.95 • 320 pgs.
ABOUT THE BOOK:
Hailed as "a chilling portrait" by The Boston Globe and "a crafty thriller" by Newsweek, this astonishing story of an obsessive hacker promises to change the way you look at the Internet forever.
At Large chronicles the massive manhunt that united hard-nosed FBI agents, computer nerds, and uptight security bureaucrats against an elusive computer outlaw who broke into highly secured computer systems at banks, universities, federal agencies, and top-secret military weapons-research sites. Here is "a real-life tale of cops vs. hackers, by two technology writers with a flair for turning a complicated crime and investigation into a fast-moving edge-of-your-seat story" (Kirkus Reviews, starred). At Large blows the lid off the frightening vulnerability of the global online network, which leaves not only systems, but also individuals, exposed.
PRAISE: 
"An absorbing page flipper."
Jim Taibi, Business Week
"Freedman and Mann…understand technology, computers, and security issues. Their message in At Large is clear and convincing."
Jon Katz, The New York Times Book Review
"A thriller…spine-chilling…reads like a John Grisham novel."
Time Digital
"A fascinating story…. Read it and you'll never look at the Internet or your computer quite the same."
The San Diego Union-Tribune
OTHER BOOKS BY CHARLES C. MANN:
1491: New Revelations of the Americas Before Columbus
1493: Uncovering the New World Columbus Created
Aspirin Wars: Money, Medicine, and 100 Years of Rampant Competition (with Mark Plummer)
Before Columbus: The Americas of 1491 (with Rebecca Stefoff)
The Second Creation: Makers of the Revolution in Twentieth-Century Physics (with Robert P. Crease)
ABOUT THE AUTHORS:
Award-winning science writer Charles C. Mann is the author of 1493, a New York Times best-seller, and 1491, which won the U.S. National Academy of Sciences' Keck award for the best book of the year. A correspondent for The Atlantic Monthly, Science, and Wired, he has covered the intersection of science, technology, and commerce for many newspapers and magazines here and abroad, including National Geographic, the New York Times, Vanity Fair, and the Washington Post.
David H. Freedman is the author of Brainmakers, the senior editor of Forbes ASAP, and a contributing editor to Discover. He lives in Needham, Massachusetts.
RIGHTS INFORMATION:
For all languages and territories, please contact Taryn Fagerness at Taryn Fagerness Agency.
See here for a list of Taryn Fagerness's foreign subagents.