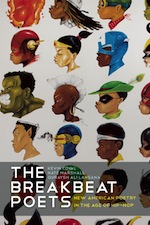 THE BREAKBEAT POETS
New American Poetry in the Age of Hip-Hop
Kevin Coval, Quraysh Ali Lansana, and Nate Marshall
Haymarket Books (April 2015, world English rights)
Trade Paper • ISBN-13: 9781608463954 • US $19.95 • 5 1/8 in x 8 1/4 in • 160 pgs.
ABOUT THE BOOK:
Hip-hop is the largest youth culture in the history of the planet rock. It has produced generations of artists who have revolutionized their genre(s) by applying the aesthetic innovations of the culture. The BreakBeat Poets features 78 poets, born somewhere between 1961-1999, All-City and Coast-to-Coast, who are creating the next and now movement(s) in American letters. This is the first poetry anthology by and for the hip-hop generation. It is for people who love hip-hop, for fans of the culture, for people who've never read a poem, for people who thought poems were only something done by dead white dudes who got lost in a forest, and for poetry heads. This anthology is meant to expand the idea of who a poet is and what a poem is for.
The BreakBeat Poets are the scribes recording and remixing a fuller spectrum of experience of what it means to be alive in this moment. The BreakBeat Poets are a break with the past and an honoring of the tradition(s), an undeniable body expanding the canon for the fresher.
Visit the book's website here.
And for a preview click below:
PRAISE:
"Finally! Here's the anthology that puts in print what we've know all along: Rap is Poetry, and hip-hop is a genre of poetry bigger than poetry itself. Read these poems and get rid of the notion once and for all that hip-hop poems are meant for the stage and don't work on the page. And the author's statements and essays place these poems straight in the American grain, the current iteration of the African-American poetic lineage. The Breakbeat Poets is the essential text for anyone who wants to know what's up with American poetry in the Digital Age."
Bob Holman, Bowery Poetry Club
"Authors from a wide range of marginalized existences compose modern poetry in this exciting, important collection."
Foreword Reviews
"The Breakbeat Poets presents the struggle-born whispers, joyous shouts, and hopeful flows of a beautiful multitude four decades in the making. Here are the voices of a movement that just won't stop. For the urgent midnight roar of the people's poetry and the glimpses of freshly conjured dawns awaiting their own breaks — this book is nothing short of essential."
Jeff Chang, author of Who We Be: The Colorization of America
"It's amazing to see how expansive the dialogue has become. This book is heavy!"
Bobbito Garcia former host of All That: Hip Hop/Spoken Word Showcase @ The Nuyorican Poets Cafe 1991-1998
"A cool & diversified version of a mix tape. The BreakBeat Poets is a thorough and complete summation of Golden Era writers who continue to build the scene of literary and performance poetry."
Chance the Rapper
"Every generation needs its poets; we never doubted that the rappers were poets, but as The Breakbeat Poets shows, the rappers didn't put the poets out of work."
Mark Anthony Neal co-editor of That's the Joint: The Hip-Hop Studies Reader
"[T]he first definitive anthology of poems by poets who fuse together the aesthetic of hip-hop and the style of slam poetry with the written-word tradition… [a] dynamic, groundbreaking, genre-merging volume."
Booklist
OTHER TITLES IN THIS SERIES:
OTHER TITLES BY KEVIN COVAL:
Human Highlight: An Ode To Dominique Wilkins (with Idris Goodwin)
This Is Modern Art: A Play (with Idris Goodwin)
ABOUT THE EDITORS:
Kevin Coval is the author of ALA "Book of the Year" finalist Slingshots: A Hip-Hop Poetica and Everyday People. Founder of Louder Than a Bomb: The Chicago Teen Poetry Festival, Coval serves as Artistic Director and teaches at the Art Institute. He is regular contributor to WBEZ Chicago Public Radio and teaches art and art history department at University of Illinois at Chicago.
Nate Marshall is from the South Side of Chicago. He is an MFA candidate in Creative Writing at The University of Michigan and received his BA at Vanderbilt University. His work has appeared in POETRY Magazine, Indiana Review, The New Republic, [PANK] Online, and in many other publications. He was the star of the award winning full-length documentary "Louder Than A Bomb" and has been featured on HBO's "Brave New Voices." He is an Assistant Poetry Editor for Muzzle. He is also a rapper.
Quraysh Ali Lansana is author of eight poetry books, three textbooks, a children's book, editor of eight anthologies, and coauthor of a book of pedagogy. He is a faculty member of the Creative Writing Program of the School of the Art Institute and the Red Earth MFA Creative Writing Program at Oklahoma City University. He is also a former faculty member of the Drama Division of The Juilliard School. Lansana served as Director of the Gwendolyn Brooks Center for Black Literature and Creative Writing at Chicago State University from 2002-2011, where he was also Associate Professor of English/Creative Writing. Our Difficult Sunlight: A Guide to Poetry, Literacy & Social Justice in Classroom & Community (with Georgia A. Popoff) was published in March 2011 by Teachers & Writers Collaborative and was a 2012 NAACP Image Award nominee. His most recent books include The Walmart Republic w/ Christopher Stewart (Mongrel Empire Press, September 2014) and reluctant minivan (Living Arts Press, May 2014).
RIGHTS INFORMATION:
Please contact subagents for the following languages and territories:
| Language/Territory | Subagent |
| --- | --- |
| China, Taiwan, Indonesia, Malaysia, and Vietnam | Big Apple Agency |
| English outside North America | David Grossman Literary Agency |
| German | Paul & Peter Fritz AG Literatur Agentur |
| Greek | Read n' Right Agency |
| Hebrew | The Deborah Harris Agency |
| Italian | The Nabu International Literary Agency |
| Japanese | The English Agency (Japan) Ltd |
| Korean | BC Agency, or Korea Copyright Center |
| Portuguese | RIFF Agency |
| Russia/Baltics/Eastern Europe | Prava I Prevodi |
| Scandinavia: Sweden, Norway, Finland, Denmark, Iceland | Brandt New Agency |
| Spanish in Latin America | International Editors' Co., S.A. |
| Spanish in Spain | International Editors' Co., S.A. |
| Turkish | Anatolialit Agency |
For all other languages/territories, please contact Roam Agency.