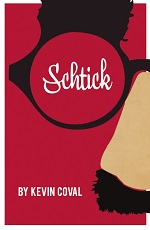 SCHTICK
By Kevin Coval
Haymarket Books (March 2013, world English rights)
ISBN-13: 9781608462704 • Trade paper • 5 1/2 x 8 3/8 • US $15 • 220 p.
ABOUT THE BOOK:
From the poet hailed as a "new growing voice in the world of literature" by the legendary Studs Terkel, comes Shtick. Schtick is the tale of Jewish assimilation and its discontents; a sweeping exposition on Jewish-American culture in all its bawdy, contradictory, and inventive glory. Exploring how Jews shed minority status in America – in his own family and in culture and politics at large – poet Kevin Coval shows us a people's transformation out of diaspora, landing on both sides of the color line.
i will tell my jewish kids
we have a long story. More than what is seen
now
PRAISE:
"Coval does for the Jews what Whitman did for America."
Marc Maron, comedian and host of WTF
"Coval leans all the way in with Schtick, exposing the grimy, slippery truths about how we live and love and hate with his characteristic wit, rhythmic cadence and unflinching honesty. Powerful."
Tricia Rose, author, Hip Hop Wars
"As a poet once observed, 'Poetry is the music of facts.' Kevin Coval's poetry rings with that music. From the grit and turmoil of everyday life, Coval constructs a new beauty that inspires and transforms."
Bernie Sahlins, founder of The Second City and author of Days and Nights at The Second City: A Memoir
"One of my favorite poets."
Mos Def
"Kevin Coval is a new, glowing voice in the world of literature."
Studs Terkel
"I dig this book, for many reasons, mainly because it makes me think. Any literature that causes us to use our brains and contemplate our roles within the human condition is a good thing! I love … how it mixes Humpty-Hump in with the likes of American iconism. Also I'm part Jewish (it's a slice of my mutt-ism)."
Shock G, aka Humpty-Hump of Digital Undergound
"A concious Jewish phenomenon … [Coval's] work speaks to the Jewish relationship to the American color line."
Jew School
"Coval's greatest strength is his rhythmic, beautiful prose and his willingness to speak truth to power, no matter what the personal cost."
URB
"Historical/hysterical… reverent/blasphemous… this book bursts with pride/shame/joy/pain. Coval bravely edits nothing. His dazzling images/ideas fly at you, as if scattershot from some Yiddish theater/circus cannon."
Tim Kazurinsky, Saturday Night Live (cast member 1981–84) and screenwriter of About Last Night…
"Kevin's poems are hugely influenced by the fact I performed at his bar mitzvah. Yes, I said the word doody. And yes, now he's brilliant."
Jeff Garlin, co-star and Executive Producer of the HBO series Curb Your Enthusiasm
"A new take-no-prisoners Jewish classic."
Rabbi Brant Rosen
"[Coval's] newest work may be his best work … a sensational collection, alternately heartfelt, humorous and provocatively political."
Rick Kogan, Chicago Tribune
"'Schtick' implies routine, but Coval's book is anything but. Instead it's an outpouring of self-assessment, cloaked in a tallith of vivid, streetwise language."
Chicago Reader
ABOUT THE AUTHOR:
Kevin Coval is the author of ALA "Book of the Year" finalist Slingshots: A Hip-Hop Poetica, Everyday People, and most recently, L-vis Lives! Racemusic Poems. Founder of Louder Than a Bomb: The Chicago Teen Poetry Festival, Coval is the Artistic Director of Young Chicago Authors. He is a regular contributor to WBEZ Chicago Public Radio and teaches creative-writing at schools across the city.
OTHER TITLES BY THIS AUTHOR:
Human Highlight: An Ode To Dominique Wilkins (with Idris Goodwin)
This Is Modern Art: A Play(with Idris Goodwin)
The Breakbeat Poets: New American Poetry in the Age of Hip-Hop
RIGHTS INFORMATION:
Please contact subagents for the following languages and territories:
For all other languages/territories, please contact Roam Agency.