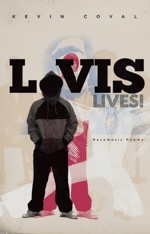 L-VIS LIVES
racemusic poems
By Kevin Coval
Haymarket Books (September 2011, world English rights)
Trade paper • ISBN-13: 9781608461516 • US $16 • 5.5 in x 8.5 in • 100 pgs.
ABOUT THE BOOK:
An American archetype, "L-vis" lives! in this poetic journey of artists past and present who useand misuse Black culture.
PRAISE:
"This book is bold, brave and morally messy – twelve rounds of knock-down, drag-out shadowboxing against a shapeshifter. The dark humor, intellectual fervor, and emotional rigor Coval brings to bear animates these pieces, turns caricatures to characters, implicates us all. It's about time."
Adam Mansbach, author, Go the F**k to Sleep
"A new, glowing voice in the world of literature."
Studs Terkel
"L-vis is an unstinting excavation of race and culture, art and ownership. Though dubbed 'post-racial,' Coval reminds us America is a country in which race is always receding but ever returning to the center of our consciousness. With poignancy, humor, and no small amount of soul, Coval has fashioned a poetry for the present."
Adam Bradley, co-editor, The Anthology of Rap
"Tough and smart, real and surreal, aching and funny, in-the-tradition and startlingly original, the trials of L-Vis show us the challenges of giving up on whiteness — a process at once monumentally hard, too easy, and absolutely necessary."
David Roediger, author of How Race Survived U.S. History
ABOUT THE AUTHOR:
Kevin Coval is the author of Slingshots and Everyday People, and co-founder and Artistic Director of Louder Than a Bomb: The Chicago Teen Poetry Festival. A regular contributor to Chicago Public Radio, and a four-time HBO Def Poet, Coval teaches in schools around Chicago.
OTHER TITLES BY THIS AUTHOR:
Human Highlight: An Ode To Dominique Wilkins (with Idris Goodwin)
This Is Modern Art: A Play (with Idris Goodwin)
The Breakbeat Poets: New American Poetry in the Age of Hip-Hop
RIGHTS INFORMATION:
Please contact subagents for the following languages and territories:
| Language/Territory | Subagent |
| --- | --- |
| China, Taiwan, Indonesia, Malaysia, and Vietnam | Big Apple Agency |
| English outside North America | David Grossman Literary Agency |
| German | Paul & Peter Fritz AG Literatur Agentur |
| Greek | Read n' Right Agency |
| Hebrew | The Deborah Harris Agency |
| Italian | The Nabu International Literary Agency |
| Japanese | The English Agency (Japan) Ltd |
| Korean | BC Agency, or Korea Copyright Center |
| Portuguese | RIFF Agency |
| Russia/Baltics/Eastern Europe | Prava I Prevodi |
| Scandinavia: Sweden, Norway, Finland, Denmark, Iceland | Brandt New Agency |
| Spanish in Latin America | International Editors' Co., S.A. |
| Spanish in Spain | International Editors' Co., S.A. |
| Turkish | Anatolialit Agency |
For all other languages/territories, please contact Roam Agency.