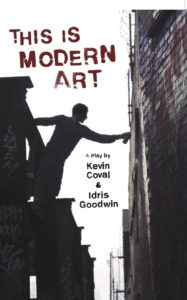 THIS IS MODERN ART
A Play
By Kevin Coval and Idris Goodwin
Foreword by Lisa Yun Lee
Haymarket Books (August 2016)
Paper • ISBN-13: 9781608465972 • US $14.95 • 67 pages
ABOUT THE BOOK:
Graffiti crews are willing to risk anything for their art. Called vandals, criminals, even creative terrorists, Chicago graffiti artists set out to make their voices heard and alter the way people view the world. But when one crew finishes the biggest graffiti bomb of their careers, the consequences get serious and spark a public debate asking, where does art belong?
PRAISE:
"Chicago's most controversial play of the year."
Chicago Magazine
"A romantic ode to the art of graffiti and the act of tagging, a piece that demystifies authorial signatures and charts the storied history of graffiti art in Chicago, shouting out its great artists and their canvases, from Kennedy underpasses to CTA train yards."
Chicago Tribune
"A raw, visceral narrative that gives graffiti artists the humanity and genius the headlines rob them of."
Newcity Stage
"This is a piece about the overwhelming urge not just to create art, but to get it seen—if only by a scant few before the sandblasters come along."
TimeOut Chicago
"A provocative play… that raises philosophical and political questions that are already generating heated discussions among theatergoers of all ages."
Gapers Block
"A wildly wrong-headed and potentially damaging work — No amount of classroom discussion will scrub clean the irresponsible ideas promulgated in this play."
Chicago Sun-Times
"It was at once an act of artistic expression, social protest, and criminal vandalism—guaranteed to rattle the art world and media establishment, set the Twittersphere abuzz, and send the young rebels underground, if not to jail. This world premiere, written by Idris Goodwin and Young Chicago Authors artistic director Kevin Coval, is simultaneously celebratory and cautionary—clearly sympathetic to the artists' point of view, but not blind to the impact their reckless act would have on their own lives."
Chicago Reader
"This production is sharp, exciting and stimulating, both visually and emotionally. It will entertain, educate and is guaranteed to prompt heated discussions about the nature of art and the place for graffiti in our world."
Chicago Theatre Review
OTHER TITLES BY THE AUTHORS:
Human Highlight: An Ode To Dominique Wilkins
OTHER TITLES BY KEVIN COVAL:
The Breakbeat Poets: New American Poetry in the Age of Hip-Hop
ABOUT THE AUTHORS:
Kevin Coval is the author of Schtick, L-vis Lives, Everyday People the American Library Association "Book of the Year" Finalist Slingshots: A Hip-Hop Poetica, and an editor of The BreakBeat Poets. He is the founder of Louder Than a Bomb: The Chicago Youth Poetry Festival, Artistic Director at Young Chicago Authors, and teaches at the University of Illinois at Chicago.
Idris Goodwin is a playwright, spoken word performer and essayist recognized across mediums by The National Endowment for the Arts, The Ford and Mellon Foundation. His play How We Got On, developed at The Eugene O'Neill Theater Center, premiered at The 2012 Festival of New Play.
RIGHTS INFORMATION:
Please contact subagents for the following languages and territories:
For all other languages/territories, please contact Roam Agency.