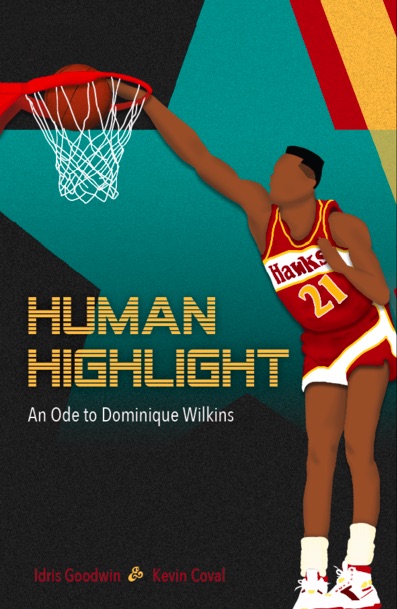 HUMAN HIGHLIGHT
An Ode To Dominique Wilkins
Kevin Coval and Idris Goodwin
Haymarket Books (Fall 2018)
Paper • ISBN-13:9781608469840• US $10.00
ABOUT THE BOOK:
Kevin Coval and Idris Goodwin pay poetic homage to slam dunk virtuoso Dominique Wilkins, and creativity & improvisation in the game of basketball.
In 1988, Dominque Wilkins & Michael Jordan squared off in Chicago for the most epic dunk contest in the history of the sport. 30 years later, poets & playwrights, Idris Goodwin & Kevin Coval, long-time collaborators, pay homage to the slam dunk, the anniversary of contest & to the moment & to the sport that changed culture in America & around the globe. Human Highlight: An Ode to Dominique Wilkins is a celebration of creativity, improvisation & the beauty & power in the game of basketball.
OTHER TITLES BY THE AUTHORS:
OTHER TITLES BY KEVIN COVAL:
The Breakbeat Poets: New American Poetry in the Age of Hip-Hop
ABOUT THE AUTHORS:
Kevin Coval is the author of Schtick, L-vis Lives, Everyday People the American Library Association "Book of the Year" Finalist Slingshots: A Hip-Hop Poetica, and an editor of The BreakBeat Poets. He is the founder of Louder Than a Bomb: The Chicago Youth Poetry Festival, Artistic Director at Young Chicago Authors, and teaches at the University of Illinois at Chicago.
Idris Goodwin is a playwright, spoken word performer and essayist recognized across mediums by The National Endowment for the Arts, The Ford and Mellon Foundation. His play How We Got On, developed at The Eugene O'Neill Theater Center, premiered at The 2012 Festival of New Play.
Please contact subagents for the following languages and territories:
For all other languages/territories, please contact Roam Agency.