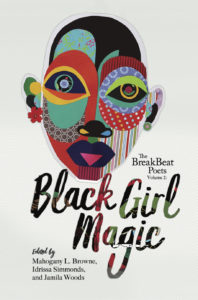 BLACK GIRL MAGIC
The BreakBeat Poets: Volume 2
Edited by Jamila Woods, Mahogany L. Browne, and Idrissa Simmonds
Foreword by Patricia Smith
Haymarket Books (Spring 2018)
Paper • ISBN-13: 9781608468577 • US $19.95 • 230 pgs
ABOUT THE BOOK:
Poetry from the canon of hip-hop by Black women of the diaspora.
"How curious it be, the obsession with reviling and renaming the black girl. How staggering our resistance. How maddening our sublime propensity for magic—not a magic designed to pull us out of our own bodies to become 'the other,' but a magic that would help us know ourselves. And be glorified in the knowledge.
What you hold in your hands is not an anthology of verse, it is a manual of glorious sorcery. It's page upon page upon page of stanza as incantation—crafted not to make black girls' lives less impenetrable and lyrically palatable for the curious, but to revel in the chilling power of our weaponry. . . .
I relentlessly love my sisters. We have taken back the right to name ourselves. We have realized the unwavering strength in our hue, in our connections to each other, in stories that parallel and collide, in stanzas that all work toward revelation."
—From the foreword by Patricia Smith
PRAISE:
"Insightful, inspiring, relatable, and sometimes even heartbreaking, Black Girl Magic encompasses the wealth, beauty, and range of Black women."
LitHub
"Dense, entrancing, necessary works by more than sixty black women poets create a black-girl-centric world of their own…The book provides a well-rounded look at what it means to be a black woman and in the process serves as a platform for our voices and bodies, revealing our maneuvers through the world as deeply relevant to and deserving of literary space."
Chicago Reader
"The poems in the collection, influenced by the rhythms, lyricism, and expressiveness of hip-hop music and culture, speak to the many dimensions of black womanhood."
Poets & Writers
"This anthology celebrates the works of Black women from all corners of the diaspora, exploring themes of beauty, unapologetic blackness, intersectionality, self-definition, and more."
Teen Vogue
"Black Girl Magic features more than 60 writers using vivid imagery and crackling language to embrace their vulnerabilities and push against stereotypes that erase Black women's lived experiences, instead honoring the richly variant forms and stories of Black womanhood… In a world that seems hell bent on the degradation of Black women and girls, hope can often seem like an unattainable luxury. Yet the beauty of Black Girl Magic lies in its defiance of that narrative pushed by patriarchal white supremacy."
Broadly
"An enthralling, deep, beautiful and heartbreaking dive into the world of Black women. Black Girl Magic offers an insightful and necessary look at what it means to be black, resolute and have a platform to share it loud and proudly."
Okayplayer
"One of the most important volumes of poetry in recent years."
Dazed
"Written by and for black women, these poems disrupt myths and stereotypes and present expansive perspectives on black womanhood."
Newcity
OTHER TITLES IN THIS SERIES:
The Breakbeat Poets: New American Poetry in the Age of Hip-Hop
ABOUT THE AUTHORS:
Poet and vocalist Jamila Woods was raised in Chicago, IL and graduated from Brown University, where she earned a BA in Africana Studies and Theatre & Performance Studies. Influenced by Lucille Clifton and Gwendolyn Brooks, much of her writing explores blackness, womanhood, and the city of Chicago.
Mahogany L. Browne is the Interim Executive Director of Urban Word NYC and Poetry Coordinator at St. Francis College. She holds fellowships from Agnes Gund, Air Serenbe, Cave Canem, Poets House, Mellon Research, and Rauschenberg. She is the author of Woke: A Young Poets Call to Justice, Woke Baby, Black Girl Magic, Kissing Caskets, and Dear Twitter, and a co-editor of The BreakBeat Poets Vol. 2: Black Girl Magic. She lives in Brooklyn, NY.
Idrissa Simmonds is a fiction writer and poet. Her work has appeared in Black Renaissance Noire, The Caribbean Writer, Fourteen Hills Press, and elsewhere. She is the 2014 winner of the Crab Creek Review poetry contest, and a NYFA and Commonwealth Short Story Award Finalist.
RIGHTS INFORMATION:
Audio book:
Please contact subagents for the following languages and territories:
For all other languages/territories, please contact Roam Agency.