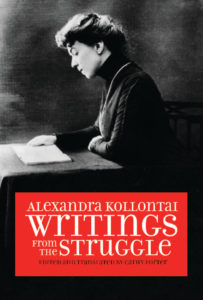 ALEXANDRA KOLLONTAI
Writings from the Struggle
Edited and translated by Cathy Porter
Haymarket Books (Spring 2018, world English rights)
Trade Paper • ISBN-13: 9781608469130 • US $22 • 8.5 in x 5.5 in • 348 pgs.
ABOUT THE BOOK:
Alexandra Kollontai was a key leader of the Russian Socialist movement and her writings on women's liberation and Marxism have been essential reading for generations of activists. This book is a collection of newly translated writings by Kollontai from her time in exile in Germany and her years leading the Women's Bureau in post-revolutionary Russia.
Kollontai worked tirelessly all her life as an organizer and wrote dynamically about her experiences and how they shaped the debates on women's emancipation. These writings illustrate the political arc of woman who dedicated her life to the struggle for a better world and shares her work with an emerging generation of fighters for women's liberation.
PRAISE:
Praise for Alexandra Kollontai: A Biography by Cathy Porter
"Alexandra Kollontai has the potential to be a true delight for the connoisseur by providing an alternative historical account of Russia and the socialist movement. However, what makes it transcend time is Kollontai's chief belief that women should be at the centre of the economy, not the periphery" Spokeman
ABOUT THE AUTHOR:
Cathy Porter is a translator, teacher, and researcher on Russian history. She is the author of Fathers and Daughters: Russian Women in Revolution, and translator of Alexandra Kollontai's Love of Worker Bees.
Please contact subagents for the following languages and territories:
| Language/Territory | Subagent |
| --- | --- |
| China, Taiwan, Indonesia, Malaysia, and Vietnam | Big Apple Agency |
| English outside North America | David Grossman Literary Agency |
| German | Paul & Peter Fritz AG Literatur Agentur |
| Greek | Read n' Right Agency |
| Hebrew | The Deborah Harris Agency |
| Italian | The Nabu International Literary Agency |
| Japanese | The English Agency (Japan) Ltd |
| Korean | BC Agency, or Korea Copyright Center |
| Portuguese | RIFF Agency |
| Russia/Baltics/Eastern Europe | Prava I Prevodi |
| Scandinavia: Sweden, Norway, Finland, Denmark, Iceland | Brandt New Agency |
| Spanish in Latin America | International Editors' Co., S.A. |
| Spanish in Spain | International Editors' Co., S.A. |
| Turkish | Anatolialit Agency |
For all other languages/territories, please contact Roam Agency.