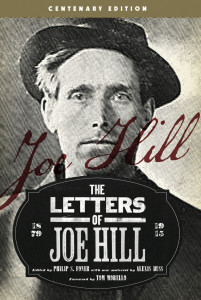 THE LETTERS OF JOE HILL
Centenary Anniversary Edition, Revised
Edited by Philip Foner
Introduction by Tom Morello
With additional materials by Alexis Buss
Haymarket Books (Fall 2015, world English rights)
Trade Paper • ISBN-13: 9781608464975 • US $11.95 • 6 3/4 in x 7 3/4 in • 110 pgs.
ABOUT THE BOOK:
Radical songwriter and organizer Joe Hill was murdered by the state of Utah in 1915, but his songs continue to inspire working-class activists and musicians. This collection of letters, edited by radical historian Philip Foner (1910–1994), with new material by Alexis Buss, provides a window into the political reflections and personal struggles behind Hill's legacy.
ABOUT THE CONTRIBUTORS:
Philip Foner (1910-1994) was an American historian and professor who taught and lectured all over the world. He wrote and edited more than a hundred books, including the ten-volume History of the Labor Movement in the United States and The Black Panthers Speak.
Alexis Buss served six terms as General Secretary-Treasurer of the Industrial Workers of the World and also worked as a union organizer specializing in direct action strategies. She has coedited the Solidarity Forever Labor History Calendar since 1998 and is the author of The Union on Our Own Terms, drawn from columns she wrote on solidarity unionism for the Industrial Worker for nearly a decade.
Incendiary rock guitarist and acoustic troubadour Tom Morello is a groundbreaking artist in his solo career and as an original member of the rock bands Rage Against the Machine and Audioslave.
OTHER TITLES BY THIS AUTHOR:
Clara Zetkin: Selected Writings
Organized Labor and the Black Worker, 1619-1981
The Letters of Joe Hill (Introduction by Tom Morello)
Women and the American Labor Movement
RIGHTS INFORMATION:
Please contact subagents for the following languages and territories:
For all other languages/territories, please contact Roam Agency.