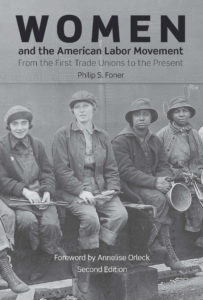 WOMEN AND THE AMERICAN LABOR MOVEMENT
Philip Foner
Foreword by Annelise Orleck
Haymarket Books (Summer 2018, world English rights)
Paper • ISBN-13: 9781608469215 • US $25 • 9.5 in x 6 in • 610 pgs.
ABOUT THE BOOK:
An inspiring comprehensive historical narrative featuring women who led struggles for freedom, equality, and unity on the labor front, from the first colonial trade unions to the fight for a voice in the twentieth-century labor movements.
PRAISE
"With women today making up more than half the work force, the labor movement is changing. And understanding these changes and possibilities, Foner's exhaustive, carefully documented, and readable history is timely and invaluable."
Kirkus Reviews
"Foner's survey of twentieth-century developments is lively, readable, delightfully anecdotal, and unabashedly partisan…His spirited heroines are a joy; they more than recommend the book."
Washington Post Book World
"An indispensable reference work for anyone interested in the history of the women's movement in the United States."
Wall Street Review
"Women and the American Labor Movement provides a valuable sourcebook as well as an intriguing stimulus to scholars who will want to expand the field."
Journal of American History
"An impressive richness of detail…His short biographies of women labor leaders are especially commendable."
American Historical Review
"Invaluable"
Labor Notes
ABOUT THE AUTHOR:
Philip Foner (1910-1994) was a prolific people's historian whose many works include Organized Labor and the Black Worker, 16-19-1981, The Black Panthers Speak, Clara Zetkin; Selected Writings, and The Letters of Joe Hill, all published in new editions by Haymarket Books.
Annelise Orleck is Professor of History at Dartmouth College. She is the author of four books on the history of U.S. women, politics, immigration and activism. Most recent among them are Storming Caesars Palace: How Black Mothers Fought Their Own War on Poverty (2005) and Rethinking American Women's Activism (2014). She is also co-editor of The War on Poverty, 1964–1980: A New Grassroots History (2011) and The Politics of Motherhood; Activist Voices from Left to Right (1997).
OTHER TITLES BY THIS AUTHOR:
Clara Zetkin: Selected Writings
Organized Labor and the Black Worker, 1619-1981
The Letters of Joe Hill (Introduction by Tom Morello)
Please contact subagents for the following languages and territories:
For all other languages/territories, please contact Roam Agency.