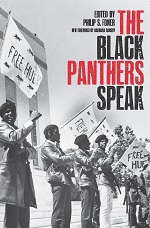 BLACK PANTHERS SPEAK
With a new foreword by Barbara Ransby
Introduction by Claybourne Carson
Edited by Philip S. Foner
Haymarket Books (Fall 2013, world English rights)
Trade Paper • ISBN-13: 9781608463282 • US $19 • 5 1/4 in x 8 3/8 in • 328 pgs.
ABOUT THE BOOK:
Here are Huey P. Newton, Bobby Seale, Eldridge Cleaver, David Hilliard, and Fred Hampton; Kathleen Cleaver and other Panther women; the party's court battles and acquittals; its positions on black separatism, the power structure, the police, violence, and education; as well as songs, poems, and political cartoons. This is the story behind the Black Panthers.
PRAISE:
"Philip S. Foner was a national treasure — scholar, activist and lover of justice."
Cornel West
"The closest thing we're going to get to a rebuttal to [the] organized attempt to destroy the Panthers' legacy."
Ishmael Reed
"Essential reading for those who would prefer to judge the Panther movement for themselves."
Library Journal
"The women's speeches and articles are notable for their concreteness and convincingness … especially [those of] Kathleen Cleaver."
The Nation
ABOUT THE CONTRIBUTORS:
Philip S. Foner was one of the most prominent Marxist historians in the United States. A prolific author and editor, he tirelessly documented the lives of workers, African Americans, and political radicals. Shut out of academic employment for a quarter century because of his political affiliations, he nonetheless helped lay the basis for the explosion of scholarship in labor and black history during the past two decades.
Barbara Ransby is a writer, historian, and longtime political activist. Ransby has published dozens of articles and essays in popular and scholarly venues. She is most notably the author of an award-winning biography of civil rights activist Ella Baker, Ella Baker and the Black Freedom Movement: A Radical Democratic Vision. She serves on the editorial board of the journal Race and Class. Ransby is a professor of Gender and Women's Studies and African American Studies and History at University of Illinois at Chicago.
Clayborne Carson is a professor of History at Stanford University and director of the Martin Luther King, Jr., Research and Education Institute. Selected in 1985 by the late Mrs. Coretta Scott King to edit and publish the papers of her late husband, Carson has devoted most of his professional life to studying Martin Luther King, Jr., and the movements King inspired. Under his direction, the King Papers Project has produced six volumes of a definitive, comprehensive edition of King's speeches, sermons, correspondence, publications, and unpublished writings. Carson was a senior historical advisor for the fourteen-part, award-winning, public television series on the civil rights movement Eyes on the Prize and co-edited the Eyes on the Prize Civil Rights Reader.
OTHER TITLES BY THIS AUTHOR:
Clara Zetkin: Selected Writings
Organized Labor and the Black Worker, 1619-1981
The Letters of Joe Hill (Introduction by Tom Morello)
Women and the American Labor Movement
RIGHTS INFORMATION:
Languages & Territories Where Rights Have Been Sold:
Please contact subagents for the following languages and territories:
For all other languages/territories, please contact Roam Agency.