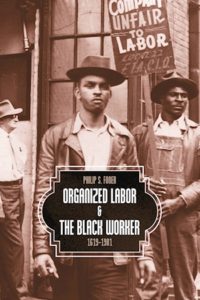 ORGANIZED LABOR AND THE BLACK WORKER, 1619-1981
Philip Foner
With a new foreword by Robin D. G. Kelley
Haymarket Books (Spring 2017, world English rights)
Trade Paper • ISBN-13: 9781608467877 • US $22.00 • 5 1/2 in x 8 1/2 • 492 pgs
ABOUT THE BOOK:
In this classic account, historian Philip Foner traces the radical history of black workers' contribution to the American labor movement.
PRAISE:
"Foner's careful and detailed scholarship makes this the best one-volume study of blacks and the labor movement currently available."

The Black Scholar
"…this book could well become a classic in its field as the complex relationship between organized labor and black Americans continues to unfold."
Professor Ken Mommsen, University of Utah
"The standard of accuracy and reasoned argument maintained in this work should make it the standard on its subject for a long time."

Professor David Herreshoff, Wayne State University, Journal of American History
"This readable and authoritative work represents a significant contribution to the literature of black unionism in the United States."

Joel Hettger, U.S. Department of Labor History, Library Journal
"Foner's book provides considerable illumination of the an important and often overlooked aspect of American labor history."

Professor Norman Lederer, American Academy of Political and Social Science
ABOUT THE AUTHOR:
Philip S. Foner (1910–1994) was an American historian and professor who taught and lectured all over the world. He wrote and edited more than a hundred books, including the ten-volume History of the Labor Movement in the United States and The Black Panthers Speak.

Robin D. G. Kelley is Professor and Gary B. Nash Endowed Chair in U.S. History at UCLA. He is the author of Hammer and Hoe, Race Rebels, Freedom Dreams: The Black Radical Imagination, and Thelonious Monk: The Life and Times of an American Original, among other titles. His writing has been featured in the Journal of American History, American Historical Review, Black Music Research Journal, African Studies Review, New York Times, The Crisis, The Nation, and Voice Literary Supplement.
OTHER TITLES BY THIS AUTHOR:
Clara Zetkin: Selected Writings
The Letters of Joe Hill (Introduction by Tom Morello)
Women and the American Labor Movement
RIGHTS INFORMATION:
Audio book:
Please contact subagents for the following languages and territories:
For all other languages/territories, please contact Roam Agency.