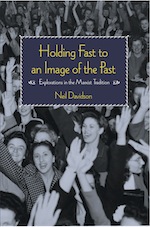 HOLDING FAST TO AN IMAGE OF THE PAST
Explorations in the Marxist Tradition
Neil Davidson
Haymarket Books (Fall 2013, world English rights)
Trade Paper • ISBN-13: 9781608463336 • US $22 • 6 in x 9 in • 400 pgs.
ABOUT THE BOOK:
In this fascinating collection, Neil Davidson explores the nature of the Marxist tradition through a series of essays on individual thinkers. Combining surveys of the careers of figures including Tom Nairn and Alasdair MacIntyre with assessments of important works like Benedict Anderson's Imagined Communities and Isaac Deutscher's biography of Trotsky, and ranging in time from the legacy of Adam Smith to Naomi Klein's analysis of neoliberalism, Davidson argues for a self-reflective form of historical materialism as a necessary intellectual component of the struggle for human liberation.
PRAISE:
"In this volume, Davidson provides an impressive survey of the Marxian and radical tradition — from precursors like Adam Smith through Gramsci, Hobsbawm, Deutscher and Benjamin to contemporary non-Marxists like Naomi Klein. Throughout he combines a clear political and theoretical perspective without any concessions to sectarianism and cant. For this alone, Holding Fast to an Image of the Past is a provocative contribution."
Charles Post, author, The American Road to Capitalism
ABOUT THE AUTHOR:
Neil Davidson is the author of The Origins of Scottish Nationhood (2000), Discovering the Scottish Revolution (2003), for which he was awarded the Deutscher Prize, and How Revolutionary Were the Bourgeois Revolutions? (Haymarket, 2012). Davidson lectures in Sociology in the School of Political and Social Science at the University of Glasgow, Scotland.
OTHER TITLES BY THIS AUTHOR
As Radical as Reality Itself: Marxism and Tradition
How Revolutionary Were the Bourgeois Revolutions?
Nation-States: Consciousness and Competition
We Cannot Escape History: Marxism, Transitions, and Revolutions
RIGHTS INFORMATION:
Please contact subagents for the following languages and territories:
For all other languages/territories, please contact Roam Agency.