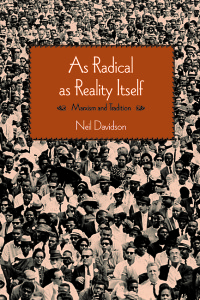 AS RADICAL AS REALITY ITSELF
Marxism and Tradition
By Neil Davidson
Haymarket Books (Fall 2017)
Paper • ISBN-13: 9781608466030 • US $22 • 280 pages
ABOUT THE BOOK:
In this book of essays, Neil Davidson examines Marxism's relationship to previously existing traditions (the Enlightenment), as well as the precise boundaries of the Marxist tradition itself. With characteristic clarity and insight, he argues that tradition should not be seen as a set of eternally valid 'lessons,' but rather as a set of resources from which revolutionaries can critically draw.
PRAISE FOR THE AUTHOR:
Praise for How Revolutionary Were the Bourgeois Revolutions?:
"I was frankly pole-axed by this magnificent book. Davidson resets the entire debate on the character of revolutions: bourgeois, democratic and socialist. He's sending me, at least, back to the library."
Mike Davis
"How Revolutionary Were the Bourgeois Revolutions? is a monumental work. Neil Davidson has given us what is easily the most comprehensive account yet of the 'life and times' of the concept of 'bourgeois revolution,' from its origins in seventeenth and eighteenth century political thought through its distillation in classical Marxism and onward to more recent debates and revisions. This would have been enough. However, Davidson has also provided us with a refined set of theoretical tools for understanding the often complex interactions between political revolutions which overturn state institutions and social revolutions which involve a more thorough-going transformation of social relations. Contemporary debates over the meaning of revolution, from 1989 in Eastern Europe to the Arab Spring, Davidson rightly insists, demonstrate that the past is far from dead nor is the revolution ever finally over. This deeply committed work of scholarship, succeeds magnificently in rescuing the idea of revolution 'from the condescension of (bourgeois) posterity.'"
Colin Mooers
ABOUT THE AUTHOR:
Neil Davidson currently lectures in Sociology with the School of Social and Political Science at the University of Glasgow. He is the author of The Origins of Scottish Nationhood (2000), Discovering the Scottish Revolution(2003), for which he was awarded the Deutscher Memorial Prize, How Revolutionary Were the Bourgeois Revolutions? (2012), Holding Fast to an Image of the Past (2014) and We Cannot Escape History (2015). Davidson is on the editorial boards of rs21 and the Scottish Left Project website. He is a member of the Radical Independence Campaign.
OTHER TITLES BY THIS AUTHOR:
Holding Fast to an Image of the Past: Essays on Marxism and History
How Revolutionary Were the Bourgeois Revolutions?
Nation-States: Consciousness and Competition
We Cannot Escape History: Marxism, Transitions, and Revolutions
RIGHTS INFORMATION:
Please contact subagents for the following languages and territories:
For all other languages/territories, please contact Roam Agency.