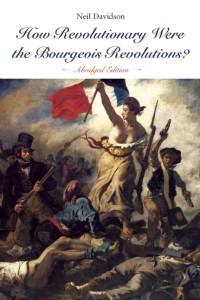 HOW REVOLUTIONARY WERE THE BOURGEOIS REVOLUTIONS?
By Neil Davidson
Haymarket Books (Fall 2016)
Paper • ISBN-13: 9781608460670 • US $20 • 5.5 in x 6.25 in • 400 pages
Also available in an abridged edition:
Haymarket Books (Fall 2016)
Paper • ISBN-13: 9781608467310 • 400 pages
ABOUT THE BOOK:
In this panoramic historical analysis, Neil Davidson defends a renovated concept of bourgeois revolution. Davidson shows how our globalized societies of the present are the result of a contested, turbulent history marked by often forceful revolutions directed against old social orders, from the Dutch Revolt to the English and American Civil Wars and beyond.
PRAISE:
"I was frankly pole-axed by this magnificent book. Davidson resets the entire debate on the character of revolutions: bourgeois, democratic and socialist. He's sending me, at least, back to the library."
Mike Davis
"How Revolutionary Were the Bourgeois Revolutions? is a monumental work. Neil Davidson has given us what is easily the most comprehensive account yet of the 'life and times' of the concept of 'bourgeois revolution,' from its origins in seventeenth and eighteenth century political thought through its distillation in classical Marxism and onward to more recent debates and revisions. This would have been enough. However, Davidson has also provided us with a refined set of theoretical tools for understanding the often complex interactions between political revolutions which overturn state institutions and social revolutions which involve a more thorough-going transformation of social relations. Contemporary debates over the meaning of revolution, from 1989 in Eastern Europe to the Arab Spring, Davidson rightly insists, demonstrate that the past is far from dead nor is the revolution ever finally over. This deeply committed work of scholarship, succeeds magnificently in rescuing the idea of revolution 'from the condescension of (bourgeois) posterity.'"
Colin Mooers
"Neil Davidson wends his way through the jagged terrain of a wide range of Marxist writings and debates to distil their lessons in what is unquestionably the most thorough discussion of the subject to date. If the paradox at the heart of the bourgeois revolutions was that the emergence of the modern bourgeois state had little to do with the agency of the bourgeoisie, then Davidson's study is by far the most nuanced and illuminating discussion of this complex fact. A brilliant and fascinating book, wide-ranging and lucidly written."
Jairus Banaji
"What should our conception of a bourgeois revolution be, if it is to enlighten rather than to mislead? Neil Davidson's instructive and provocative answer is given through a history both of a set of concepts and of those social settings in which they found application. His book is an impressive contribution both to the history of ideas and to political philosophy."
Alasdair MacIntyre
"Davidson exhibits a dazzling ability to synthesise, to pull in a bewildering array of secondary source material and all manner of eclectic cultural and political references into a continuous stream of unadulterated dialectical exhibition. This is, quite simply, the finest book of its kind."
Tony McKenna
"Epic in scale, How Revolutionary? is by any standards a significant achievement. Its intellectual scope is commendably wide-ranging; no one else has put together such a broad field of references on this subject, or conjoined such widely dispersed historical and theoretical arguments. In addition, Davidson discusses virtually every key issue in Marxist political sociology, sweeping from the tributary mode to the nation-state, the differentiation of the peasantry to the revolution en permanence."
New Left Review
ABOUT THE AUTHOR:
Neil Davidson is the author of The Origins of Scottish Nationhood (2000), Discovering the Scottish Revolution (2003), for which he was awarded the Deutscher Prize, and Holding Fast to An Image of the Past (Haymarket, 2013). Davidson lectures in Sociology in the School of Political and Social Science at the University of Glasgow, Scotland.
OTHER TITLES BY THIS AUTHOR:
As Radical as Reality Itself: Marxism and Tradition
Holding Fast to an Image of the Past: Essays on Marxism and History
Nation-States: Consciousness and Competition
We Cannot Escape History: Marxism, Transitions, and Revolutions
RIGHTS INFORMATION:
Languages & Territories Where Rights Have Been Sold:
Please contact subagents for the following languages and territories:
For all other languages/territories, please contact Roam Agency.