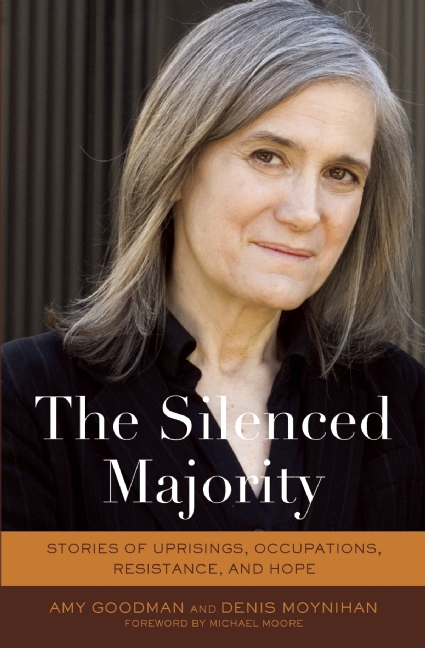 THE SILENCED MAJORITY
Stories of Uprisings, Occupations, Resistance, and Hope
By Amy Goodman and Denis Moynihan
Introduction by Michael Moore
Haymarket Books (August 2012, world English rights)
Trade paper • ISBN-13: 9781608462315 • 5 5/8 x 8 1/2 • US $18 • 380 p.
ABOUT THE BOOK:
In their new book, The Silenced Majority, Amy Goodman and Denis Moynihan provide a vivid record of the events, conflicts, and social movements shaping our society today. They give voice to ordinary people standing up to corporate and government power across the country and across the world. Their writing and daily work at the grassroots public TV/radio news hour Democracy Now!, carried on over 1,000 stations globally and at democracynow.org, casts in stark relief the stories of the silenced majority, against the backdrop of the mainstream media's abject failure, with its small circle of pundits who know so little about so much, attempting to explain the world to us and getting it so wrong.
PRAISE:
"Amy Goodman has taken investigative journalism to new heights of exciting, informative, and probing analysis."
Noam Chomsky
ABOUT THE AUTHORS:
Amy Goodman is an internationally acclaimed journalist, and host and executive producer of Democracy Now!, a daily grass-roots global news hour that broadcasts on over 1,000 radio and television stations and on democracynow.org. She is a syndicated columnist with King Features. Amy has received numerous awards for her work, including the Robert F. Kennedy Prize for International Reporting, the George Polk Award, the Alfred I. duPont-Columbia University Awards for excellence in broadcast journalism, and the Radio/Television News Directors Award, as well as awards from the Associated Press and United Press International. She is the first journalist to receive the Right Livelihood Award, also referred to as "The Alternative Nobel Prize," presented in the Swedish parliament. Amy was co-winner of the first annual Izzy Award from the Park Center for Independent Media at Ithaca College, named after legendary journalist I. F. Stone. She is the author of several books, all New York Times best-sellers, including Breaking the Sound Barrier, and, co-authored with her brother, David Goodman, The Exception to the Rulers, Static, and Standing Up to the Madness. She lives in New York City.
Denis Moynihan met the Democracy Now! team while participating in the nonviolent direct action in Seattle in 1999 that shut down the meeting of the World Trade Organization. In 2002, he helped co-found Democracy Now! as an independent production company (it had been broadcasting since 1996). Since that time, he has participated in the organization's growth, focusing primarily on distribution, infrastructure development, and coordinating special projects, including complex live broadcasts from around the world. He lives in Denver, and is the founder of a new full-power noncommercial, community FM radio station in Colorado's high country, as well as an avid telemark skier and mountain biker. This is his first book.
About Democracy Now!
Democracy Now! is a national, daily, independent, award-winning news program hosted by journalists Amy Goodman and Juan Gonzalez. Pioneering the largest public media collaboration in the United States, Democracy Now! is broadcast on over 1,000 stations, including PBS and public access TV stations; Pacifica, NPR, college and community radio stations; as well as satellite TV (Free Speech TV, channel 9415 on DISH Network and channel 348 on DIRECTV, and on Link TV channel 9410 on DISH Network and DIRECTV channel 375); and on the Internet at democracynow.org. Democracy Now!'s headlines are available in Spanish in text and audio, free for radio stations to carry, as is done on over 300 stations globally. Democracy Now!'s video and audio podcasts are among the most popular on the web. Democracy Now! is listener, viewer and reader supported non-profit journalism.
Other books by Amy Goodman:
Breaking the Sound Barrier (edited Denis Moynihan)
By Amy Goodman, coauthored with her brother David Goodman:
The Exception to the Rulers: Exposing Oily Politicians, War Profiteers and the Media That Love Them
Static: Government Liars, Media Cheerleaders, and the People Who Fight Back
Standing Up to the Madness: Ordinary Heroes in Extraordinary Times
RIGHTS INFORMATION:
Languages & Territories Where Rights Have Been Sold:
| Language/Territory | Publisher |
| --- | --- |
| Chinese (complex) / worldwide | Gusa Publishing House |
| Spanish/worldwide | TBA |
Please contact subagents for the following languages and territories:
For all other languages/territories, please contact Roam Agency.