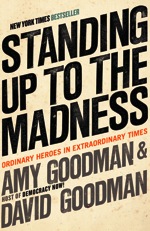 STANDING UP TO THE MADNESS
Ordinary Heroes in Extraordinary Times
By Amy Goodman and David Goodman
Hyperion (May 2008, world English rights)
Trade paper • ISBN-13: 9781401309893 • 7.9 in x 5 in • US $13.99 • 272 pgs.
ABOUT THE BOOK:
Standing Up to the Madness not only is a timely, inspiring, and even revolutionary look at who wields the greatest power in America — everyday people who take a chance and stand up for what they believe in — but also offers advice on what you can do to help.
Where are the millions marching in the streets to defend human rights, civil liberties, and racial justice? Where is the mass revulsion against the killing and torture being carried out in our name? Where are the environmentalists? Where is the peace movement?
The answer: They are everywhere.
The award-winning sister-brother team of Amy Goodman, host of Democracy Now!, and investigative journalist David Goodman traveled the country to detail the ways in which grassroots activists have taken politics out of the hands of politicians. Standing Up to the Madness tells the stories of everyday citizens who have challenged the government and prevailed.
As the Bush administration has waged war abroad and at home, it has catalyzed a vast groundswell of political action. From African-American residents of deluged New Orleans who are fighting racism and City Hall to regain their homes; to four Connecticut librarians who refused to spy on their patrons, challenged the USA PATRIOT Act, and won; to a group of high school students who were barred from performing a play they wrote on the Iraq War based on letters from soldiers; to the first U.S. Army officer to publicly refuse orders to deploy to Iraq, charging that his duty as an officer is to refuse to fight in an illegal and immoral war, Standing Up to the Madness profiles citizens rising to extraordinary challenges. And, in the process, they are changing the way that politics is done, both now and in the future.
In communities around the United States, courageous individuals have taken leaps of faith to stop the madness. They could only hope that if they led, others would follow. That is how movements are born. What begins as one, eventually becomes many. In that tradition, the authors have included the ways in which any individual can take action and effect change.
PRAISE FOR AMY AND DAVID GOODMAN:
"Amy Goodman has taken investigative journalism to new heights of exciting, informative, and probing analysis."
Noam Chomsky
"Amy Goodman and Democracy Now! represent what journalism should be: beholden to the interests of people, not power and profit. Her work is invaluable."
Arundhati Roy
"At times when people are told to 'watch what they say,' Amy Goodman is not afraid to speak truth to power. She does it every day."
Susan Sarandon
"Amy Goodman has carried the great muckraking tradition of Upton Sinclair, George Seldes, and I. F. Stone into the electronic age, creating a powerful counter to the mainstream media."
Howard Zinn, historian and author of A People's History of the United States
ABOUT THE AUTHORS:
Amy Goodman has been confronting the Washington establishment and its corporate sponsors while giving voice to the ordinary citizens and activists who are fighting for a better, more peaceful world.
Goodman began her career in community radio in 1985 at Pacifica Radio's New York Station, WBAI. She produced WBAI's Evening News for 10 years. In 1990 and 1991, Amy traveled to East Timor to report on the US-backed Indonesian occupation of East Timor. There, she and colleague Allan Nairn witnessed Indonesian soldiers gun down 270 East Timorese. Indonesian soldiers beat Amy and Allan, fracturing Allan's skull. Their documentary, "Massacre: The Story of East Timor" won numerous awards, including the Robert F. Kennedy Prize for International Reporting, the Alfred I. DuPont-Columbia Silver Baton, the Armstrong Award, the Radio/Television News Directors Award, as well as awards from the Associated Press, United Press International, and the Corporation for Public Broadcasting.
In 1996, Amy helped launch Pacifica Radio's Democracy Now!. Two years later, Amy and producer Jeremy Scahill went to Nigeria. Their radio documentary "Drilling and Killing: Chevron and Nigeria's Oil Dictatorship" exposed Chevron's role in the killing of two Nigerian villagers in the Niger Delta, who were protesting yet another oil spill in their community. That documentary won the George Polk Award, the Golden Reel for Best National Documentary from the National Federation of Community Broadcasters, and a Project Censored award. In 1999, Amy Goodman traveled to Peru to interview American political prisoner Lori Berenson. It was the first time a journalist had ever gotten into the prison to speak to her.
Today Democracy Now! is a daily international radio and TV show, and is carried on more than 500 stations and on http://www.democracynow.org/. It is the largest media collaboration in North American public broadcasting. Democracy Now! is more than a show — it's a movement.
David Goodman is an award-winning investigative journalist, author of six books, and a contributing writer for Mother Jones. His articles have appeared in The Washington Post, Outside, The Nation, and numerous other publications. His reporting is included in the American Empire Project book In the Name of Democracy. He lives with his wife and two children in Vermont.
Amy and David Goodman are the authors of two previous bestselling books:
The Exception to the Rulers: Exposing Oily Politicians, War Profiteers, and the Media That Love Them
Static: Government Liars, Media Cheerleaders, and the People Who Fight Back
OTHER TITLES BY AMY GOODMAN:
The Silenced Majority: Stories of Uprisings, Occupations, Resistance, and Hope
ABOUT DEMOCRACY NOW!
Democracy Now! is a national, daily, independent, award-winning news program hosted by award-winning journalists Amy Goodman and Juan Gonzalez. Pioneering the largest public media collaboration in the U.S., Democracy Now! airs on over 500 radio and TV stations, including Pacifica, NPR, community, and college radio stations; on public access, PBS, satellite TV stations (DISH network: Free Speech TV channel 9415 and Link TV channel 9410; DIRECTV: Link TV channel 375); on the World Radio Network's European Service and on the Community Broadcasting Association of Australia service; as a podcast, automatically downloaded to your computer or portable audio player; and streams live Monday to Friday at 8 am EST at http://www.democracynow.org/. The Democracy Now! podcast is one of the most popular on the web. In 2006, Time Magazine identified Democracy Now! along with Meet the Press as their "Pick of the Podcasts." More than 70 radio stations throughout the US and Latin America now carry Democracy Now!'s daily Spanish headlines. More than 15,000 people signed up for Boletín, a text version of its Spanish headlines. Today, 75,000 people receive its English language Daily Digest.
Democracy Now! provides audiences with access to people and perspectives rarely heard in the U.S. corporate-sponsored media, including independent and international journalists, ordinary people from around the world who are directly affected by U.S. foreign policy, grassroots leaders and peace activists, artists, academics and independent analysts. In addition, Democracy Now! hosts real debates — debates between people who substantially disagree, such as between the White House or the Pentagon spokespeople on the one hand, and grassroots activists on the other. New stations are adding Democracy Now! to their programming schedules all the time, and there are several movements going on around the country right now to bring Democracy Now! to new communities.
For more about Democracy Now! please see:
"Democracy Now: A Relief From Corporate News B.S."
By Thomas Boothe and Danielle Follett
Le Monde diplomatique (January 2007)
http://www.alternet.org/mediaculture/73900/
RIGHTS INFORMATION:
Languages & Territories Where Rights Have Been Sold:
| Language/Territory | Publisher |
| --- | --- |
| Korean/worldwide | Mati Books |
| Spanish/worldwide (except Canada, Puerto Rico, Spain, and United States) | Capital Intelectual S.A. |
Please contact subagents for the following languages and territories:
For all other languages/territories, please contact Roam Agency.