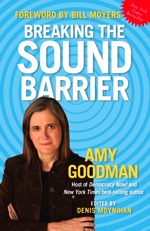 BREAKING THE SOUND BARRIER
By Amy Goodman
Haymarket Books (world English rights, October 2009)
Paper • ISBN-13: 9781931859998 • 5.5 in x 7.5 in • 240 pgs.
ABOUT THE BOOK:
Amy Goodman gives voice to the heroic stories of people the corporate media exclude and ignore.
Amy Goodman began writing a weekly column, "Breaking the Sound Barrier," for King Features Syndicate in 2006. This timely new collection gives voice to the many ordinary people standing up to corporate and government power — and refusing to be silent.
Amy Goodman is the best-known voice of independent media today; her radio and television program Democracy Now! is broadcast on over 500 stations nationwide.
These punchy, lively columns concentrate Goodman's skill of "going where the silence is" and telling the stories the major media usually ignore.
In Goodman's words, they are "a way to reach out to many different audiences. I think people recognize the media has failed them. People are tired of hearing the same small circle of pundits who know so little about so much, explain the world to us, and getting it so wrong. We need to break the sound barrier with other voices, with experts in their own communities, to provide a forum for people to speak for themselves."
PRAISE:
"You can learn more of the truth about Washington and the world from one week of Amy Goodman's Democracy Now! than from a month of Sunday morning talk shows. Make that a year of Sunday talk shows. That's because Amy, as you will discover on every page of this book, knows the critical question for journalists is how close they are to the truth, not how close they are to power."
From the Preface by Bill Moyers
"Amy Goodman is a towering progressive freedom-fighter in the media and the world. Breaking the Sound Barrier is another expression of her vision and courage."
Cornel West
"If you are one of the millions of people who love listening to Amy Goodman on Democracy Now!, and appreciate the passion, intelligence, and insight she brings to her subjects, I've got very good news: she's just as compelling, thought-provoking, and fearless on the page. By bringing us the perspectives of those too often denied access to the media megaphone, Breaking the Sound Barrier is crusading journalism at its best."
Arianna Huffington
"Amy Goodman is one of the most important voices in America. She defies the noise and clamor of celebrity gossip. She challenges the manipulation of information and dissemination of lies by the power elite. She refuses to pander to a culture where news is seen as another form of entertainment designed to bolster corporate profits. She holds steadfast to the core values of our trade. Her integrity and honesty remind us that a culture that cannot distinguish between illusion and reality dies."
Chris Hedges
"Amy Goodman has consistently set the bar for common sense journalism. Every weekday morning Democracy Now! is the one place you can learn of events, usually straight from the horse's mouth, and not from a 'news model' telling you what to think. There is no one who should be more on mainstream media, every day reminding us and giving us a glimpse of the power of one, than Amy. She will go down in history as one of the voices of democracy's greatest champions. A collection of all of her hard work, on our behalf, is a great reference tool … and brilliantly Amy!"
Willie Nelson
ABOUT THE AUTHOR:
Amy Goodman has been confronting the Washington establishment and its corporate sponsors while giving voice to the ordinary citizens and activists who are fighting for a better, more peaceful world.
Goodman began her career in community radio in 1985 at Pacifica Radio's New York Station, WBAI. She produced WBAI's Evening News for 10 years. In 1990 and 1991, Amy traveled to East Timor to report on the US-backed Indonesian occupation of East Timor. There, she and colleague Allan Nairn witnessed Indonesian soldiers gun down 270 East Timorese. Indonesian soldiers beat Amy and Allan, fracturing Allan's skull. Their documentary, "Massacre: The Story of East Timor" won numerous awards, including the Robert F. Kennedy Prize for International Reporting, the Alfred I. DuPont-Columbia Silver Baton, the Armstrong Award, the Radio/Television News Directors Award, as well as awards from the Associated Press, United Press International, and the Corporation for Public Broadcasting.
In 1996, Amy helped launch Pacifica Radio's Democracy Now!. Two years later, Amy and producer Jeremy Scahill went to Nigeria. Their radio documentary "Drilling and Killing: Chevron and Nigeria's Oil Dictatorship" exposed Chevron's role in the killing of two Nigerian villagers in the Niger Delta, who were protesting yet another oil spill in their community. That documentary won the George Polk Award, the Golden Reel for Best National Documentary from the National Federation of Community Broadcasters, and a Project Censored award. In 1999, Amy Goodman traveled to Peru to interview American political prisoner Lori Berenson. It was the first time a journalist had ever gotten into the prison to speak to her.
Today Democracy Now! is a daily international radio and TV show, and is carried on more than 500 stations and on http://www.democracynow.org/. It is the largest media collaboration in North American public broadcasting. Democracy Now! is more than a show — it's a movement.
OTHER TITLES BY THIS AUTHOR:
The Exception to the Rulers: Exposing Oily Politicians, War Profiteers, and the Media That Love Them
Static: Government Liars, Media Cheerleaders, and the People Who Fight Back
The Silenced Majority: Stories of Uprisings, Occupations, Resistance, and Hope
RIGHTS INFORMATION:
Audio book:
Please contact subagents for the following languages and territories:
For all other languages/territories, please contact Roam Agency.