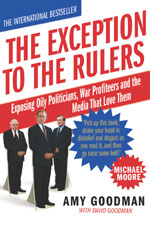 THE EXCEPTION TO THE RULERS
Exposing Oily Politicians, War Profiteers, and the Media That Love Them
By Amy Goodman with David Goodman
The New York Times bestseller, now in paperback with a new preface by Arundhati Roy and a new introduction on the 2004 U.S. elections.
Hyperion (2005, North American English rights)
Paper • ISBN-13: 9781401307998 • US $12.95 • 8.0 in x 5.2 in • 368 pages
And now forthcoming in an unabridged ten-CD set read by Amy Goodman:
Haymarket Books (September 2008)
CD • ISBN: 9781931859677 • US $40 • 6.2 in x 5.4 in • 720 minutes
ABOUT THE BOOK:
In The Exception to the Rulers, award-winning journalist Amy Goodman, with the aid of her brother David, exposes the lies, corruption, and crimes of the power elite — an elite that is bolstered by large media conglomerates. Her goal is "to go where the silence is, to give voice to the silenced majority." As Goodman travels around the country, she is fond of quoting Margaret Mead: "Never doubt that a small group of thoughtful, committed people can change the world. Indeed, it's the only thing that ever has." This book informs and empowers people to act on that principle.
The Exception to the Rulers reached #17 on the New York Times hardcover non-fiction bestseller list and #12 on the paperback bestseller list.
Democracy Now! broadcasts on more than 500 radio and TV stations, including Pacifica, NPR stations, low power fm, college and community radio stations, PBS stations and public access cable TV stations. Millions of viewers can tune into Democracy Now! through Free Speech TV and Link TV, broadcasting on both TV satellite networks, Dish Network and DirecTV.
Millions of people visit democracynow.org each month. In 2006, Time Magazine identified Democracy Now! along with Meet the Press as their "Pick of the Podcasts." More than 70 radio stations throughout the US and Latin America now carry Democracy Now!'s daily Spanish headlines. More than 15,000 people signed up for Boletin, a text version of its Spanish headlines. Today, 75,000 people receive its English language Daily Digest.
PRAISE:
"Amy Goodman has taken investigative journalism to new heights."
Noam Chomsky
"Amy Goodman has carried the great muckraking tradition of Upton Sinclair, George Seldes, and I.F. Stone into the electronic age, creating a powerful counter to the mainstream media. Her programs have reached into homes across the country, educating a new generation of listeners on the realities of U.S. policy at home and abroad. The book she has done with her brother is a very welcome and important addition to the dissident literature of our time."
Howard Zinn, author, A People's History of the United States
"The Exception to the Rulers is a brilliant example of the flourishing of dissent in the United States. It's an exciting guide book for people of conscience about how to tip the balance sooner rather than later. It's been written by wonderful people who wake up every morning year after year, with justice on their minds. That could have been boring, or intimidating, if the stories weren't wonderfully told. Believe me, they are. This is a wonderful, revealing book."
Arundhati Roy, author, The God of Small Things and War Talk, from the preface to the Italian edition
"Journalist and radio host Goodman brings her hard-hitting, no-holds-barred brand of reporting to an array of human rights, government accountability and media responsibility issues, and the result is bracing and timely. Goodman isn't about to let anyone slide by with easy explanations, not even then President Clinton when he called in on her daily Pacifica news show. And she is fierce and tireless in her commitment to dig behind official versions of the facts to get to very different stories … Instances in which newspapers like the New York Times and the Washington Post have published stories based on leaked reports from unnamed government sources only to have to retract the stories later as being unfounded allow Goodman to argue that sophisticated news management techniques of spin, disinformation and controlled access to sources are undermining the reliability of media reporting. How, she asks, could journalists 'embedded' with U.S. troops in Iraq be objective reporters of all that was occurring there, and whose interests were being served? These and other provocative questions power Goodman's stirring call for a democratic media serving a democratic society."
Publishers Weekly
"Goodman's … first book, coauthored with her brother, David, recounts some of her most hard-hitting confrontations with corporate types and politicos of all persuasions, covering much of the same territory as other anti-Bush books and then some, at a compelling, breathless pace. Her real target, however, is not the oil-defense-politics Establishment, but their enablers, the media, which are cowed less by their corporate owners than by their own capacity for self-censorship in the guise of patriotism."
Booklist
ABOUT THE AUTHORS:
Amy Goodman has been confronting the Washington establishment and its corporate sponsors while giving voice to the ordinary citizens and activists who are fighting for a better, more peaceful world.
Goodman began her career in community radio in 1985 at Pacifica Radio's New York Station, WBAI. She produced WBAI's Evening News for 10 years. In 1990 and 1991, Amy traveled to East Timor to report on the US-backed Indonesian occupation of East Timor. There, she and colleague Allan Nairn witnessed Indonesian soldiers gun down 270 East Timorese. Indonesian soldiers beat Amy and Allan, fracturing Allan's skull. Their documentary, "Massacre: The Story of East Timor" won numerous awards, including the Robert F. Kennedy Prize for International Reporting, the Alfred I. DuPont-Columbia Silver Baton, the Armstrong Award, the Radio/Television News Directors Award, as well as awards from the Associated Press, United Press International, and the Corporation for Public Broadcasting.
In 1996, Amy helped launch Pacifica Radio's Democracy Now!. Two years later, Amy and producer Jeremy Scahill went to Nigeria. Their radio documentary "Drilling and Killing: Chevron and Nigeria's Oil Dictatorship" exposed Chevron's role in the killing of two Nigerian villagers in the Niger Delta, who were protesting yet another oil spill in their community. That documentary won the George Polk Award, the Golden Reel for Best National Documentary from the National Federation of Community Broadcasters, and a Project Censored award. In 1999, Amy Goodman traveled to Peru to interview American political prisoner Lori Berenson. It was the first time a journalist had ever gotten into the prison to speak to her.
Today Democracy Now! is a daily international radio and TV show, and is carried on more than 500 stations and on http://www.democracynow.org/. It is the largest media collaboration in North American public broadcasting. Democracy Now! is more than a show — it's a movement.
David Goodman is an award-winning independent journalist and the author of five books, including the critically acclaimed Fault Lines: Journeys Into the New South Africa (University of California Press, 1999; revised paperback, 2002). Archbishop Desmond Tutu hailed Fault Lines as "a searingly honest book by someone who really knows his subject." He is also a contributing writer for Mother Jones, and his articles have appeared in the Washington Post, Outside, Washington Quarterly, Christian Science Monitor, Boston Globe, The Nation, Village Voice, and other publications.
Amy and David Goodman are the authors of two other recent books:
Standing Up to the Madness: Ordinary Heroes in Extraordinary Times
Static: Government Liars, Media Cheerleaders, and the People Who Fight Back
OTHER TITLES BY AMY GOODMAN:
The Silenced Majority: Stories of Uprisings, Occupations, Resistance, and Hope
ABOUT DEMOCRACY NOW!
Democracy Now! is a national, daily, independent, award-winning news program hosted by award-winning journalists Amy Goodman and Juan Gonzalez. Pioneering the largest public media collaboration in the U.S., Democracy Now! airs on over 500 radio and TV stations, including Pacifica, NPR, community, and college radio stations; on public access, PBS, satellite TV stations (DISH network: Free Speech TV channel 9415 and Link TV channel 9410; DIRECTV: Link TV channel 375); on the World Radio Network's European Service and on the Community Broadcasting Association of Australia service; as a podcast, automatically downloaded to your computer or portable audio player; and streams live Monday to Friday at 8 am EST at http://www.democracynow.org. The Democracy Now! podcast is one of the most popular on the web. In 2006, Time Magazine identified Democracy Now! along with Meet the Press as their "Pick of the Podcasts." More than 70 radio stations throughout the US and Latin America now carry Democracy Now!'s daily Spanish headlines. More than 15,000 people signed up for Boletín, a text version of its Spanish headlines. Today, 75,000 people receive its English language Daily Digest.
Democracy Now! provides audiences with access to people and perspectives rarely heard in the U.S. corporate-sponsored media, including independent and international journalists, ordinary people from around the world who are directly affected by U.S. foreign policy, grassroots leaders and peace activists, artists, academics and independent analysts. In addition, Democracy Now! hosts real debates — debates between people who substantially disagree, such as between the White House or the Pentagon spokespeople on the one hand, and grassroots activists on the other. New stations are adding Democracy Now! to their programming schedules all the time, and there are several movements going on around the country right now to bring Democracy Now! to new communities.
For more about Democracy Now! please see:
"Democracy Now: A Relief From Corporate News B.S."
By Thomas Boothe and Danielle Follett
Le Monde diplomatique (January 2007)
http://www.alternet.org/mediaculture/73900/
RIGHTS INFORMATION:
Audio book:
Languages & Territories Where Rights Have Been Sold:
| Language/Territory | Publisher |
| --- | --- |
| Arabic/worldwide | World Book Publishing |
| Croatian/worldwide | Prometej |
| English/North America | Hyperion |
| English/Australia & New Zealand | Allen & Unwin |
| English/UK and rest of world | William Heinemann |
| Indonesia (Bahasa)/worldwide | Profetik |
| Italian/worldwide | Nuovi Mondi |
| Spanish/worldwide | Haymarket Books |
Please contact subagents for the following languages and territories:
For all other languages/territories, please contact Roam Agency.