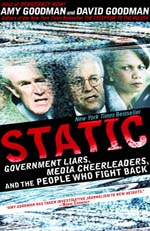 STATIC
Government Liars, Media Cheerleaders,
and the People Who Fight Back
By Amy Goodman and David Goodman
Hyperion (2006, world English rights)
Paper • ISBN-13: 9781401302931 • US $23.95 • 8.3 in x 5.9 in • 352 pgs.
ABOUT THE BOOK:
From the authors of the New York Times bestseller The Exception to the Rulers comes a new book that pushes back against official lies and spin and gives voice to the silenced majority.
In Static, the brother-sister team of Amy Goodman, host of the popular international TV and radio news show Democracy Now!, and investigative journalist David Goodman once again take on government liars, corporate profiteers, and the media that has acted as their megaphone. They expose how the Bush administration has manipulated and fabricated news and how the corporate media has worked hand in glove with the powerful to deceive the public. The Goodmans cut through the spin and static to offer the truth about war, torture, and government control of the media. Mixing investigative reporting and interviews, Static presents voices of dissidents, activists, and others who are too often frozen out of official debate, to shed new light on urgent issues of war and peace. Ultimately, Static is a hopeful, fighting rallying call for people to take back our government, our media,and our world.
PRAISE:
"Amy Goodman and her author brother, David Goodman, follow up their bestseller The Exception to the Rulers by again synthesizing radio interviews and commentary with secondary sources on charged issues that the corporate media too often overlook. 'The Bush administration is obsessed with controlling the flow of information,' the authors declare, citing examples from Iraq to Katrina. One glaring hypocrisy is the president's claim that 'we do not render to countries that torture'; the authors find mounds of evidence to the contrary. They also remind us of the unseemly ties between Republican Party supporters and Pentagon contracts in Iraq. In one hilarious episode — lightly reported in the U.S. media — a British activist group, the Yes Men, hoaxed the BBC regarding Dow Chemical's apparent willingness to apologize for the Bhopal disaster. On Goodman's show, a former U.S. Army interrogator acknowledged that 98% of those picked up in Iraq 'had not done anything.' A brief final section highlights those who fight back, including antiwar mom Cindy Sheehan, and a former British ambassador in Uzbekistan who blew the whistle on that regime's human rights abuses. The book should be popular with fans of the show."
Publisher's Weekly
ABOUT THE AUTHORS:
Amy Goodman has been confronting the Washington establishment and its corporate sponsors while giving voice to the ordinary citizens and activists who are fighting for a better, more peaceful world.
Goodman began her career in community radio in 1985 at Pacifica Radio's New York Station, WBAI. She produced WBAI's Evening News for 10 years. In 1990 and 1991, Amy traveled to East Timor to report on the US-backed Indonesian occupation of East Timor. There, she and colleague Allan Nairn witnessed Indonesian soldiers gun down 270 East Timorese. Indonesian soldiers beat Amy and Allan, fracturing Allan's skull. Their documentary, "Massacre: The Story of East Timor" won numerous awards, including the Robert F. Kennedy Prize for International Reporting, the Alfred I. DuPont-Columbia Silver Baton, the Armstrong Award, the Radio/Television News Directors Award, as well as awards from the Associated Press, United Press International, and the Corporation for Public Broadcasting.
In 1996, Amy helped launch Pacifica Radio's Democracy Now!. Two years later, Amy and producer Jeremy Scahill went to Nigeria. Their radio documentary "Drilling and Killing: Chevron and Nigeria's Oil Dictatorship" exposed Chevron's role in the killing of two Nigerian villagers in the Niger Delta, who were protesting yet another oil spill in their community. That documentary won the George Polk Award, the Golden Reel for Best National Documentary from the National Federation of Community Broadcasters, and a Project Censored award. In 1999, Amy Goodman traveled to Peru to interview American political prisoner Lori Berenson. It was the first time a journalist had ever gotten into the prison to speak to her.
Today Democracy Now! is a daily international radio and TV show, and is carried on more than 500 stations and on http://www.democracynow.org/. It is the largest media collaboration in North American public broadcasting. Democracy Now! is more than a show — it's a movement.
David Goodman is an award-winning independent journalist and the author of five books, including the critically acclaimed Fault Lines: Journeys Into the New South Africa (University of California Press, 1999; revised paperback, 2002). Archbishop Desmond Tutu hailed Fault Lines as "a searingly honest book by someone who really knows his subject." He is also a contributing writer for Mother Jones, and his articles have appeared in the Washington Post, Outside, Washington Quarterly, Christian Science Monitor, Boston Globe, The Nation, Village Voice, and other publications.
Amy and David Goodman are the authors of two other recent books:
Standing Up to the Madness: Ordinary Heroes in Extraordinary Times
The Exception to the Rulers: Exposing Oily Politicians, War Profiteers, and the Media That Love Them
OTHER TITLES BY AMY GOODMAN:
The Silenced Majority: Stories of Uprisings, Occupations, Resistance, and Hope
ABOUT DEMOCRACY NOW!
Democracy Now! is a national, daily, independent, award-winning news program hosted by award-winning journalists Amy Goodman and Juan Gonzalez. Pioneering the largest public media collaboration in the U.S., Democracy Now! airs on over 500 radio and TV stations, including Pacifica, NPR, community, and college radio stations; on public access, PBS, satellite TV stations (DISH network: Free Speech TV channel 9415 and Link TV channel 9410; DIRECTV: Link TV channel 375); on the World Radio Network's European Service and on the Community Broadcasting Association of Australia service; as a podcast, automatically downloaded to your computer or portable audio player; and streams live Monday to Friday at 8 am EST at http://www.democracynow.org. The Democracy Now! podcast is one of the most popular on the web. In 2006, Time Magazine identified Democracy Now! along with Meet the Press as their "Pick of the Podcasts." More than 70 radio stations throughout the US and Latin America now carry Democracy Now!'s daily Spanish headlines. More than 15,000 people signed up for Boletín, a text version of its Spanish headlines. Today, 75,000 people receive its English language Daily Digest.
Democracy Now! provides audiences with access to people and perspectives rarely heard in the U.S. corporate-sponsored media, including independent and international journalists, ordinary people from around the world who are directly affected by U.S. foreign policy, grassroots leaders and peace activists, artists, academics and independent analysts. In addition, Democracy Now! hosts real debates — debates between people who substantially disagree, such as between the White House or the Pentagon spokespeople on the one hand, and grassroots activists on the other. New stations are adding Democracy Now! to their programming schedules all the time, and there are several movements going on around the country right now to bring Democracy Now! to new communities.
For more about Democracy Now! please see:
"Democracy Now: A Relief From Corporate News B.S."
By Thomas Boothe and Danielle Follett
Le Monde diplomatique (January 2007)
http://www.alternet.org/mediaculture/73900/
RIGHTS INFORMATION:
Languages & Territories Where Rights Have Been Sold:
Please contact subagents for the following languages and territories:
For all other languages/territories, please contact Roam Agency.