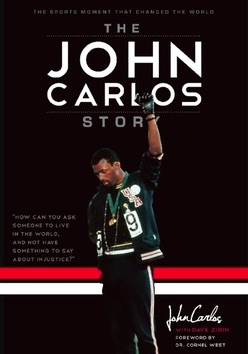 THE JOHN CARLOS STORY
The Sports Moment that Changed the World
By John Carlos, with Dave Zirin
Foreword by Cornel West
Haymarket Books (2013, English rights in North America)
Paper • ISBN-13:9781608462247• US $15.95 • 240 pgs.
ABOUT THE BOOK:
Seen around the world, John Carlos and Tommie Smith's Black Power salute on the 1968 Olympic podium sparked controversy and career fallout. Yet their show of defiance remains one of the most evocative images of Olympic history and the Black Power movement. Here is the remarkable story of one of the men behind the salute, lifelong activist John Carlos. The John Carlos Story was an NAACP Image Award Nominee for Outstanding Literary Work Biography/Autobiography.
PRAISE:
"The John Carlos Story is the remarkable chronicle of an epic life sketched against the defining crisis of race in America. Carlos' athletic genius on the field is matched by his heroic will to overcome trials and tribulations in his personal life, and to find resurrection in his professional life. This is an inspiring and eloquent story about a great American whose commitment to truth, justice and democracy were tested and found true."
Michael Eric Dyson, author of I May Not Get There With You: The True Martin Luther King Jr.
"John Carlos is one of the grand figures of the 20th century. His incredible political courage, indisputable athletic excellence and indestructible spiritual fortitude set him apart from most contemporary celebrities. In fact, his fame derives from his courage, excellence and fortitude. Yet it is only in this powerful and poignant memoir that we learn of what and who made him who he is."
Cornel West
"In this breathlessly readable tale, John Carlos finally steps out of that iconic photograph to become the vibrant, fascinating hero we never really knew."
Robert Lipsyte, author of An Accidental Sportswriter
"John Carlos's life story is an insightful and gripping look at the times he lived and the Olympics he helped make so memorable. He shows us that the one day that made him famous was only the most outward and visible sign of a touching and thoughtful life."
Frank Deford, author and sports commentator on NPR's Morning Edition
"Dave Z is irreplaceable. He's the sports world Geiger counter, exposing the truth and protecting the fan from first, second, and third degree burns."
Chuck D, Public Enemy
"Biblically, athletes with superior attributes were seen as gifts from God. Whether it was Samson staring down the Philistines or David slaying Goliath, they and latter-day heroes such as Joe Louis, Jackie Robinson and Muhammad Ali, selflessly used their gifts and magnificently magnified platforms to transform society. It is in that tradition that John Carlos, and his teammate Tommie Smith, raised their fists in solidarity with the American civil rights struggle, as well as the struggles of those who exist on the downside of advantage. It was a statement for the ages. This act of righteous defiance lifted us all to a new level of dignity and shared responsibility to improve the conditions of the poor the world over. … But the price of heroism is high. John Carlos paid and this is his story."
Rev. Jesse L. Jackson, Sr.
"John Carlos is an American hero. And finally he has written a memoir to tell us his story – and a powerful story it is. I couldn't put this book down."
Michael Moore
"John Carlos's story of bravery and sacrifice will warm your heart. But beyond his individual heroism, it speaks to the power of athletes who bodaciously refuse to just "shut up and play." Carlos and Zirin capture the way that through sports, the actions of a few athletes resonate across the globe."
William Hunter, Executive Director, National Basketball Players Association
"An intelligent and insightful look into the journey of one of our most underrated heroes. Mr. Carlos' passion for justice and fairness has changed our world. You can feel his passion (and his anger) in every word."
Jemele Hill, ESPN columnist and television analyst
"John Carlos tells a compelling story of courage and the consequences of action. He, Tommie Smith and many other Black athletes took a stand against racial injustice in the U.S. and racial injustice in sports. They were ridiculed by many mainstream commentators at the time, but their actions helped to transform both the sports world and this country. This book was by and about someone who has been and remains one of my heroes."
Bill Fletcher, Jr., editorial board member, BlackCommentator.com
"History tells us iconic moments in sport are always enveloped in personal stories of sacrifice, courage, and angst. The lasting images that we see occur in a flash contain enriching back stories that are typically even more significant and tragic than the moment itself. John Carlos and Dave Zirin have combined to tell such a story. The moment that two men stood on the world platform to take a stand after they had become the best in the world is rich, complicated but most importantly as relevant today as it was in Mexico City. Dave brings a beautiful and passionate voice of truth to his listeners and achieves the same in this book about a man who became a legend. I am proud to call him my friend."
DeMaurice Smith, Director NFL Players Association
OTHER TITLES BY DAVE ZIRIN:
Brazil's Dance with the Devil: The World Cup, The Olympics, and the Fight for Democracy (Updated Edition)
Things That Make White People Uncomfortable (with Michael Bennett)
Welcome to the Terrordome: The Pain, Politics, and Promise of Sports
What's My Name, Fool? Sports and Resistance in the United States
ABOUT THE AUTHORS:
John Carlos is a former track and field athlete and professional football player, and a founding member of the Olympic Project for Human Rights. He won the bronze medal in the 200-meter race at the 1968 Olympics, where his Black Power salute on the podium with Tommie Smith caused much political controversy.
Named one of the "50 Visionaries Who Are Changing Our World" by the Utne Reader, Dave Zirin is the author of ten books on the intersection of sports and politics. He also writes on this subject for the Nation magazine, their first sports writer in 150 years of existence. Zirin is also the host of the "Edge of Sports Podcast" and "The Collision with Etan Thomas and Dave Zirin" on WPFW in Washington DC.
RIGHTS INFORMATION:
Audio book:
Languages & Territories Where Rights Have Been Sold:
Please contact subagents for the following languages and territories:
For all other languages/territories, please contact Roam Agency.