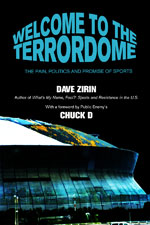 WELCOME TO THE TERRORDOME
The Pain, Politics, and Promise of Sports
By Dave Zirin
Foreword by Chuck D
Haymarket Books (June 2007, world English rights)
Paper • ISBN-13: 9781931859417 • US $16 • 5.5 in x 7.5 in • 280 pgs.
ABOUT THE BOOK:
The nation's sharpest sportswriter explores the contested politics of sports and profiles athletes making change.
This much-anticipated sequel to What's My Name, Fool? by acclaimed commentator Dave Zirin breaks new ground in sportswriting, looking at the controversies and trends now shaping sports in the United States — and abroad. Always insightful, never predictable.
PRAISE:
"Brother Dave Zirin is the finest, most important writer on sports and politics in America."
Dr. Cornel West
"In a world dominated by advertising dollars, company men, brand managers, player reps and billionaire owners, Zirin is that rare breed: an old-fashioned progressive. A muckraker… He's the author of eight books and counting, including What's My Name Fool?: Sports and Resistance in the United States, and A People's History of Sports in the United States: 250 Years of Politics, Protest, People, and Play, which have made him a standard-bearer for progressive athletes, fans, and scholars, and earned the admiration of legends like Jim Bouton, Frank Deford, Lester Munson, Howard Zinn, and Chuck D."
Literary Hub
"Dave Zirin is the best young sportswriter in America because he's the one who understands the x's and o's, can arrange them vividly and show us what they mean in a world spinning out of control."
Robert Lipsyte
"If you're a sports fan you'll love this book. If you're politically politically active sports fan, you've found your bible."
Katrina vanden Heuvel, editor, The Nation magazine
ABOUT THE AUTHOR:
Named one of the "50 Visionaries Who Are Changing Our World" by the Utne Reader, Dave Zirin is the author of ten books on the intersection of sports and politics. He also writes on this subject for the Nation magazine, their first sports writer in 150 years of existence. Zirin is also the host of the "Edge of Sports Podcast" and "The Collision with Etan Thomas and Dave Zirin" on WPFW in Washington DC.
Chuck D redefined rap music and hip hop culture as leader and co-founder of legendary rap group Public Enemy. Spike Lee calls him "one of the most politically and socially conscious artists of any generation." He co-hosts a weekly radio show on Air America.
OTHER TITLES BY THIS AUTHOR:
Brazil's Dance with the Devil: The World Cup, The Olympics, and the Fight for Democracy (Updated Edition)
The John Carlos Story: The Sports Moment that Changed the World
Things That Make White People Uncomfortable
What's My Name, Fool? Sports and Resistance in the United States
RIGHTS INFORMATION:
Please contact subagents for the following languages and territories:
For all other languages/territories, please contact Roam Agency.