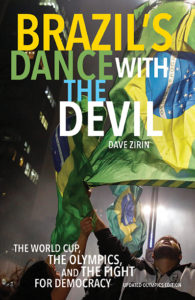 BRAZIL'S DANCE WITH THE DEVIL
The World Cup, The Olympics, and the Fight for Democracy
(Updated Olympics Edition)
By Dave Zirin
Haymarket Books (June 2016, world English rights)
Paperback • ISBN-13: 9781608465897 • US $17.95 • 276 pgs.
ABOUT THE BOOK:
The people of Brazil celebrated when they learned that in the space of two years their country would host the world's two largest sporting events: the World Cup in 2014 and the Olympics in 2016. Now they are protesting in numbers the country hasn't seen in decades.
Relying on field work from the favelas of Rio to the halls of power in Washington DC, Dave Zirin exposes how sports and politics have collided in spectacular fashion. One of the Boston Globe's "Best Sports Books of 2014," newly updated to assess the final tally of debt and displacement that accompanied the 2014 World Cup, eyewitness accounts of the militarized police crackdown, and new reporting on the pre-Olympic plans furthering immiseration in cities across Brazil.
PRAISE:
"Brother Dave Zirin is the finest, most important writer on sports and politics in America."
Dr. Cornel West
"In a world dominated by advertising dollars, company men, brand managers, player reps and billionaire owners, Zirin is that rare breed: an old-fashioned progressive. A muckraker… He's the author of eight books and counting, including What's My Name Fool?: Sports and Resistance in the United States, and A People's History of Sports in the United States: 250 Years of Politics, Protest, People, and Play, which have made him a standard-bearer for progressive athletes, fans, and scholars, and earned the admiration of legends like Jim Bouton, Frank Deford, Lester Munson, Howard Zinn, and Chuck D."
Literary Hub
"Zirin's hope is in his intention, and in the intention of many others, to understand and remember that left unchecked, the greedy and hypocritical initiatives connected to these grand events threaten to destroy not only the lives of the poorest residents of the cities involved, but the sports themselves."
Boston Globe
"People think speaking truth to power is easy, but if it was easy everyone would do it. This book does it… it speaks truth to the powers that be, from Brazil to the US to FIFA to the IOC. It hits you like an uppercut that rattles your brain and sets it straight. I cannot recommend this book highly enough."
John Carlos, 1968 Olympic medalist
"Dave Zirin is not just the radical brilliant sports critic but along with Naomi Klein the investigative journalist of our neoliberal era. He has figured out that sports operates at the the nexus of capitalism, race, class, sexuality, privatization and of course spectacle. That's why his work is so important to so many of us."

Robin D. G. Kelley, author, Africa Speaks, America Answers
"Dave Zirin has long stood on the edge of the sports writing world, exploding topics many of his colleagues are scared to approach. With Brazil's Dance with the Devil, he puts to bed any notion that the IOC and FIFA have the best interests of their host countries at heart. Brazil is a special country and Dave Zirin honors its people and history while mercilessly going after those who would undermine its people. This book is a remarkable mix of investigative sports journalism and insightful social history."
Glenn Greenwald, author, No Place to Hide
"In a sports journalism landscape where it sometimes seems there are only those who fawn and those who pander, where curiosity about the world at large is in short supply, Zirin is an altogether different kind of presence. He does care, until it hurts, and consistently delivers unique takes on the nexus of sports and race, globalization, politics and human rights. In Brazil's Dance with the Devil, Zirin's at his best, on familiar and fertile ground. Like so much of his work, it's incisive, heartbreaking, important and even funny."
Jeremy Schaap, ESPN, author of New York Times bestseller Cinderella Man
"For years, FIFA and the Brazilian government have failed to understand the complexity of the Brazilian populace, that it's possible both to love soccer and to be outraged over the organization of the World Cup at the expense of the people. Dave Zirin, one of our great chroniclers of sports and society, spent time on the ground in Brazil interviewing those most affected by the Brazilian World Cup and Olympics, and he comes away with the truth of it all: That the brutal expense of these Mega-events isn't worth the investment of so much public money and historical memory. Everyone who watches the World Cup should read this book."
Grant Wahl, senior writer, Sports Illustrated
"A vision from abroad about our Brazil from inside. It's a vision at once critical, smart, truthful, and free of prejudices, and not sparing any criticisms of his own country, the United States. Additionally it's a generous vision that uplifts the great Brazilian people. Enthusiastically recommended!"
Juca Kfouri, columnist, UOL Esporte
"Dave Zirin offers a great, fast-paced primer for those who want to get up to speed with what is happening on the ground in Brazil as it prepares for the World Cup and Olympics. Zirin brings the reader through years of history in order to contextualize the tumult on the streets during the 2013 Confederations' Cup and offers perspective on what the world can expect during the World Cup and Olympics. Brazil's Dance with the Devil gives insight into the linkages between corruption, massive public spending and the folly of mega-event planning in a country with huge wealth inequalities and major infrastructure challenges. Zirin has done his homework and fieldwork, consulting the classics and experts to bring together a fast-paced, focused read for an international audience."
Juliana Barbassa, Former Rio de Janeiro correspondent, Associated Press
"Dave Zirin fans, of which I count myself as one, will relish his new book, Brazil's Dance with the Devil. With his unique sports-politics lens and artful story-telling, this book focuses on Rio's upcoming World Cup and Olympics. Readers will never again allow their love of sports to blind them to the re-purposed political ends of big, international sporting events.
Nancy Hogshead-Makar, civil rights attorney, senior director of advocacy for Womens Sports Foundation, Olympic Gold medalist
"Dave Zirin does it again. In only the way he knows, he takes the political and makes it extremely personal and inserts us all into the heart of soccer in Brazil. You don't have to have ever watched a soccer to be caught up in this epic story. Sports needs Dave Zirin more than it even knows. Although after this book he probably won't be invited to carry The Olympic Torch anytime soon."
W. Kamau Bell, comedian
"Like everything Dave Zirin writes, this book is impassioned, deeply informed and very readable. It's also a necessary book, because Brazil is a poorly understood country entering a crucial period. Zirin backs up his opinions with good, honest reporting. Brazil has a good friend in him."
Simon Kuper, author, Soccernomics
"Millions will enjoy the World Cup and Olympics, but Zirin justly reminds readers of the real human costs beyond the spectacle."
Kirkus Reviews
"This explosive book is a must-read for sports fans and readers interested in the human condition surrounding these events."
Library Journal
"Brazil's Dance With the Devil, is a powerful and haunting look at what's happening behind the scenes (oft-tragically) in a nation hosting both the World Cup and the Olympics. It's strong work."
Jeff Pearlman, author, Boys Will Be Boys: The Glory Days and Party Nights of the Dallas Cowboys Dynasty
ABOUT THE AUTHOR:
Named one of the "50 Visionaries Who Are Changing Our World" by the Utne Reader, Dave Zirin is the author of ten books on the intersection of sports and politics. He also writes on this subject for the Nation magazine, their first sports writer in 150 years of existence. Zirin is also the host of the "Edge of Sports Podcast" and "The Collision with Etan Thomas and Dave Zirin" on WPFW in Washington DC.
OTHER TITLES BY THIS AUTHOR:
Welcome to the Terrordome: The Pain, Politics, and Promise of Sports
What's My Name, Fool? Sports and Resistance in the United States
The John Carlos Story: The Sports Moment that Changed the World
RIGHTS INFORMATION:
Audio book:
Languages & Territories Where Rights Have Been Sold:
| Language/Territory | Publisher |
| --- | --- |
| Greek / worldwide | Konidaris |
| Portuguese in Brazil | Lazuli |
Please contact subagents for the following languages and territories:
For all other languages/territories, please contact Roam Agency.