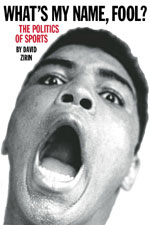 WHAT'S MY NAME, FOOL?
Sports and Resistance in the United States
By Dave Zirin
Haymarket Books (2005, world English rights)
Paper • ISBN-13: 9781931859202 • US $15 • 7.9 in x 5.3 in • 200 pgs.
ABOUT THE BOOK:
Sportswriter Dave Zirin shatters numerous myths to show the contested meaning of sports in America today. What's My Name, Fool? offers a no-holds-barred look at the business of sports today. In humorous and accessible language, Zirin shows how sports express the worst, as well as the most creative and exciting, features of American society.
PRAISE:
"Brother Dave Zirin is the finest, most important writer on sports and politics in America."
Dr. Cornel West
"In a world dominated by advertising dollars, company men, brand managers, player reps and billionaire owners, Zirin is that rare breed: an old-fashioned progressive. A muckraker… He's the author of eight books and counting, including What's My Name Fool?: Sports and Resistance in the United States, and A People's History of Sports in the United States: 250 Years of Politics, Protest, People, and Play, which have made him a standard-bearer for progressive athletes, fans, and scholars, and earned the admiration of legends like Jim Bouton, Frank Deford, Lester Munson, Howard Zinn, and Chuck D."
Literary Hub
"Dave Zirin is one of the brightest, most audacious voices I can remember on the sports writing scene, and my memory goes back to the 1920s. A rare combination of social awareness, sports savvy and highly readable writing skills."
Lester Rodney, Sports Editor, New York Daily Worker, 1936-58
"Dave Zirin has an amazing talent for covering the sports and politics beat. Ranging like a great shortstop, he scoops up everything! He profiles the courageous and inspiring athletes who are standing up for peace and civil liberties in this repressive age. A must read!"
Matthew Rothschild, Editor, The Progressive
"Too often writers on the Left take a priggish attitude toward sports, huffing that an examination of the political economy of baseball or boxing is beneath serious commentary. … As Dave Zirin shows in his riveting new book, What's My Name, Fool? Sports and Resistance in the United States, these days you're much more likely to learn about the dynamics of class struggle, the power of unions and the persistence of racism by watching the Red Sox play the Yankees, than hours spent amid the visual backwash of CNN. Here you will find vividly written stories of exploitation and resistance, courage and collective action: from Tommy Smith and John Carlos's lone stance in Mexico City to the great Curt Flood's heroic break from the confines of baseball's plantation house. Zirin doesn't get bogged down in heavy theorizing. He writes with compassion, humor and a saber-like sharpness that deftly shreds owners and mainstream sportswriters alike. He's the new Lester Rodney. And that's very high praise, indeed."
Jeffrey St. Clair, co-editor, CounterPunch
"Zirin has unique wit, vast sports knowledge and delightful candor. It is refreshing to see someone who can cut through the fluff and get to the heart of any sports issue. You want sports with an edge? You picked the right book.
Ed DeMayo, CEO, Basketball.com
ABOUT THE AUTHOR:
Named one of the "50 Visionaries Who Are Changing Our World" by the Utne Reader, Dave Zirin is the author of ten books on the intersection of sports and politics. He also writes on this subject for the Nation magazine, their first sports writer in 150 years of existence. Zirin is also the host of the "Edge of Sports Podcast" and "The Collision with Etan Thomas and Dave Zirin" on WPFW in Washington DC.
OTHER TITLES BY THIS AUTHOR:
Brazil's Dance with the Devil: The World Cup, The Olympics, and the Fight for Democracy (Updated Edition)
The John Carlos Story: The Sports Moment that Changed the World
Things That Make White People Uncomfortable
Welcome to the Terrordome: The Pain, Politics, and Promise of Sports
RIGHTS INFORMATION:
Audio book
Film option:
Please contact subagents for the following languages and territories:
For all other languages/territories, please contact Roam Agency.