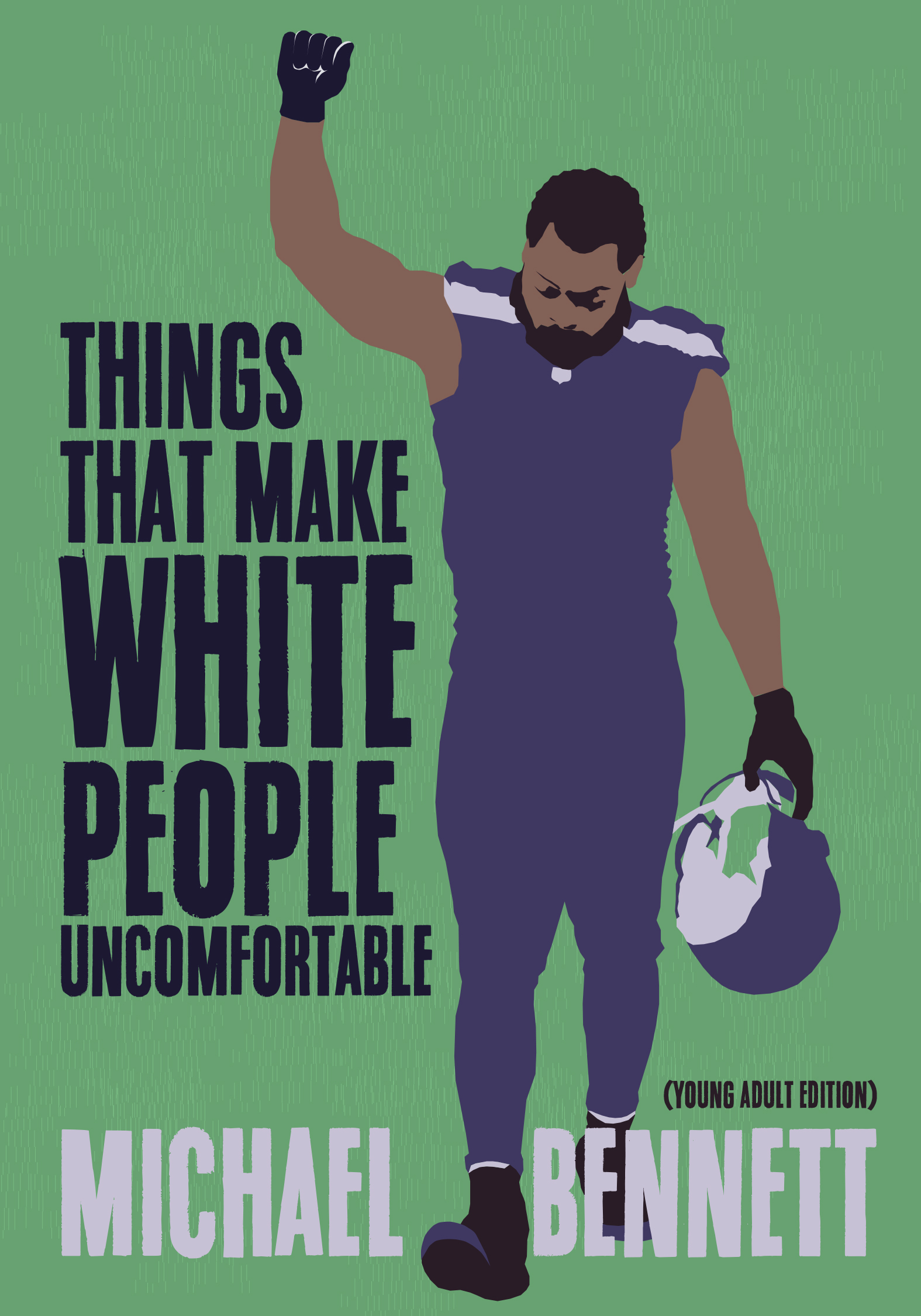 THINGS THAT MAKE WHITE PEOPLE UNCOMFORTABLE
Adapted for Young Adults
Michael Bennett and Dave Zirin
Haymarket Books (Fall 2019)
Hardback • ISBN-13:9781642590227 • US $21.95 • 8.5 in x 5.5 in • 170 pgs.
ABOUT THE BOOK:
With a new introduction from Michael Bennett, this adaptation of his bestselling book Things That Make White People Uncomfortable is specifically geared for 12-17 year olds and will appeal to students, teachers and librarians looking for a book that seamlessly connects politics, personal narratives and sports.
Michael Bennett is a Super Bowl Champion, a three-time Pro Bowl defensive end, a fearless activist, a feminist, an organizer, and a change maker. He's also one of the most humorous athletes on the planet, and he wants to make you uncomfortable. Bennett adds his voice to discussions of racism and police violence, Black athletes and their relationship to powerful institutions like the NCAA and the NFL, the role of protest in history, and the responsibilities of athletes as role models to speak out against injustice. Following in the footsteps of activist-athletes from Muhammad Ali to Colin Kaepernick, Bennett demonstrates his outspoken leadership both on and off the field.
Written with award-winning sportswriter and author Dave Zirin, this is a sports book for young people who want to make a difference, a memoir, and a book as hilarious and engaging as it is illuminating.
PRAISE:
Praise for Things That Make White People Uncomfortable:
"Michael Bennett is an agent of change."
The New York Times
"A shockingly honest take on sports and politics."
The Stranger
"This book is a courageous and compassionate story of a great athlete and grand human being full of deep care for his fellow citizens! Don't miss it!"
Cornel West
"It would be easy for Michael Bennett to remain silent, to play in the NFL and make his mark through accomplishments on the field. Instead Michael has chosen to use his voice and his platform to fight injustice."
Senator Bernie Sanders
"There is a tradition of athletes who understand that sports is a way to reach people and change the world. I am proud and humbled to be recognized as part of that tradition. I believe that Michael Bennett's name deserves mention alongside the best of us. This book doesn't only explain the roots of Michael Bennett's courage. It will inspire the people who read it to conquer their fears and fight for what's right."
Dr. John Carlos, 1968 Olympic medalist
"I was going to say this is the most courageous books on race written by an athlete in my lifetime, but I actually think this is one of the most courageous books on race and racism in America that has ever been written by anyone. It's that good and that important."
Shaun King, columnist for The Intercept and writer-in-residence for Harvard Law School's Fair Punishment Project
"There is a revolution underway inside professional sports and Michael Bennett is at ground zero. In this revelatory book, he puts everything on the line to share the reasons, strategy, pain and deep thought behind this historic uprising. And he invites us into a vision of justice and liberation that is simply irresistible. This book is pure fire."
Naomi Klein
ABOUT THE AUTHORS:
Michael Bennett is a three-time Pro Bowler, Pro Bowl MVP, Super Bowl Champion, and two-time NFC Champion. He has gained international recognition for his public support for the Black Lives Matter Movement, women's rights, and other social justice causes. In 2017, he was named one of the 100 Most Influential African Americans by The Root, was the Seattle Seahawks nominee for the NFL's Walter Payton Man of the Year award, and was honored along with his brother Martellus with a BET Shine a Light award for exceptional service. He is the cofounder with Pele Bennett of The Bennett Foundation, which educates underserved children and communities through free, accessible programming. He has held free camps and health clinics in Seattle, in his hometown of Houston, in his current offseason home, Honolulu, and in South Dakota on the Lower Brule Sioux Tribe. He donates all of his endorsement money and the proceeds from his jersey sales to fund health and education projects for poor and underserved youth and minority communities, and recently expanded his reach globally to support STEM programming in Africa. He is the proud father of three daughters, Peyton, Blake, and Ollie.
Martellus Bennett is a Super Bowl champion, NFL Pro Bowler, children's book author, and younger brother to Michael Bennett. His first children's book, Hey A. J., It's Saturday, was released in 2016 through his own company, The Imagination Agency
Named one of the "50 Visionaries Who Are Changing Our World" by the Utne Reader, Dave Zirin is the author of ten books on the intersection of sports and politics. He also writes on this subject for the Nation magazine, their first sports writer in 150 years of existence. Zirin is also the host of the "Edge of Sports Podcast" and "The Collision with Etan Thomas and Dave Zirin" on WPFW in Washington DC.
OTHER TITLES BY DAVE ZIRIN:
Brazil's Dance with the Devil: The World Cup, The Olympics, and the Fight for Democracy (Updated Edition)
Welcome to the Terrordome: The Pain, Politics, and Promise of Sports
What's My Name, Fool? Sports and Resistance in the United States
RIGHTS INFORMATION:
Please contact subagents for the following languages and territories:
For all other languages/territories, please contact Roam Agency.